Colon's rough sixth inning sends Mets to defeat
Righty stumbles vs. Phils pitching for first time since mother's funeral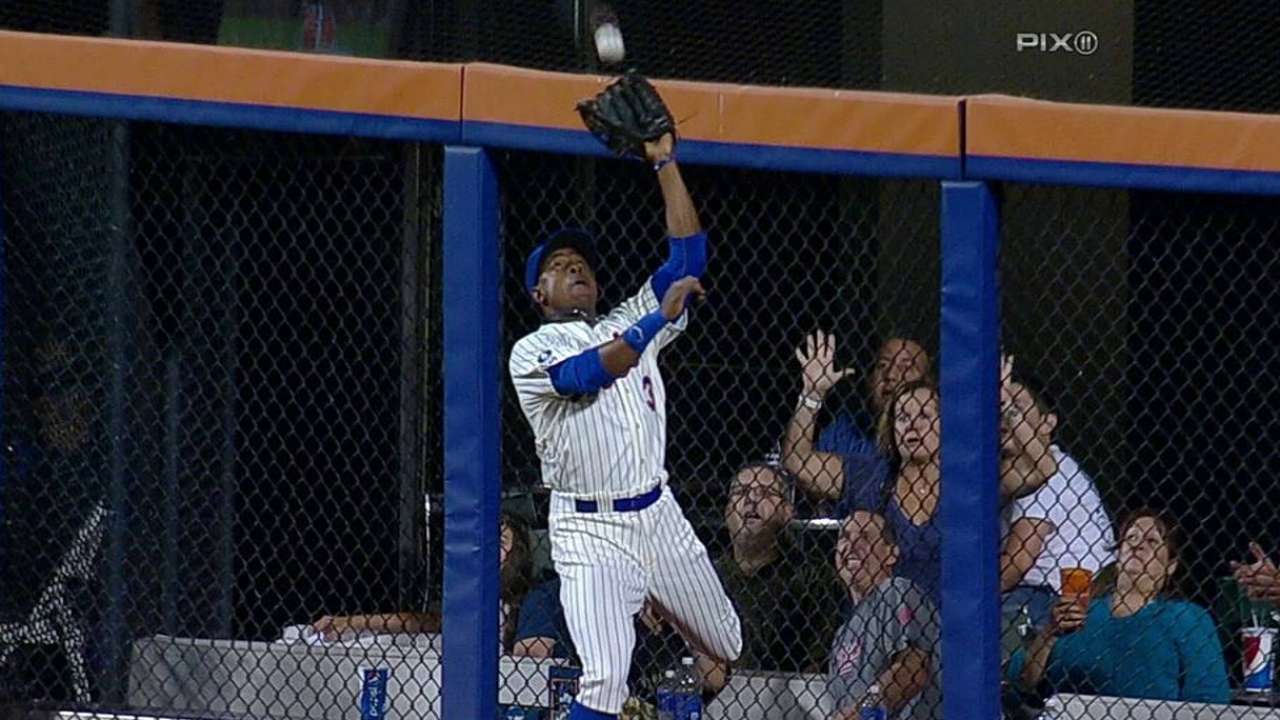 NEW YORK -- More and more, it seems as though Bartolo Colon will remain in Flushing through August, through September and quite possibly beyond. The Mets have no pressing need to trade their eldest starting pitcher prior to Sunday's waiver deadline, so unless some desperate contender changes their mind -- and soon -- they quite simply will keep him.
After all, they'd miss the big fella. At 41, Colon has given the Mets more than seems reasonable given his age and mileage; the six runs he allowed in Saturday's 7-2 loss to the Phillies at Citi Field were hardly indicative of the way he has pitched all year.
But those runs did sting, even if only for a night. Pitching for the first time since his mother's funeral, at the tail end of a chaotic two-week span that saw him twice fly to his winter home in the Dominican Republic, Colon smashed into a wall when six of the seven Phillies he faced in the sixth inning singled. Five of them ultimately came around to score, knocking him out of the game.
"I'm going to cut him a little slack this time," manager Terry Collins said. "That's some long trips he's had in the last 10 days, back and forth like that. I don't know if he just ran out of gas, but obviously he was getting way too much plate."
Colon gave up an earlier run on Marlon Byrd's homer in the fifth, after retiring 12 of the first 13 batters he faced. All told, it added up to his second clunker of the month, bloating his ERA from 3.82 to 4.01.
"We kind of came out swinging tonight, so he had to nitpick just a little bit more, use his offspeed a little bit more instead of pounding the zone with his fastball," Byrd said. "Tonight was one of those nights we were ready to hit it."
Such inconsistency has been Colon's primary issue all season, and he struggles to explain it. In his 12 wins, he owns a 1.54 ERA. In his 11 losses, that mark sits at 7.02.
"I didn't do anything different," Colon said of the sixth inning. "They just made the adjustment. I made some good pitches, but they still put it in play."
Saturday, Colon's issues worked in tandem with the Mets' far more consistent problem: hitting. Facing right-hander Jerome Williams, who came into the game with a 5.42 ERA split amongst three teams, the Mets settled for a single hit over the game's first six innings. They finally began knocking Williams around in the seventh, chasing him when Dilson Herrera's first big league hit loaded the bases with one out. But that rally produced merely two runs; with the bases loaded, Curtis Granderson struck out to end it as the potential tying run.
Granderson's disappointed walk back to the dugout ensured that Colon would end his August on a sour note -- though at least he'll likely end it a Met.
The Mets believe they can make use of Colon going forward for several reasons, despite a 2015 rotation that already potentially includes Matt Harvey, Zack Wheeler, Jacob deGrom, Jon Niese and Dillon Gee. General manager Sandy Alderson has said that he expects Colon's value as a trade chip to be greater this winter than it is right now, if the Mets decide to go that route. His presence could also free the team to trade Niese, deGrom or another one of its starters, if that's what the Mets prefer. Or, the Mets could simply hold on to everyone, understanding how critical starting-pitching depth can be.
Less tangibly, Collins believes Colon's value as a mentor for the staff's younger Latin pitchers is immense -- specifically to relievers Jeurys Familia and Jenrry Mejia, who are both enjoying strong-to-quite-strong seasons. The fact that Colon committed to starting every five days this month, despite his mother's death and funeral, only underscored that trait in Collins' mind.
"He brings something to the party, no doubt," the manager said. "His presence in the clubhouse, he doesn't say much. He talks mostly to the young Latin kids, but he has a presence about him. He is very, very good at sharing information and sharing some knowledge. It's made a difference on how they've pitched, to have him here."
Collins added one last thing: "I hope he stays."
Anthony DiComo is a reporter for MLB.com. Follow him on Twitter @AnthonyDicomo. This story was not subject to the approval of Major League Baseball or its clubs.