Lineup clicks to back Williams as Phils top Mets
Righty works into seventh as Byrd homers, bats produce five-run sixth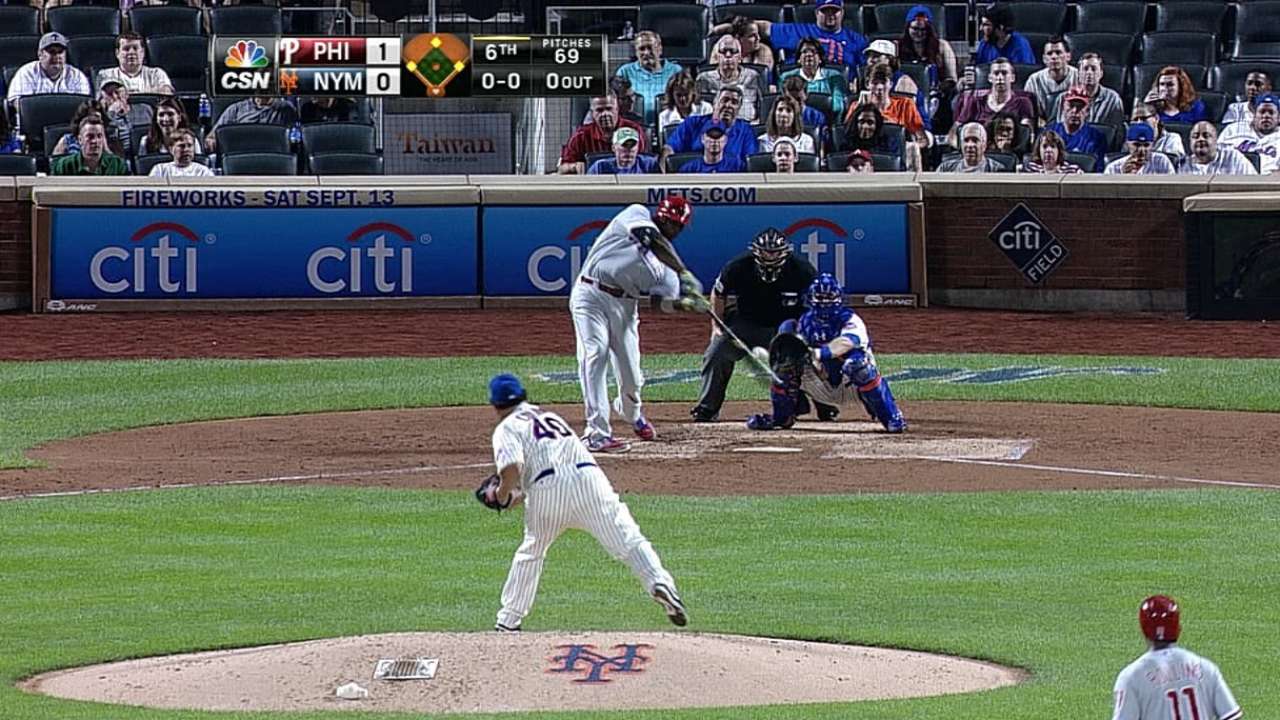 NEW YORK -- Believe it or not, no team in baseball has used a lineup more this season than the one the Phillies used Saturday night at Citi Field.
It was the 16th time Phillies manager Ryne Sandberg had Ben Revere, Jimmy Rollins, Chase Utley, Ryan Howard, Marlon Byrd, Domonic Brown, Carlos Ruiz and Cody Asche hit in that exact order. (No other team has used an identical lineup more than 11 times.) Before the season started, it seemed like the Phillies' ideal lineup, but Saturday's 7-2 victory over the Mets made them just 5-11 with it.
"Maybe a long time coming," Sandberg said about the lineup that averaged just 2.7 runs per game before Saturday.
The Phillies entered the night averaging just 3.89 runs per game this season, which ranked ninth in the National League. They had been held to two or fewer runs 50 times, which was the third-highest mark in baseball.
But the Phillies have shown some modest improvement recently. They have won eight of their last 11 games, averaging 4.54 runs per game in that span.
Does it mean anything?
"I don't know," Sandberg said with a chuckle. "I think we've seen better execution and putting things together in the last two weeks. A little bit more of what was expected early on."
Byrd ripped a 1-0 fastball to right-center field for a solo home run in the fifth inning to hand the Phillies a 1-0 lead.
It was his 25th homer of the season, which is a career high.
It came on his 37th birthday, too.
"I'm going to stay 36 for a while," Byrd joked. "Can I do that? I'm going to move to another country and come back with a different name."
The Phillies signed Byrd to a two-year, $16 million contract in November. His .791 OPS is the highest of any qualifying player on the team: 19 points higher than Utley (.772), 75 points higher than Rollins (.716) and 105 points higher than Howard (.686). Despite the production, the Phillies would have traded him before the July 31 non-waiver Trade Deadline, but sources said the Phils would have received little in return.
Teams apparently were wary of Byrd's age and contract. He not only will make $8 million next season, but he has an $8 million club option for 2016 that automatically vests with 1,100 plate appearances in 2014-15 or 600 plate appearances next season.
Byrd has 554 plate appearances, putting him well on pace to vest that option.
"It was crazy," Byrd said. "Last year, I set my career high [in home runs]. To come in and do it again this year, just the work I've put in and everything -- I expected it. To do it in August is pretty cool. I got it done before September. I've got a chance to keep adding to it."
The Phillies scored five runs on seven singles in the sixth inning to take a 6-0 lead, finally putting a hurt on Mets right-hander Bartolo Colon, who had been 3-0 with a 1.59 ERA in three starts this season against them.
"He had it in cruise, outside of the pitch to Marlon he was really sailing along," Mets manager Terry Collins said. "And then the next thing you know, they just found holes. There were a couple balls that were hit decent, but the rest of them were just ground balls through the middle or ground balls that found holes, two that fell in front of [Mets right fielder Curtis Granderson]."
"We kind of came out swinging tonight, so he had to nitpick just a little bit more, use his offspeed a little bit more instead of pounding the zone with his fastball," Byrd said. "Tonight was one of those nights we were ready to hit it."
The five-run sixth inning proved more than enough for Phillies right-hander Jerome Williams, who allowed four hits, two runs, three walks and struck out three in 6 1/3 innings. Williams has a 2.03 ERA in four starts since joining the Phillies.
He said this is the best he has felt starting since his rookie season with the Giants in 2003, when he went 7-5 with a 3.30 ERA in 21 starts.
"That's a long time ago," Williams said. "That's how I felt those first two years with San Francisco. I was really in a good groove. Then after that, I kind of lost myself. I lost a sense of pitching with what I had. I wanted to be other people. That was a downfall. Now I'm back to where I need to be as myself."
Todd Zolecki is a reporter for MLB.com. This story was not subject to the approval of Major League Baseball or its clubs.