Heisey's second homer lifts Cueto, Reds in ninth
Outfielder supplies all of Cincinnati's offense in comeback victory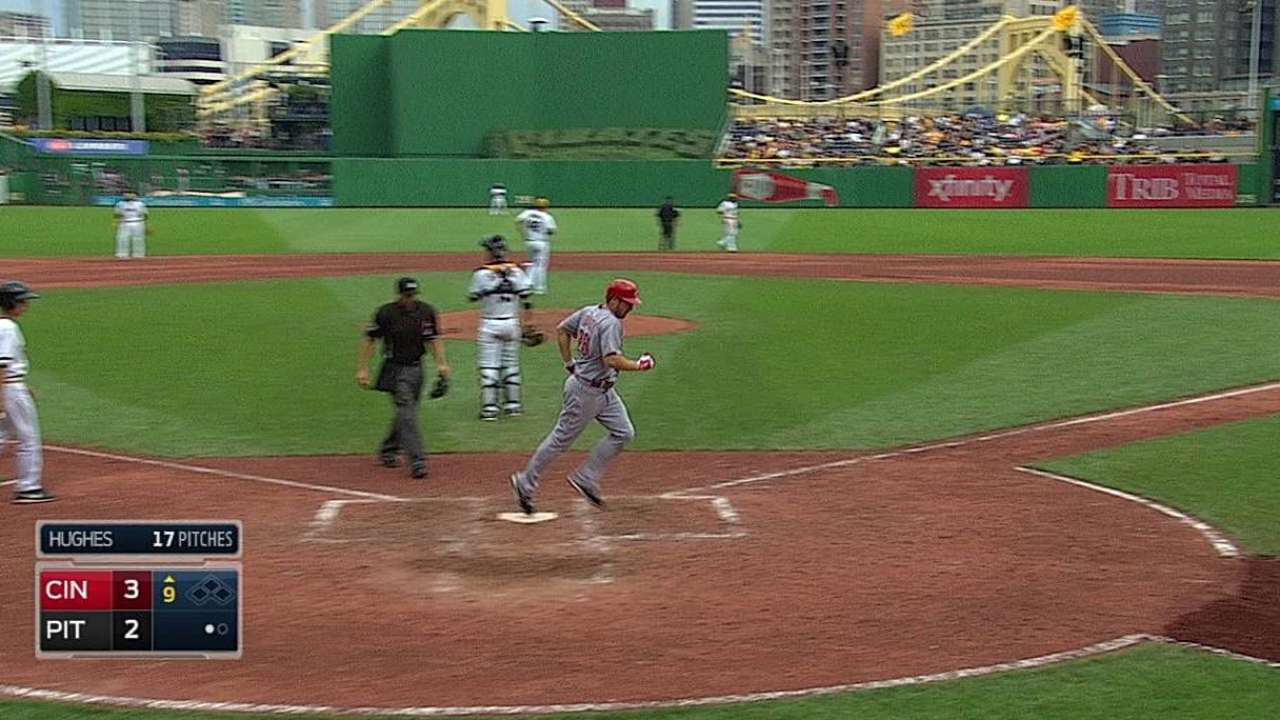 PITTSBURGH -- Outfielder Chris Heisey made Reds ace Johnny Cueto absolutely giddy in the visitors' dugout in the top of the ninth inning on Sunday afternoon.
That was because Heisey delivered his second home run of the game for a 3-2 series-salvaging win over the Pirates. It also made Cueto the Major Leagues' second 16-game winner behind Clayton Kershaw of the Dodgers.
"He gave me a big hug when I came into the dugout," Heisey said. "It was good for him to pitch like that and line himself up for the win like he was. He was excited and excited for the team."
It was a 2-2 game in the Cincinnati ninth with one out when Heisey lifted a 1-1 Jared Hughes fastball inside the left-field foul pole for his seventh homer of the season. It also gave Heisey the fifth multi-homer game of his career.
Although they are small sample sizes, Heisey is now 4-for-6 lifetime against Hughes. Manager Bryan Price gave Heisey the start in right field over regular right fielder Jay Bruce because he was 4-for-10 going in against starter Francisco Liriano, while Bruce was 1-for-19.
In the fifth inning with Cincinnati trailing by a 2-0 score, Heisey hit a first-pitch changeup from Liriano for a two-run homer to left field.
"You have to face a pitcher for the first time at some point. Then if you have success, in the back of your mind, you say, 'I've had success against this guy,' and you're able to take a little bit of more positive attitude into a game against a certain pitcher," Heisey said. "I've been fortunate to get a couple of hits off of Liriano, so I know his stuff doesn't overpower me or give me a world of trouble. You relax, trust your instincts and try to get a good pitch to hit and do it."
Cueto, now 16-8 with a 2.26 ERA in a Major League-most 207 innings, pitched eight frames and allowed two runs, nine hits and one walk with six strikeouts. It was the 12th time this season Cueto pitched at least eight innings and gave up two earned runs or fewer.
Cueto's day started off in rocky fashion, however. As showers fell, Cincinnati native Josh Harrison stung Cueto's first pitch in the first inning for a home run to left field. It was reminiscent of his previous start vs. the Cubs, when Anthony Rizzo hit a three-run homer in the rain before a delay in the first inning at Great American Ball Park.
"I don't know what's going on with me," Cueto said. "I think I have to tighten it up a little bit in the first inning. I have to be more aggressive. I cannot be so confident when I go in there the first inning."
With one out in the second, Jordy Mercer lifted a 2-2 pitch to the left-field seats for a homer and a 2-0 Pittsburgh lead. But Cueto settled in and gathered momentum.
"We couldn't have done without the way Johnny pitched today," Heisey said. "He's the definition of an ace in the big leagues for me. I'm sure a lot of people feel the same way. To give up those two early runs and bear down and give us a chance, he's the best that we've got and one of the best around in all of baseball."
Reds manager Bryan Price contemplated removing Cueto after both the sixth and seventh innings, but he stuck with his ace.
"We talked a lot about Johnny being a guy who never quits, never underappreciates an opportunity to compete and win a game," Price said. "I thought he was done after six, and he wanted one more. We thought he was done after seven, and he wanted one more. His pitch count suggested he could do it. It's been a long year for him and he's pitched a lot of innings -- he's up over 200 now -- but he's earned that right."
Cueto gave up two hits in the eighth and had runners on the corners with two out. Price visited the mound, but he stuck with Cueto to face lefty hitter Ike Davis. He induced a foul pop behind third base where Kristopher Negron ran back made a beautiful diving catch.
"If he doesn't catch it, foul ball, it's still one more pitch to a dangerous left-handed hitter," Price said.
Aroldis Chapman closed it with a 1-2-3 ninth for his 29th save to avoid a three-game series sweep. All three games were decided by one run, but the Reds, snakebit by one-run losses all year, are now 20-33 in those games.
Mark Sheldon is a reporter for MLB.com. Read his blog, Mark My Word, and follow him on Twitter @m_sheldon. This story was not subject to the approval of Major League Baseball or its clubs.