Bucs beat by long ball as 'pen can't shut down Reds
Early HRs from Harrison, Mercer don't hold up in Liriano's strong start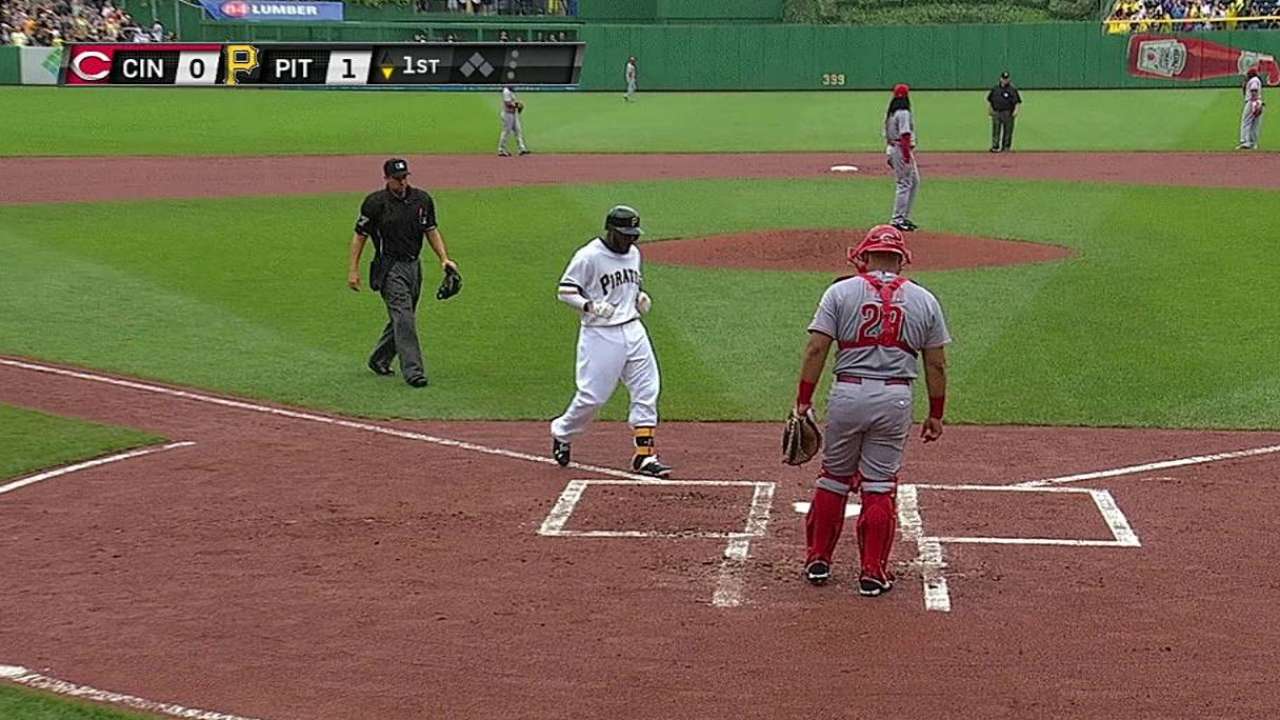 PITTSBURGH -- Many factors have kept the Pirates from stringing together five straight wins this season. On Sunday, it was Chris Heisey's bat and the familiar right arm of Johnny Cueto.
Heisey homered twice -- including the game-winner in the ninth against reliever Jared Hughes -- generating all of the Reds' offense in a 3-2 win at PNC Park. Cueto went eight innings and notched his fourth win against Pittsburgh this season.
The Bucs still won the series, 2-1, but their streak of four consecutive wins, which tied a season-high, was snapped, and their six-game homestand was bookended with losses.
"I think we threw 137 pitches on the day, and two of them ending up costing us," Mananger Clint Hurdle said.
Hurdle was five pitches short of the actual count, but his sentiment holds true, and his team fell two games behind the Brewers and Cardinals for first place in the National League Central and the second spot in the NL Wild Card standings. They open a three-game series in St. Louis on Monday.
A game with 2014 playoff implications was a rematch of last year's NL Wild Card game, and Cueto was able to get the best of Francisco Liriano and the Pirates.
The Pirates struck against Cueto as fast as possible, as Josh Harrison took the first pitch from the right-hander over the left-field wall. Jordy Mercer added a solo shot in the second inning, but it came after Starling Marte got picked off first base following a single.
Cueto tossed eight innings, striking out six and giving up nine hits. But, much like their opposition, the Pirates capitalized on just two swings of the bat.
"He's a good pitcher, and you got to get to him early," Harrison said of Cueto. "He stuck around and got out of some jams when he needed to."
Cueto ran into trouble in his final inning as Harrison and Andrew McCutchen were on base with singles and one out. Cueto got Neil Walker to ground out, and with the go-ahead run 90 feet away, third baseman Kristopher Negron made a phenomenal diving grab in foul territory to retire Ike Davis and end the inning.
The infamous "Cue-to" chants from the 2013 playoff game floated around PNC Park throughout the afternoon, gaining steam whenever the Cincinnati ace looked to be in trouble. However, it didn't bother Cueto, whose season ERA against the Pirates is 1.89 and career record in the Steel City improved to 10-2.
"When I'm on the mound, I just have to do my job and I concentrate on my job," Cueto said through a translator. "The fans, I love that they stay there. You know what? Every time I come here, I throw eight innings."
Cueto got his 16th win of the season because of Heisey's decisive solo home run in the ninth, which came on a 1-1 sinker and wrapped around the left-field foul pole. It was the third of three sinkers in a row Hughes threw Heisey, who fouled off a the 1-0 pitch at the plate.
"The pitch before the home run was a little bit out over the plate," said Hughes, who fell to 6-5 on the season. "The next pitch was in, off the plate. And I think he just brought his hands in and hit the pitch well."
Liriano turned in seven frames, and a fifth-inning changeup he left up to Heisey for a two-run shot to left resulted in the only runs against him.
Liriano gave up five hits, walked three and struck out five in his seventh quality start in his last eight chances. The left-hander, who led off the homestand by tossing six scoreless frames, did not allow a hit until Todd Frazier singled in the fourth. No Pirates starter (Liriano, Edinson Volquez and Vance Worley) allowed a run in the first three innings against Cincinnati in the three-game series.
"I had a tough fifth inning, but other than that, everything was working down," Liriano said. "I was using both sides of the plate down and in, everything was down. Just made a mistake in that fifth inning."
Stephen Pianovich is an associate reporter for MLB.com. This story was not subject to the approval of Major League Baseball or its clubs.