Bassitt hounded by Tigers in big league debut
Right-hander takes loss as White Sox split doubleheader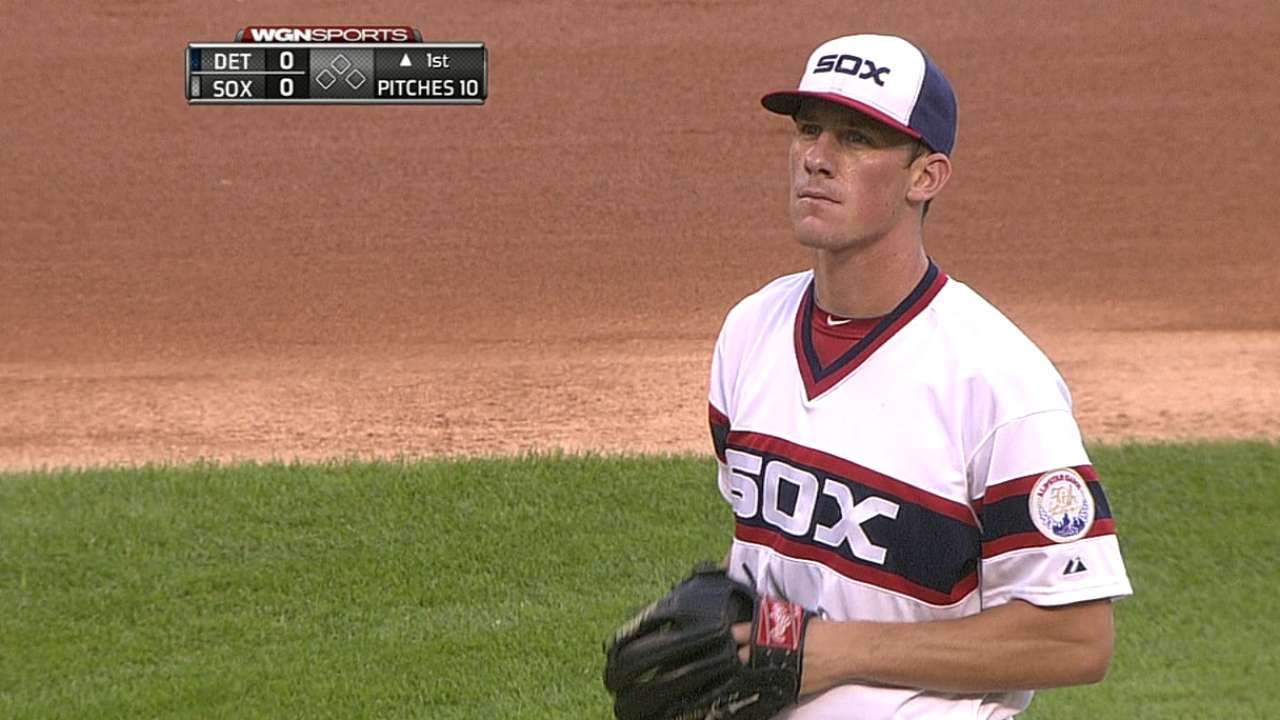 CHICAGO -- Two strong innings for the Tigers against debuting White Sox starter Chris Bassitt left the South Siders with an 8-4 loss -- their 10th in the last 12 games -- in the nightcap of Saturday's day-night doubleheader at U.S. Cellular Field.
The White Sox won the opener, 6-3, behind ace Chris Sale's 13 strikeouts over seven innings.
Bassitt threw two hitless innings to start the nightcap before the Tigers registered three straight hits to begin the third that led to a pair of runs. The Tigers brought home three more runs in the fourth inning on a two-run single by Ian Kinsler, picking up his fifth RBI of the series, and an RBI groundout by Miguel Cabrera, who exited the game following his at-bat.
"Nervous a little bit, yeah," Bassitt said afterward. "It was a great lineup I was going up against, but I mean, I try to say the same thing: 'It's baseball. It's still the same game.' Just try to go out there and compete as much as I could."
Hours after recording six runs on 10 hits against reigning Cy Young winner Max Scherzer, the White Sox went scoreless against left-hander Kyle Ryan, who was also making his Major League debut.
Not until the Tigers called on the bullpen did the White Sox make some noise. In the eighth, Avisail Garcia knocked in one run with a fielder's choice and Dayan Viciedo crushed a three-run homer off Joba Chamberlain to cut the deficit to one. In the ninth, J.D Martinez, Alex Avila and Don Kelly added RBIs to extend Detroit's advantage.
"We didn't really have much in the second game," White Sox manager Robin Ventura said. "We just really couldn't get anything going against [Ryan]. Finally, we got something going and [Viciedo] had a big homer to get us close. You have to be able to hold on to that to give us a shot with being down by one."
Jose Abreu extended his hit streak to 11 games, and is 7-for-9 through three games in the weekend series, going 1-for-2 in the nightcap with a single and walk. He was seen limping to first on a groundout in the third, but remained in the game.
"It's not an injury. It's just something that's bothering me and working at it, I haven't changed anything," Abreu said between games through interpreter and White Sox Director of Public Relations Lou Hernandez. "I'm just going about everything the same way I always have and getting some work on it. But it isn't an injury it's just something that's bothering me."
Cabrera, however, left after grounding out in the fourth while picking up an RBI. The reigning MVP is 1-for-12 this series, and his health has been in question.
"That didn't help, going down the line," Tigers manager Brad Ausmus said. "It's probably the combination of a long day and that. We weren't sure who was going to DH and who was going to play first. We were hoping Miggy's ankle would calm down and it did and he felt good when he took batting practice. But in the end, it was bothering him too much.
Bassitt struck out Cabrera looking in the first in what he said was a pinch-me moment.
"I smiled pretty big on the inside, but I was like: 'All right, we've got to keep going. Victor [Martinez] is up now, so here we go,'" Bassitt said.
The 25-year-old, who was called up from Double-A on Saturday, allowed five earned runs on seven hits with four walks and four strikeouts over 6 1/3 innings in his debut. Ryan threw six scoreless innings with five hits, two walks and a strikeout.
"I think the biggest thing is that he's got kind of a funky delivery," Ventura said of Ryan. "He kind of hides the ball. He turns his back a little bit to the hitters. I think the hitters have a little bit of trouble picking it up. He's got a little cutter, slider, fastball obviously, but I think the deception in his delivery creates issues for hitters.
Game 1 didn't exactly live up to the billing between Sale and Max Scherzer, at least given their first meeting in June, in which Sale endured his first loss of the season after allowing just one earned run.
The two aces allowed a combined 15 hits, including four homers, yet combined for 25 strikeouts. Sale fanned the side in four of his seven innings and finished with a season-high 13 strikeouts. He allowed three earned runs, all in the first, and six hits, three in the final six innings.
The White Sox overcame a 3-0 first inning deficit with six unanswered runs the rest of the way.
"I needed to do my part today because my team sure did its part. … They're pulling their weight and I needed to pull mine," Sale said.
Sale tied a White Sox record held by Ed Walsh with his 17th career games with double-digit strikeouts.
Scherzer isn't having the Cy Young season he did last year, but his five earned runs on eight hits in 6 2/3 innings weren't exactly characteristic. He entered Saturday's game tied for the American League lead in wins (15), and was ninth with a .234 average against. The loss was Scherzer's fifth in 28 starts.
"I had great stuff today," Scherzer said. "Anytime you can strike out 11 and not walk any, you're doing things right. But I got beat on a couple pitches."
The White Sox will finish August with one series win in nine tries.
Daniel Kramer is an associate reporter for MLB.com. This story was not subject to the approval of Major League Baseball or its clubs.