MLB.com Columnist
Bill Ladson
Stras limits Mariners as Nationals grow NL East lead
Righty tosses 7 2/3 innings of one-run ball; Werth's HR leads offense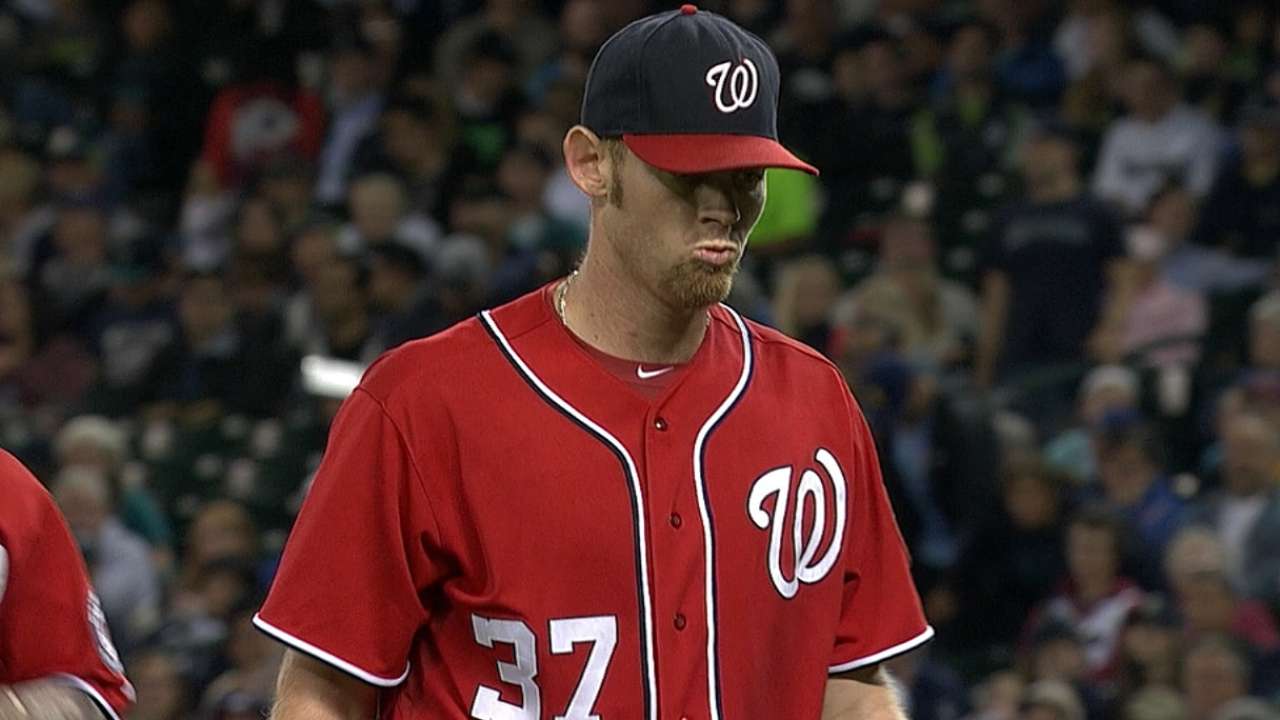 SEATTLE -- What a difference a week makes. Almost a week after getting hit hard by the Giants, right-hander Stephen Strasburg had arguably his best start of the season as the Nationals downed the Mariners, 3-1, at Safeco Field on Saturday night.
The Nationals picked up their 77th victory of the season and are now seven games ahead of the Braves in the National League East. Atlanta was blanked by the Marlins, 4-0, at Turner Field earlier in the day.
Strasburg opened by getting five ground-ball outs in the first three innings, and didn't pick up his first strikeout until the third inning.
But it was a big one.
Seattle had runners on second and third with two outs, but Strasburg struck out Robinson Cano to end the threat.
After that punchout, Strasburg picked up seven more strikeouts on the way to picking up his 11th victory of the season. For good measure, Strasburg set a Nationals record by striking out 209 batters in a season.
Strasburg left the game with two outs in the eighth inning after allowing a solo home run to Dustin Ackley.
"He's got good stuff," Ackley said. "The changeup he's got is pretty devastating to lefties. I don't know if he threw it to righties too much, but he's got good stuff. He throws really hard. He sits in the mid-to-upper 90s [mph], and any time you got that kind of velocity and stuff, if you're able to locate and do those kind of things, you're going to have success."
After the game, manager Matt Williams said it was Strasburg's best game of the season. Strasburg had great fastball command and threw the changeup when he needed to
"This was the best that we have seen from him all year," Williams said. "He was really commanding his fastball that was 96 or 97 miles an hour, and the changeup off of it. He threw the changeup when he wanted to for strikes. He was really good tonight."
Denard Span had the best view from center field and thought Strasburg took a page out of Mariners ace Felix Hernandez's playbook.
"That's a lot of what I saw yesterday [from Hernandez]," said Span. "The fastballs were in, the splits were in. The fastball and splits were away as well. He looked good out there. He looked sharp. He kept everything off balance for sure. … He makes really good hitters [look] lost up there. He controlled the game from every pitch."
Pitching in an American League Park meant Strasburg didn't have to take a turn in the batter's box. So he concentrated on going deep in the game. Strasburg got into a rhythm, while he and catcher Jose Lobaton were on the same page throughout the game.
"I had pretty good fastball command today and kind of set up my other pitches," Strasburg said. "I wanted to go out and give everything I had until [Williams] took the ball out of my hand. I just stuck to the game plan. I just had to execute pitches. I made them hit my best stuff."
Strasburg received the bulk of his run support in the first inning. After Span reached base on a two-base error by center fielder Austin Jackson and Anthony Rendon grounded out, Jayson Werth hit a monster home run over the left-field wall off Mariners left-hander Roenis Elias to give Washington a 2-0 lead.
"He tried to beat me with a fastball in and I was ready for it," Werth said. "I was able to barrel it, put us on the board early. After that, Stephen was in control today. He had his good stuff. He was good today."
Four innings later, the Nationals picked up their final run of the game, when Lobaton scored from first on a double by Rendon.
Matt Thornton finished the eighth for the Nats, while Rafael Soriano closed out the ninth for his 30th save. It wasn't easy for Soriano.
With one out, Kyle Seager singled to right-center field. After Logan Morrison struck out looking for the second out, pinch-hitter Endy Chavez singled up the middle to put runners on first and third. But James Jones then grounded to second baseman Asdrubal Canbera to end the game.
"It wasn't too easy for me, [but] I went out and did it tonight. We won," Soriano said.
Bill Ladson is a reporter for MLB.com and writes an MLBlog, All Nats All the time. He also could be found on Twitter @WashingNats. This story was not subject to the approval of Major League Baseball or its clubs.