Royals fall in 11th, drop into first-place tie in Central
Rally in eighth ties game, but Indians' bats come to life in extra innings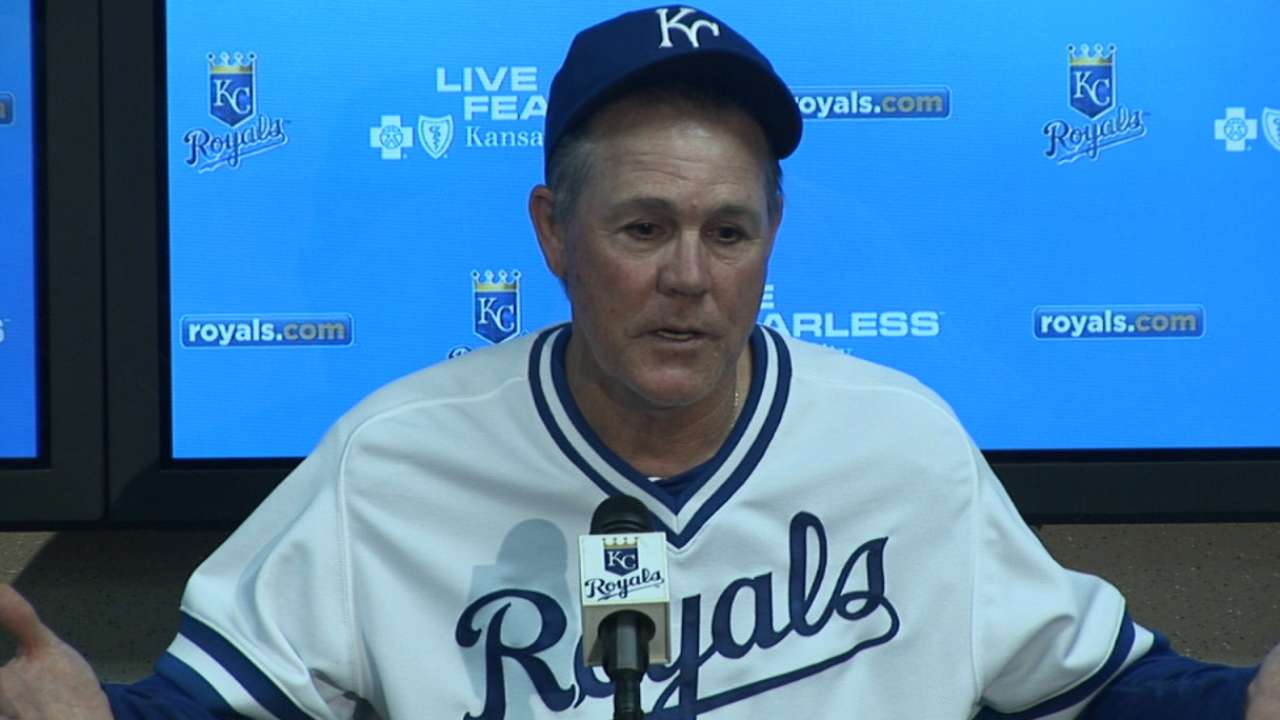 KANSAS CITY -- All the nostalgic touches were there as the Royals relived the '70s.
George Brett, a rookie in 1974, threw out the first pitch. George Toma, the groundskeeper then, raked up the infield. An organist played the National Anthem and tunes between innings. The players wore vintage uniforms with the Royals hitching up stirrup socks. The scoreboard flashed sepia-toned photos of the time.
Now, if only the Royals could come up with an old-fashioned victory.
But it wasn't to be. The Cleveland Indians ruined the Retro Night party in 11 innings, 3-2, dealing the Royals their fifth loss in their last seven games with a boisterous, but largely disappointed crowd of 35,089 on hand Saturday night at Kauffman Stadium.
That enabled Detroit to tie Kansas City for first place in the American League Central, each with 74-61 records. The Tigers split a doubleheader with the White Sox.
"It's agonizing, it's extremely agonizing," Royals manager Ned Yost said. "Tremendous crowd again, tremendous energy and not being able to perform in front of them. It's agonizing, it's frustrating."
Adding to the consternation was that the Indians crept to within 3 1/2 games of the lead.
The Royals frittered away chances throughout the 4-hour 23-minute marathon, going just 2-for-18 with runners in scoring position. After being so bombastic at bat during most of their dash to first place that began on July 22, the Royals have scored two or fewer runs in five of their last seven games.
"I'm not even sure why we're struggling," said outfielder Lorenzo Cain. "We were just hot -- what -- four or five days ago swinging the bats, and I don't know what it is. We're just not clicking right now. We've got to pick it up, we've got to get going."
It was the Indians who got going in the 11th inning with the score tied at 1. The Royals' pitching had been superb, retiring 17 of 18 batters from the fifth inning through the 10th.
Yost went from starter James Shields through Wade Davis, Greg Holland and Kelvin Herrera with excellent results. Shields gave up one run in his seven innings. Davis struck out the side in the eighth. Holland pitched a perfect ninth. Herrera pitched past a 10th-inning single.
But when Scott Downs came in for the 11th, Jose Ramirez boomed his first pitch for a triple to right-center field.
"Fastball right down the middle," said Royals catcher Salvador Perez.
Ramirez daringly sprinted toward third base.
"I [just] about swallowed my tobacco when he rounded second, but he made it," said Indians manager Terry Francona. "You were going to have to lasso him to stop him."
With the infield drawn in, Michael Brantley coaxed a bouncer into right field and Ramirez scored. Exit Downs, enter Jason Frasor.
Brantley stole second and took third on Perez's throwing error. Carlos Santana got another grounder through for a hit and Brantley scored.
That proved to be the deciding run.
Indians reliever Josh Tomlin got two outs to start the Royals' 11th, but Jarrod Dyson singled and took second, then scored as Perez ripped a double down the left-field line.
There was some drama when Erik Kratz, the Royals' backup catcher in the game as designated hitter, blasted a home run-length drive, but it went well foul of the left-field pole. Then Kratz appeared to be hit by a pitch. But home-plate umpire James Hoye said no and waved him back to the batter's box.
Yost didn't challenge the decision -- "There was no evidence that the ball hit him," he said -- and then Kratz looked at strike three to end the game.
"We had a multitude of opportunities starting in the first inning, we just couldn't take advantage of it," Yost said.
Yep, the Royals loaded the bases against Indians starter Trevor Bauer -- Nori Aoki and Omar Infante singled and Alex Gordon walked -- with nobody out. But Billy Butler, Perez and Raul Ibanez all struck out. Nothing.
They loaded the bases again in the 10th against Tomlin. Perez doubled and, with one out, Cain singled and Mike Moustakas was intentionally walked. But Alcides Escobar bounced into a force out at the plate and newcomer Jayson Nix fanned. Nothing.
Why didn't slugger Josh Willingham come off the bench to pinch-hit for the light-hitting Nix? He wasn't able.
"He showed up this afternoon with a stiff back," Yost said. "He didn't take batting practice, worked on it all game, came down in the sixth inning and tried to take some swings and it was still bothering him a little bit so had to stay away from him."
The Royals stranded a season-high 16 runners as they contended with a parade of eight pitchers conducted by Francona.
"That was one of the funner games to be a part of, it certainly helps when you win," Francona said. "But I mean there was so much that was going on and not a lot of scoring though. They had baserunners it seemed like every inning, and we found ways to wiggle out of a few."
This was KC's second straight loss to the Indians, both before vocal crowds of 30,000-plus.
"The crowds were electric the last two nights," Cain said. "They're cheering us on and giving us all this support and we just didn't get the job done."
Shields wore a determined look in the quiet clubhouse.
"We have to win these games, bottom line. We didn't get the job done today," he said. "We've got to get better at that and the veteran leadership and the great experience we have in this clubhouse is going to take us where we need to be."
Dick Kaegel is a reporter for MLB.com. This story was not subject to the approval of Major League Baseball or its clubs.