Mariners fall back in WC race after loss to Nats
Bats limited by Strasburg; Seattle 1 1/2 games back of Detroit, KC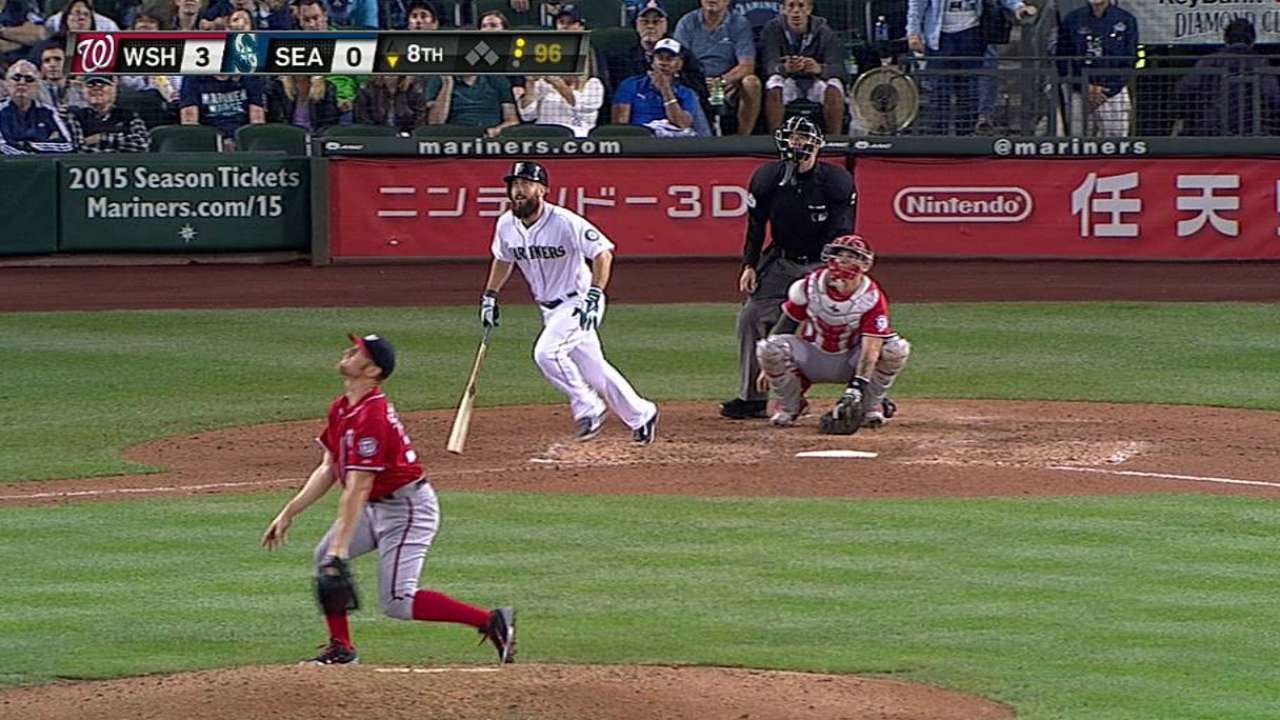 SEATTLE -- With no answer for right-handed pitcher Stephen Strasburg until Dustin Ackley's eighth-inning home run, the Mariners could do little to prevent a mini-skid on Saturday night at Safeco Field and fell, 3-1, to the visiting Washington Nationals.
Strasburg spun a a shutout for 7 2/3 frames until Ackley sent a solo homer just over the right-field wall. The blast ended Strasburg's night, but the Nats' bullpen worked a scoreless 1 1/3 innings, sending the Mariners to their third loss in a row and dropping them to 72-62 on the season and 1 1/2 games behind the Tigers and Royals, who are currently tied for the second American League Wild Card spot, as well as atop the AL Central standings.
Seattle is just 1-4 on its six-game homestand, with only a Sunday tilt against Washington remaining before it embarks on a seven-game road trip through Oakland and Texas that could decide if the club plays meaningful games through the entire month of September.
"I think, ultimately, we want to have a better homestand than we're having right now," Ackley said. "It's just one of those things where we'll flush it and we'll move on and we know we're better than what we've been doing."
Quite suddenly, things aren't going so well. The Mariners have been outscored 23-8 in their last three games.
On Saturday, they fell behind early.
The first hitter of the game, Denard Span, skied a routine fly ball, but left fielder Ackley and center fielder Austin Jackson bumped into each other, and the baseball clanged off Ackley's mitt. Span rolled into second base, while Jackson was charged with the error.
"We both started calling it at the same time, and we didn't really hear each other, and at the last second, I think I finally heard him and I should have got out of the way at that point, no matter how close I was," Ackley said. "It was just one of those ones you learn from and you move on from it. But ultimately, I should have let him have it."
Span came around to score an unearned run later in the inning when Jayson Werth lined a two-run home run -- his second of the series -- to stake the Nationals to a quick lead that sucked the energy out of an announced crowd of 32,894.
The Nationals made it 3-0 in the fifth inning on Anthony Rendon's two-out RBI double off Mariners starting pitcher Roenis Elias (9-12), who allowed three runs, two earned, over six innings en route to the loss.
Elias was originally scheduled to pitch Monday in Oakland, then on Friday the club announced he would flip-flop in the rotation with veteran right-hander Chris Young.
The move got the desired result, if not the victory.
"That's the best he's been in a while -- especially in the latter stages of his outing," said acting manager Trent Jewett. "Everything was working for him."
The same could be said for Strasburg. The Mariners weren't able to mount many threats. When they managed to string together a few hits, they couldn't come through. Strasburg struck out the side in the fourth and allowed just six hits while striking out eight.
In the third, the Mariners had a rare chance to score after back-to-back, one-out singles from Jesus Sucre and Jackson. But Ackley flied out and, after Jackson stole second, Robinson Cano struck out looking.
"We had a lot of called third strikes," Jewett said.
In the bottom of the fifth, Sucre and Jackson came back again with a pair of singles, this time with two outs, before Ackley struck out swinging to end the inning.
"He's got good stuff. The changeup he's got is pretty devastating to lefties," Ackley said of Strasburg. "I don't know if he threw it to righties too much, but he's got good stuff."
There was still hope in the ninth, when Kyle Seager hit a one-out single off Nationals closer Rafael Soriano. After Logan Morrison fanned looking, Endy Chavez followed with a pinch-hit single, but James Jones, making his first start of the season in right field, grounded to second base for the final out.
The Mariners have lost 11 games in a row to the Nationals. It's the longest active win streak for one team against another in the Majors.
"There's no moral victories in this league. It's either you win or you lose. You try to win every night -- hopefully more often than not, you do," Jewett said. "Losing's tough. It's no fun. Fortunately in this game, you get a chance to get retribution real soon.
Adam Lewis is an associate reporter for MLB.com. This story was not subject to the approval of Major League Baseball or its clubs.