Feldman blanks Rangers as Astros take Silver Boot
Righty gives up three singles to old team for second complete game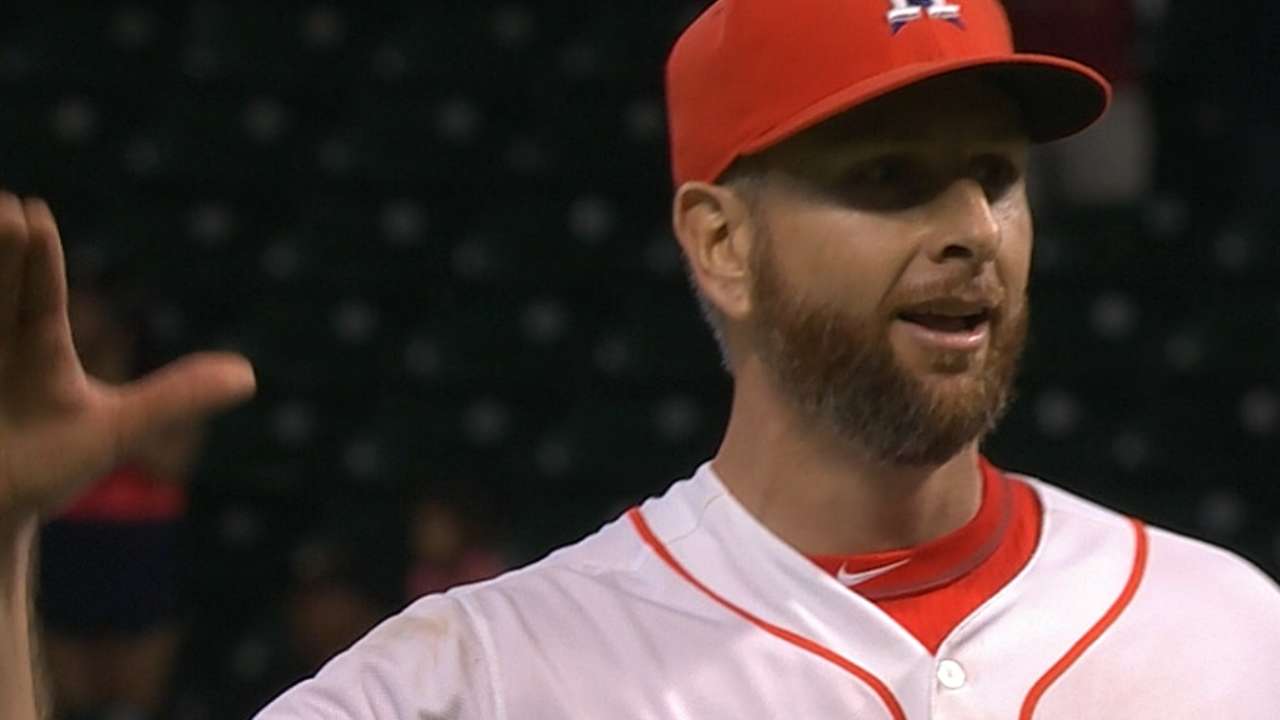 HOUSTON -- Astros starter Scott Feldman learned an important lesson Saturday night. Your catcher knows best.
Feldman said he felt terrible warming up in the bullpen before the game against the Texas Rangers at Minute Maid Park. "I didn't know where the ball was going," he said.
Carlos Corporan, Houston's veteran catcher, did.
"He didn't know," joked Corporan. "I'm the catcher. He was really good [in the bullpen]. Sometimes we have a really good BP [bullpen] and he doesn't throw good. That's the way it works."
"I was talking to Corp and he told me I was looking pretty good in the bullpen," Feldman said. "I felt terrible warming up down there. Goes to show how you feel out there isn't always what you bring into the game."
Feldman walked out of the bullpen to the mound and threw a three-hitter to beat the Rangers 2-0, striking out five and walking one. He threw 115 pitches, two short of his season high.
With the win, Houston clinched the Silver Boot vs. Texas for the first time since 2006, widening their lead in the season series to 10-5. The Astros were 2-17 against the Rangers last season.
"Once I got in the game, I felt better," Feldman said. "I was trying to mix it up like usual. I had pretty good command of all [my pitches]. That's what helped, being able to mix it up."
"He was throwing his first pitch for strikes," Corporan said. "He was using his curveball, his changeup. His cutter was really good. Whatever I would call, he would throw for strikes. He had big strikeouts. He was tremendous."
Feldman, the Astros' key free-agent acquisition in the offseason, was so dominating that he no-hit the Rangers for 4 1/3 innings. All three hits he gave up were singles. No Ranger even reached third base.
"He was at his best tonight," Rangers shortstop Elvis Andrus said. "He was painting the corners with his sinker every time he wanted to. When he does that, he's effective for sure. He was aggressive, he never let us feel comfortable."
Feldman wrapped it all up in a tidy, crowd-pleasing two hours and 25 minutes.
Of course there were some good defensive plays. Astros left fielder Robbie Grossman, back in the lineup after missing the last two games with a twisted ankle, made a diving catch on Alex Rios to end the first inning. Corporan threw out Rougned Odor trying to steal second after Odor had opened the sixth inning with a single.
Feldman's pitching was even better. He threw his second complete game of the season and first shutout since beating the Chicago White Sox last Sept. 6 when he pitched for Baltimore.
"Scott Feldman was unbelievable," Houston manager Bo Porter said. "He had it all working today. He was able to locate both sides of the plate. When you look at some of the swings they were taking, not only out of the zone but in the strike zone, you could tell how much the ball was moving."
Feldman improved to 8-10 and lowered his ERA to 4.09.
"I'm feeling better and better as the season's gone on," he said. "I hope to keep that going the rest of the year."
The Astros were no-hit themselves for the first five innings by left hander Robbie Ross Jr., who was called up to make a spot start.
But Ross had thrown 42 pitches in relief Thursday night in Triple-A and Texas manager Ron Washington pulled him after 70 pitches Saturday night.
"I was just glad they took him out of the game," Porter said. "He was doing a tremendous job."
"He got me out with two fastballs down the middle," Corporan said of Ross. "He threw everything for strikes. We got our momentum when they switched pitchers."
Washington called on reliever Phil Klein. Jose Altuve, the American League's leading hitter and second batter to face Klein, doubled in the sixth, but never made it past there.
The Astros finally broke through for two runs in the seventh. Jesus Guzman led off with a walk and moved to third on a bloop double by Corporan. Jake Marisnick hit a high hopper toward the mound. Klein decided he had no chance to get Guzman at home, but threw wildly to first, allowing Corporan to score Houston's second run.
"It's definitely a step in the right direction," Porter said. "When you look at how these guys pretty much dominated us last year. We played some of our best baseball against these guys this year."
"You could definitely feel the crowd is into it," added Marisnick. "The Silver Boot is pretty cool."
Gene Duffey is a contributor to MLB.com. This story was not subject to the approval of Major League Baseball or its clubs.