Harang labors as Braves fall to Marlins in shutout
Righty lasts 5 2/3 as bats bow to Cosart; Atlanta 1 1/2 back in WC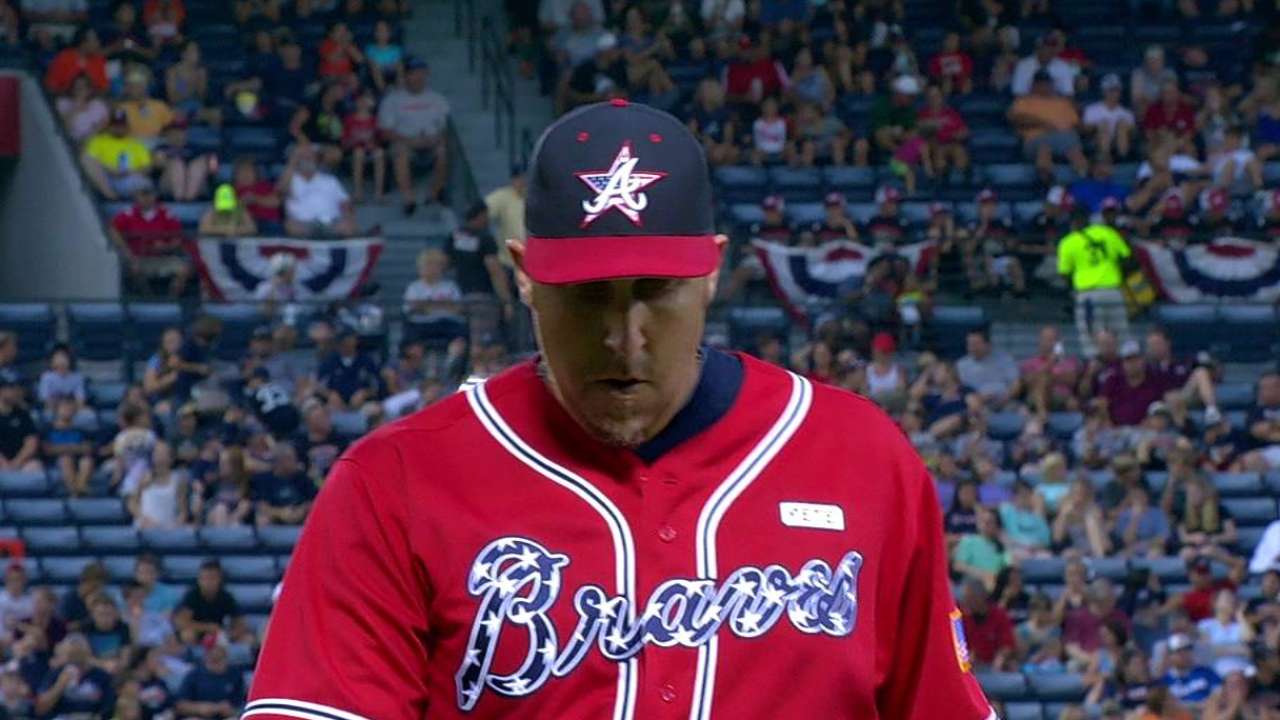 ATLANTA -- Some nights you battle through and win without your best stuff. In his 13 Major League seasons, Aaron Harang has done that plenty.
Saturday night was not one of those times, however, as despite his usual grit and guile, Harang and the Atlanta Braves fell to the Miami Marlins, 4-0, at Turner Field.
"He battled," said manager Fredi Gonzalez. "He battled and minimized the damage at times, only giving up single runs."
The loss evened the weekend series, snapped the Braves' three-game winning streak and dropped Atlanta to 1 1/2 games behind the St. Louis Cardinals for the final National League Wild Card spot.
Harang (10-9), who fell to 5-6 in his career against the Marlins, went 5 2/3 innings, allowing four runs (three earned) on seven hits, striking out five and walking three. He made no excuses.
"I was getting ahead early in the count, but they were able to get some timely hits in key situations," he said. "The curveball to [second baseman Donovan] Solano, was just something right over the middle of the plate. You're going to have those days. Obviously, [Jarred] Cosart, he out-pitched me today. He threw the ball well."
Saturday was the third time in four starts that Harang has not pitched at least six innings (something that happened only twice in his first 24 starts). He's lost all three of those starts and is 1-3 with five no-decisions in nine starts since July 19. In seven of those nine games, Atlanta has scored three or fewer runs, and only once has scored as many as four runs.
Saturday night was particularly frustrating, starting with the 0-1 pitch that the light-hitting Solano, hitting .192 (5-for-26) on Miami's nine-game road trip, hammered over the left-field wall for a 1-0 lead. The homer, the first of three hits Solano would have, was the first given up by Harang in three starts and only his third in six August appearances.
Most of the rest of Miami's damage came on timely, well-placed hits.
In the third, Harang was hurt by a two-out walk to Christian Yelich, who came around to score following a pair of seeing-eye hits by Solano and Giancarlo Stanton. Then, in the fifth, he was tagged by a pair of hits, including another RBI single by Solano, with two outs.
Harang pitched out of further trouble in the fifth, after the rally was extended by a fan, who appeared to deflect a foul ball in the crowd away from right fielder Jason Heyward during Miami third baseman Casey McGehee's at-bat. McGehee would walk to load the bases, but Harang retired first baseman Garrett Jones to end the inning.
"That's the thing about this game. You can throw some good pitches, and they hit the ball into the dirt in front of the plate and they don't even make it to the infielder," Harang said. "I felt like they hit some balls that were able to find the hole and had a couple of infield hits in key situations that kept the inning alive."
A walk led to Miami's final run in the sixth that scored on a passed ball, a cross-up with catcher Evan Gattis, for which Harang shouldered the blame.
The Braves, on the other hand were unable to mount any kind of attack against Cosart. Suffice it to say the Atlanta Braves have seen enough of him.
The 24-year-old right-hander, who entered Saturday night with a 12-9 career mark and 3.98 ERA, improved to 2-0 with an 0.64 ERA against the Braves in 2014, throwing seven-plus dominant innings.
Atlanta, which is now 4-5 this season against the Marlins at Turner Field, has been held to one run and 13 hits in 14-plus innings over two starts by Cosart, who gave up only one run and six hits over seven on June 26 as a member of the Houston Astros in a 6-1 loss. Of course, Braves hitters aren't alone in their weariness of Cosart (3-1 with the Marlins, 12-8 overall), as he's pitching to a 1.64 ERA (six earned runs in 33 innings) in five starts since being acquired by Miami at the Trade Deadline and is unbeaten in his last four starts (3-0, one no-decision).
Cosart's cutter was especially devastating.
"Tonight was like your right-handed version of Cliff Lee," said Heyward, who had three of Atlanta's nine hits and two of the seven off Cosart. "A lot of cutters in the zone and a lot of cutters ahead of the zone. If you have a good curveball, everything is hard, it's a tough at-bat."
When the Braves put the ball in play, it seemingly was right at Marlins. After giving up a single to Heyward to open the game, Cosart proceeded to retire the next 10 batters, including striking out four of five, before allowing a Freddie Freeman single with two outs in the fourth.
Atlanta grounded into three double plays.
"When we don't make contact, people talk about us striking out. So it's just part of the game. We're just going through one of those phases where we're grounding into some double plays," said third baseman Chris Johnson. "We don't have a ton of speed guys on the team, so when we do hit ground balls they end up being double plays."
The Braves threatened in the sixth, putting two men on, and the eighth, loading the bases, both times with one out, but they could not cash in. In both innings, shortstop Andrelton Simmons struck out then first baseman Freeman grounded out.
Gonzalez doesn't find fault with the team's effort.
"We got fight," he said. "We had the bases loaded, and that's what you always shoot for, for your guys. You have the right guys at the plate. You might be able to get one or two runs out of there, but it just didn't happen."
Johnson said the Braves better find a way to make it happen against Cosart, who has quickly worn out his welcome with Atlanta.
"It's just something we have to get used to, him being in our division now," he said. "We have to try to get used to it and work out a plan for the cutter."
Jon Cooper is a contributor to MLB.com. This story was not subject to the approval of Major League Baseball or its clubs.