Three homers back Doubront's sharp debut
Watkins, Valaika, Starlin go yard; lefty gives up one run in seven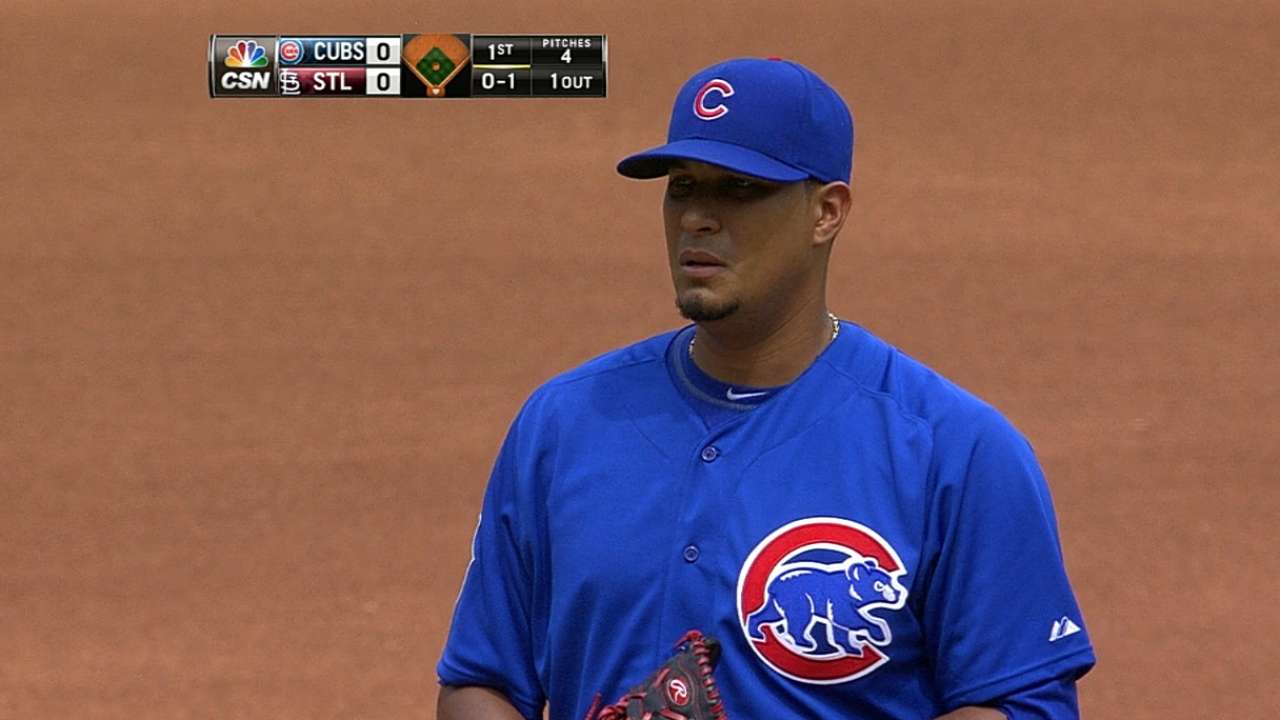 ST. LOUIS -- The Cubs hit back-to-back home runs in the first game of a doubleheader Saturday, and Jorge Soler and Javier Baez had nothing to do with it.
Logan Watkins hit his first Major League home run one day after his 25th birthday and Chris Valaika followed with his second this season, while Starlin Castro matched his personal high with his 14th homer to power the Cubs to a 5-1 victory over the Cardinals.
"This is a team that is really capitalizing on the home run," Cardinals manager Mike Matheny said of the Cubs, who have hit seven in the first two games of this four-game, three-day series. "They are productive with the hits. You look at it, we both had seven hits, but theirs did some damage and had better timing."
Watkins and Valaika connected in the fourth, marking the eighth time this season and fifth time this month the Cubs have gone back to back. Castro's blast, a towering shot to left, came with one out in the fifth to match his 2012 career high. Chicago began the day ranked third in the National League in home runs.
No team has hit more than two homers in a game at Busch Stadium this season, and the Cubs now have done so in back-to-back games. Soler hit a pair on Friday in his third big league game.
"That's a tough act to follow," said Watkins, who started in right field in place of Soler. "I guess the rest of us can streak one out every once in a while. He'll be back in there as often as possible. Any time I can get at-bats and find a spot in the lineup, I'll play wherever."
Watkins, who was the Cubs' 2012 Minor League Player of the Year, has hit 27 home runs over seven Minor League seasons, so it's not that far-fetched that he did connect. But he's not projected to hit like Soler or Baez.
"You watch the three of us take batting practice, you're probably going to enjoy them more than me," Watkins said. "I feel I bring a lot to any team I'm on. I'll play the game hard and play the game right. When you see teams that win, they have guys on the team who do that and that's who I want to be."
The only players in the Cubs' lineup who were also there when they faced the Cardinals for the first time this season back on April 11 were Castro and Luis Valbuena.
"It certainly is a different team," Cubs manager Rick Renteria said. "They're very talented and exciting to watch. It's kind of fun."
Felix Doubront was with the Red Sox in April. He picked up the win in his first start for the Cubs. Doubront, 26, acquired from Boston on July 30, began this season in the rotation, but missed time because of a left shoulder strain and pitched mostly in relief when he returned from the disabled list.
He had pitched at Busch Stadium before. Last year, Doubront picked up the win in Game 4 of the World Series in St. Louis after allowing one run in 2 2/3 innings of relief. Taking the mound Saturday brought back memories of the postseason.
"I was thinking about that, stepping on the mound, and feeling the way I felt in the World Series last year," Doubront said. "The first inning, second inning were shaky. The third inning, I was feeling that rhythm in the game. This is my team now, and I have to give everything 100 percent that I have and go out and win games and help the guys."
Even Doubront's wife asked him if he expected to be nervous.
"I was thinking about it -- why?" Doubront said. "I said, 'I'm going to throw the first pitch for a strike, and the butterflies and nervousness will be gone.' I didn't even feel it."
"The thing I appreciated about catching him today was that he trusted what I was putting down," Chicago's John Baker said. "There were times I put four or five changeups down in a row. He had the willingness to go with whatever.
"He played that game pitch to pitch, and I think that's what kept him efficient," Baker said. "When you have a lineup like this that swings aggressively, that's great if you can keep the ball down."
With one out in the Chicago second against Justin Masterson, Watkins singled and Valaika was hit by a pitch. One out later, Doubront walked -- the first time he's been on base in five career plate appearances -- and Chris Coghlan then singled to right. Both Watkins and Valaika scored, but Valaika was called out by home-plate umpire Alan Porter. Renteria asked for a review of Rule 7.13, and during a crew-chief review, it was determined that Valaika was safe, and the call was overturned. Coghlan was credited with a two-run single.
The Cubs are a different team, and there's a different feeling for many of the players, including Watkins, although he admits that could be because so many of the young players were his teammates at Triple-A Iowa. It helps when you hit home runs.
"I expect this to happen," Watkins said. "I've gone every level, I've worked hard, I've paid my dues. I feel I belong here. It's cool I hit a home run, but I expect to hit more. This is the first of hopefully many."
Carrie Muskat is a reporter for MLB.com. She writes a blog, Muskat Ramblings, and you can follow her on Twitter @CarrieMuskat. This story was not subject to the approval of Major League Baseball or its clubs.