Yankees find one hit doesn't take them far
Pineda effective but overshadowed by Toronto pitching in defeat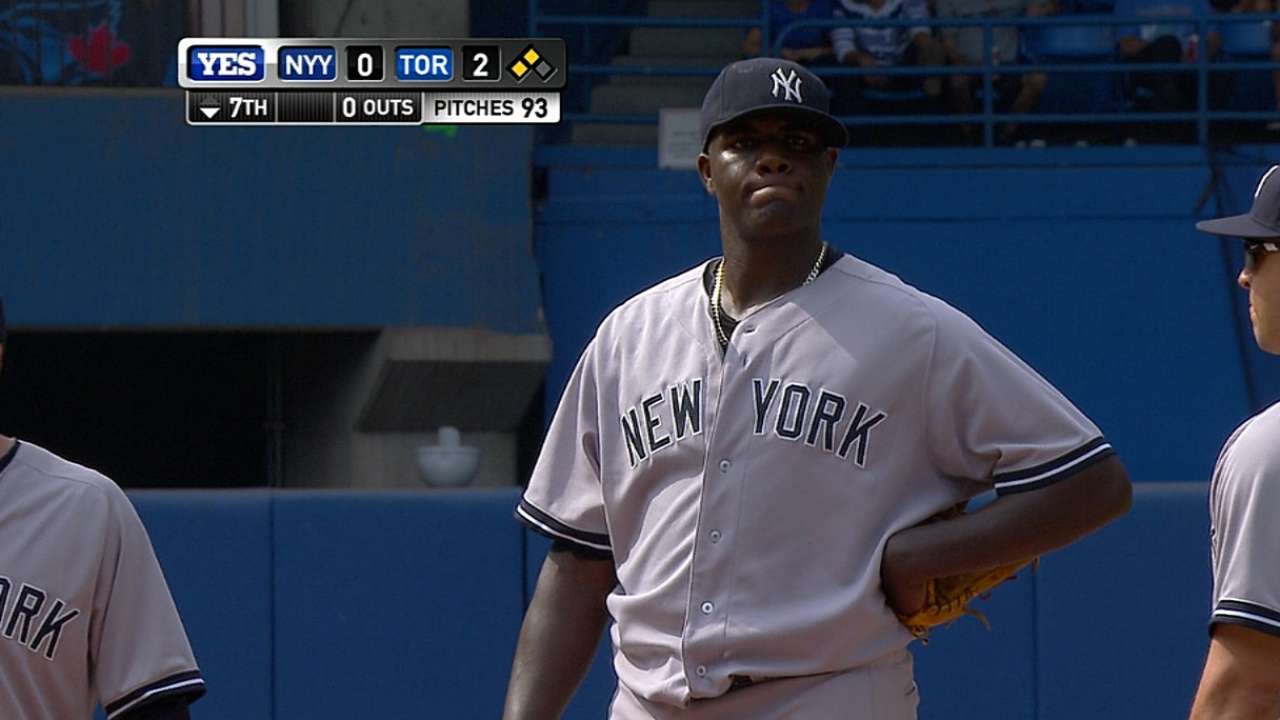 TORONTO -- With the way Blue Jays starter Drew Hutchison was throwing, Michael Pineda would have had to be nearly flawless on Saturday.
Pineda was stingy for much of the game, but a first-inning mistake when he was ahead in the count was too much for the Yankees to overcome.
Pineda served up a two-run homer to Jose Bautista, while New York's bats were limited to one hit and shut out for the sixth time this season in a 2-0 loss to the Blue Jays at Rogers Centre.
"When a guy has stuff like that, sometimes there's not a whole lot you can do as a club," Yankees third baseman Chase Headley said of Hutchison. "You hate to waste an outing like [Pineda's]. That's a good offensive club over there, and he did a great job for us."
The runs came early but not often in front of a packed house of 45,863, the 11th sellout at Rogers Centre this season.
Pineda met Bautista in the first with two outs and one on. He attacked the Toronto slugger with a series of sliders to get ahead, 0-2, before hanging the fourth one of the at-bat, and Bautista didn't miss it.
Bautista provided the game's scoring when he crushed Pineda's offering over the fence in left field for his 28th homer of the season, giving Toronto a 2-0 lead. The right fielder has homered in four consecutive games, marking the second time in his career he has accomplished the feat.
"I tried to make a good pitch to him, a good slider down in the dirt," Pineda said. "Instead, it was right in the middle."
Pineda settled in after that, retiring 14 of the next 16 batters he faced before allowing a one-out single in the sixth.
The right-hander ran into more trouble in the seventh and was lifted after allowing a pair of hits to put two runners in scoring position with no outs. But he was bailed out by righty Shawn Kelley, who retired the next three batters and kept the deficit at two runs.
Pineda allowed two runs on seven hits over six-plus innings and fell to 3-3 on the season. Of his three losses, two have come against the Blue Jays. He didn't walk a batter for a second consecutive start, and he struck out three.
"Another great outing," catcher Brian McCann said of Pineda's performance. "This is what we've come to expect from him every time out."
The 25-year-old Pineda has been strong in four starts since coming off the disabled list earlier this month, sporting a 2.31 ERA with 15 strikeouts and one walk over 23 1/3 innings. On the year, his ERA sits at 2.09, and he has surrendered two earned runs or fewer in nine consecutive starts, dating back to his rookie year with the Mariners in September 2011.
As good as Pineda was, Hutchison was better, combining with Aaron Sanchez to neutralize the Yankees. Saturday marked the first time New York has recorded one hit in a game since Sept. 4, 2009, also against the Blue Jays.
Hutchison retired 11 straight to start the game, then hit Carlos Beltran with two outs in the fourth. Mark Teixeira followed with a double and Hutchison drilled McCann one batter later to load the bases, but the Yankees were unable to capitalize during what was a rare off inning for Hutchison on the day. The 24-year-old righty escaped the frame unscathed by getting Martin Prado to fly out to center field.
Yankees hitters credited Hutchison with having a deceptive fastball and a tight slider with good downward movement. Teixeira said the pitch he hit for extra bases, which snapped his 0-for-11 skid at the plate, was a hanging changeup.
"It might have been the only pitch he mislocated all day," Teixeira said. "Every pitch he missed, he missed out of the zone. He didn't really miss over the middle of the plate at all."
Hutchison walked two and struck out nine to earn his first win in four starts. Over his last two outings, he has allowed one run and struck out 16.
"We've seen him very good a lot of times, but it's tough to get any better than he was today," Blue Jays manager John Gibbons said of Hutchison.
Sanchez struck out three and retired all six batters he faced to help Toronto record its 13th shutout of the season.
The Yankees will conclude their seven-game road trip in Sunday's rubber match with right-hander Brandon McCarthy on the hill against J.A. Happ.
Chris Toman is a contributor to MLB.com. This story was not subject to the approval of Major League Baseball or its clubs.