Odorizzi bounces back nicely as Rays blank Red Sox
Given early support, righty allows just one hit, fans seven over seven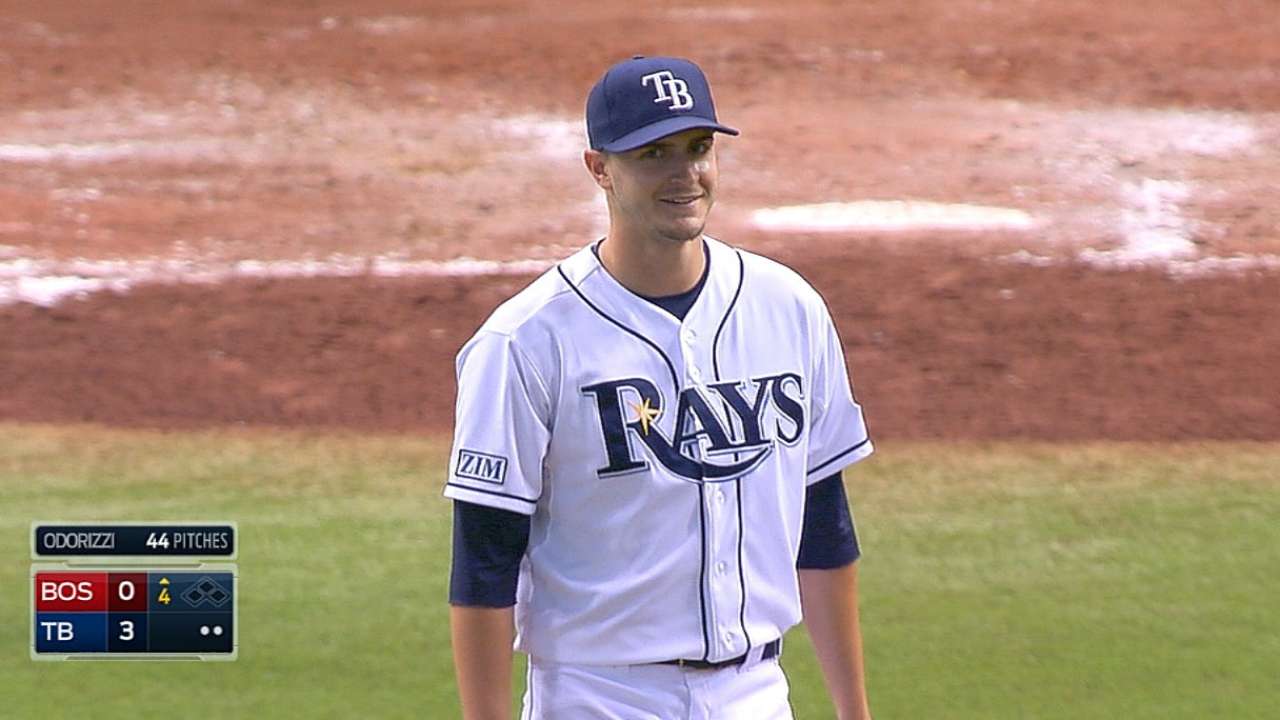 ST. PETERSBURG -- Monday night in Baltimore, Jake Odorizzi explained the struggles caused by his fastball running in to the hitters rather than riding up in the zone.
By Saturday night, the problem had been corrected and the Rays defeated the Red Sox, 7-0, at Tropicana Field in their club-record 18th shutout of the season.
The Rays (66-70) evened the four-game series with two games remaining.
Odorizzi's fastballs ran in against Orioles hitters and they weren't missing. Twice they hit back-to-back home runs in a four-inning outing that saw Odorizzi allow eight earned runs.
After a little tinkering under the hood between starts, Odorizzi came away with a nice rebound start Saturday. He noted that he followed through better rather than "spinning off pitches" like he did Monday.
"I was rotational last time and today I was down through," Odorizzi said. "It wasn't running, it was going right where I wanted it to and kept it where I wanted to.
"The action was completely different than the other day. [Monday night] was just kind of a weird thing had happened. Minor tweak changes it and changes everything. But when you get in that habit during the game, it's kind of a tough thing to adjust when you're in the heat of battle type of thing. But I worked on it in the 'pen, got back to normal."
The right-hander's only real problem came in the seventh when he walked the bases loaded after retiring the first two batters. But he got Xander Bogaerts to pop up to first to end the threat and his outing. The inning pushed Odorizzi's pitch count to 103, which, according to Rays manager Joe Maddon cost Odorizzi the chance to go eight or possibly finish the game.
"Fastball was back to where I liked it, the movement was perfect, needed to work on the location in the seventh, though," Odorizzi said.
He got a little help along the way, specifically Kevin Kiermaier's contribution in the fourth when Daniel Nava hit a two-out drive to deep center field. Running toward the wall with his back to home plate, the center fielder hauled in the drive steps before thrusting a leg against the padded wall to put on the brakes.
Odorizzi allowed just one hit and three walks while striking out seven in seven innings to improve to 10-13. He has allowed one hit in three starts this season, joining Chris Sale of the White Sox as the only pitchers to allow one hit or fewer in three starts this year. The only other Ray to do that in a season was Matt Moore in 2013.
"Odorizzi shut us down," Red Sox manager John Farrell said. "Quality fastball, very good changeup, consistent mix kept us off balance and off stride throughout the night."
Meanwhile, Tampa Bay's offense took care of business. But talk about making a mountain out of a mole hill.
Red Sox starter Allen Webster grazed Evan Longoria on the forearm with a pitch to open the second. That manifested into a three-run Rays rally.
James Loney followed with a double that scored Longoria from first. Brandon Guyer then singled before Logan Forsythe walked to load the bases for Ryan Hanigan, who came through with a sacrifice fly. Ben Zobrist grounded out to first to drive home Guyer.
Zobrist grounded out to drive home Forsythe in the fourth, before the Rays once again used the make-a-mountain-out-of-a-mole-hill approach in the fifth to score another three runs.
Matt Joyce walked to start the inning and Longoria added a single to chase Webster. Alex Wilson took over and struck out Loney before Guyer dropped a bunt single that catcher David Ross threw down the right-field line, allowing both runners to score and Guyer to reach third. Forsythe's sacrifice fly completed the three-run rally for a 7-0 lead.
"We'll take it. We have been very benevolent, I talked about, to other teams, giving things away," Maddon said. "But tonight we took advantage of a mistake."
Bill Chastain is a reporter for MLB.com. This story was not subject to the approval of Major League Baseball or its clubs.