Sox lose Pedroia on rough night for Webster, offense
Battling command issues, righty allows six runs; club held to one hit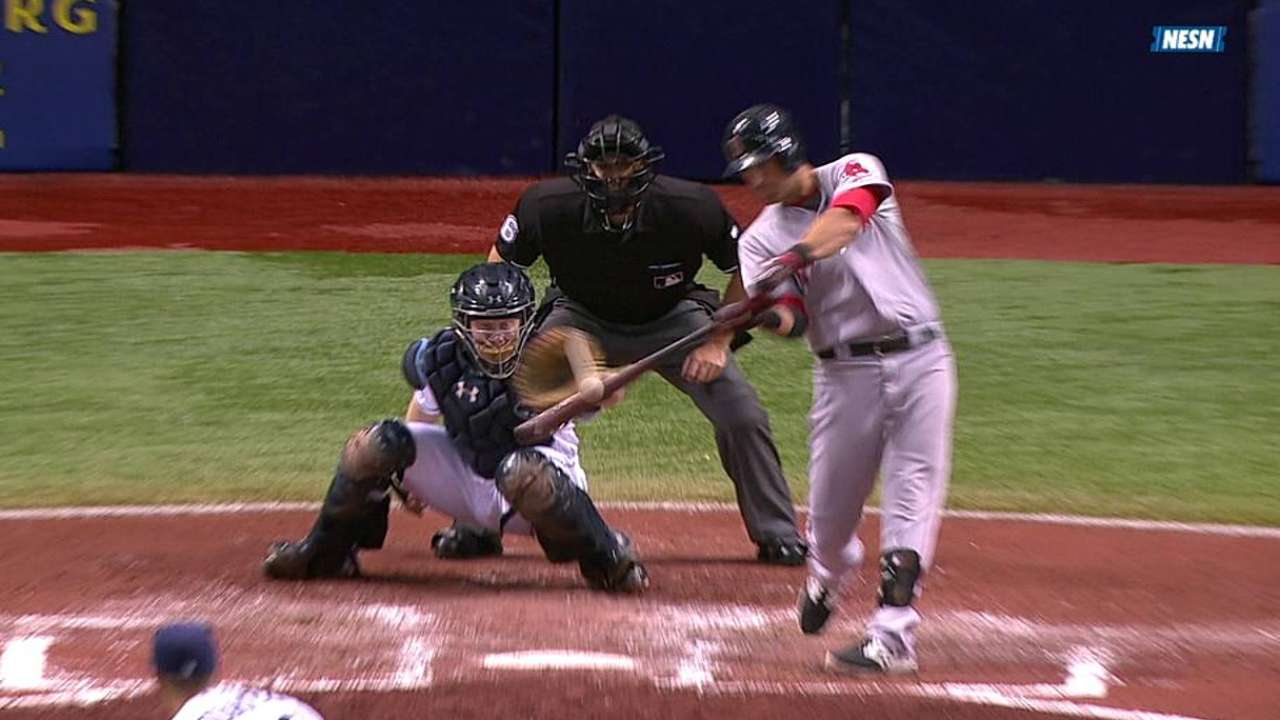 ST. PETERSBURG -- The Red Sox had yet another night of offensive futility Saturday night at Tropicana Field and to make matters worse, they also lost Dustin Pedroia for at least a few days.
The Boston bats were limited to one hit for the third time this season, as Jake Odorizzi was dominant over his seven innings while lifting the Rays past Boston, 7-0.
Pedroia, trying to make a tag play at second base in the bottom of the second, got belted on the head by Tampa Bay's Logan Forsythe.
"He's got some symptoms that are consistent with a concussion," said Red Sox manager John Farrell. "He's improved as the game has gone on, as the night has gone on here. Not as dizzy as he was when he first came off. But we'll take every precaution necessary with Dustin."
Meanwhile, the promise that Red Sox right-hander Allen Webster had showed recently has been washed away in the last two starts, as he's been unable to make it out of the fifth inning on both occasions.
He was victimized by a familiar problem Saturday night -- lack of command.
Webster (3-3, 6.69 ERA) gave up five hits, six runs and three walks while hitting two batters over four-plus innings.
"I fell behind batters, didn't get ahead, and when I had to make pitches I left them over the middle of the plate," said Webster.
Will Middlebrooks, who came into the game to replace Pedroia in the lineup, had the only hit for Boston, a single in the fourth inning.
"Odorizzi shut us down," said Farrell. "Quality fastball. A very good changeup. He had a consistent mix. Kept us off balanced and off stride throughout the game."
After an easy first, Webster got into immediate trouble in the second when he hit Evan Longoria. James Loney followed with an RBI double to right. Brandon Guyer kept the rally going with a single. Forsythe drew a walk to load the bases.
Then came an unfortunate play for the Red Sox. Ryan Hanigan lofted a sacrifice fly to deep right. Forsythe tagged and went to second, and as he slid into the base, he slammed Pedroia's head with his right forearm.
Pedroia was on the ground for a bit, and when he got up, he immediately exited the game.
"It was just a hustle play," said Forsythe. "I didn't even know I really hit him, and when I turned back and I saw him down -- I'd felt my arm hit something, and I put two and two together and figured it was his head. I didn't see where I hit him until replay, I looked at it."
A fielder's choice RBI by Ben Zobrist made it a 3-0 game.
In the fourth, Webster gave up two singles and hit a batter to load the bases with one out. That allowed the Rays to get another run on a fielder's choice grounder by Zobrist.
Webster had some more trouble in the fifth when he opened the inning by walking Matt Joyce and giving up an infield hit to Evan Longoria. Alex Wilson came on in relief, and Guyer reached on a bunt single that turned into a lot of trouble. Catcher David Ross made an errant throw to first, and two runs scored on the play. Forsythe's sacrifice fly pinned Boston in a 7-0 hole.
"Inconsistent command," Farrell said of Webster. "He'd go out and show you good stuff for a couple of hitter stretch and then would lose his fastball command. I thought he flashed very good secondary stuff and a good sinking fastball at times, but the inning-to-inning consistency was lacking here tonight."
If Webster is going to be a player the Red Sox can depend on next season and beyond, he needs to be able to display more consistency.
"Yeah, we've been working hard between each start, working on mechanics, doing dry work and stuff," Webster said. "Just the last two games haven't worked out for me."
Ian Browne is a reporter for MLB.com. Read his blog, Brownie Points, and follow him on Twitter @IanMBrowne. This story was not subject to the approval of Major League Baseball or its clubs.