Simon's strong start undone by shaky first inning
Frazier goes deep in Reds' Major League-leading 33rd one-run loss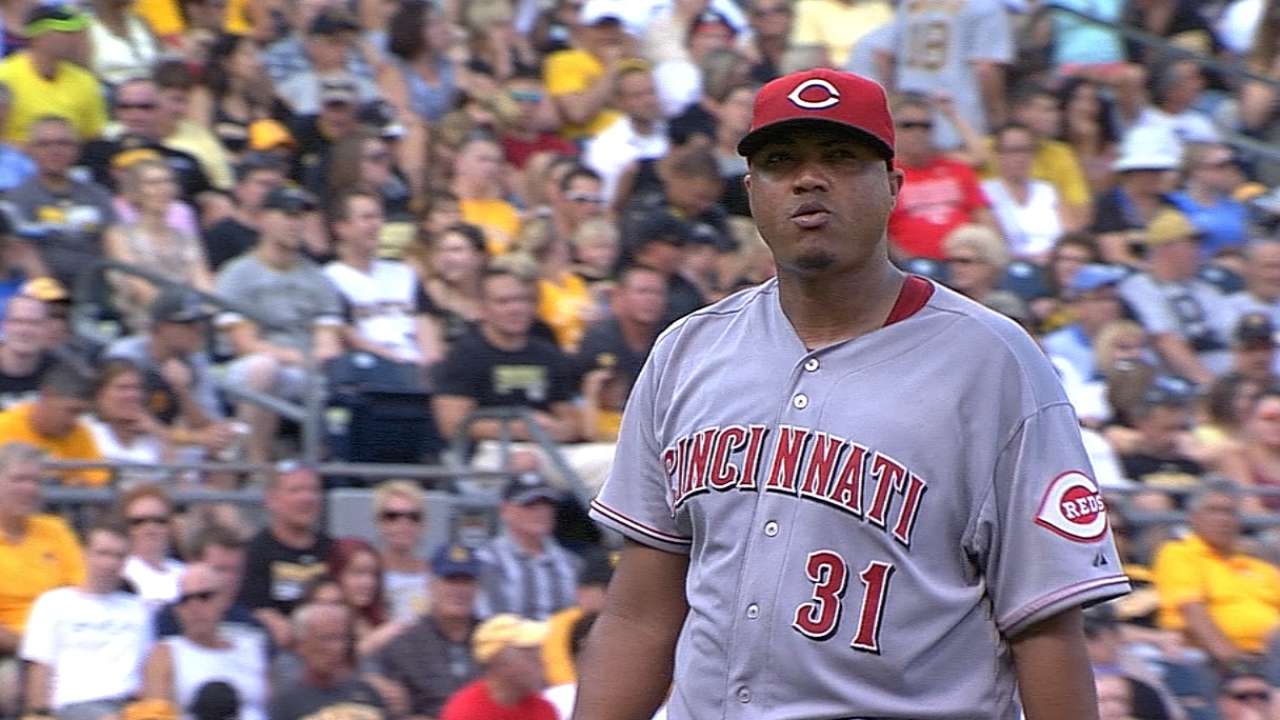 PITTSBURGH -- It always seems to come down to that one run for the Reds this season, doesn't it?
Saturday's 3-2 defeat to the Pirates at PNC Park was another instance where they did just enough to lose, and not quite enough to win. Where this loss stands out, Pittsburgh scored all of its runs in the first inning on Neil Walker's home run and had no hits after the second inning.
Cincinnati has played 52 games with one-run decisions this season, with a Major League-leading 33 losses. The club record of one-run losses is 41, done in 1916 and '46. The one-run defeats in 2014 almost account for half of the 65-71 Reds losses.
"It's a lot of losses -- one run. It's pretty amazing. You don't see that in a two-year span, really," Reds third baseman Todd Frazier said. "I don't know what it is. We talk about finishing games; it's really ... words can't explain with what's going on with 33 one-run losses. You win a third of those, you're in contention."
Reds starter Alfredo Simon was on the hook for three runs and four hits over his seven innings, with two walks and seven strikeouts. A well-pitched performance, indeed, but he and the Reds paid for a rough bottom of the first.
With one out in the first, Andrew Lambo lined a single to left before Andrew McCutchen walked on five pitches. Walker then attacked a first-pitch fastball over the middle of the plate and deposited a homer to the seats in right-center field for a 3-0 Pirates lead.
"The first inning, I just tried to attack the zone and they jumped on the first pitch. I think that was the thing," Simon said.
Simon then allowed a double to Russell Martin before getting out of the first. After that, he retired 19 of his last 21 batters, including a stretch of 12 in a row and 15 of 16.
After Josh Harrison hit a two-out single in the second inning and was caught stealing for the third out, no Pittsburgh batter reached until Martin worked a leadoff walk in the seventh on a 10-pitch plate appearance. Simon retired the rest of the side in order.
"It's kind of the theme to the second part of the season, how he gets out of the gates," Reds manager Bryan Price said. "It's not typically five or six great innings followed by a tough seventh. The damage is early, and then he's able to recover."
Simon, who was 12-3 with a 2.70 ERA in the season's first half, is 1-6 with a 4.62 ERA in the second half. His last two starts have been stronger, as he's allowed four earned runs over 14 innings. He is 13-9 with a 3.28 ERA in 27 starts overall.
Pirates starter Vance Worley kept the Reds hitless for three innings and until Frazier connected on a 3-1 fastball for a one-out long ball in the fourth. Frazier's ball traveled into the left-center-field seats for his 23rd homer of the season.
Devin Mesoraco drew a leadoff walk against Worley in the seventh, which was followed by a Brayan Pena single. Lefty Justin Wilson took over and struck out Jay Bruce. The potential third out, a popup behind first base by Zack Cozart, saw three players converge before it fell in past first baseman Ike Davis' outstretched glove as Mesoraco scored. The play was ruled an error on Davis.
The inning ended when Skip Schumaker struck out against Wilson, leaving runners on the corners.
"We have to find a way to push across more runs and be a better offensive club on a more consistent basis," Price said. "We had some opportunities there in the seventh and just weren't able to kind of finish it off."
With back-to-back losses to the Pirates before Sunday's finale, the Reds are assured of losing the sixth out of their last seven series.
In each of the Reds' last five losses, they've scored two runs or fewer. In Wednesday's and Thursday's wins over the Cubs, they scored seven.
Price was clearly frustrated that his team hasn't found a way to take control of games for much of the season.
"We can talk about our team at length and our strengths and weaknesses. That's not really necessary at this point in time in the season," Price said. "It's more essential we find a way to win that game, find a way to win every game. We don't get blown out a whole lot. But there are games that sit out there with a chance to do something, and we haven't consistently been able to do enough to run together a win streak."
Mark Sheldon is a reporter for MLB.com. Read his blog, Mark My Word, and follow him on Twitter @m_sheldon. This story was not subject to the approval of Major League Baseball or its clubs.