Walker leads way as Worley shuts down Reds
Including big homer, three of Bucs' four hits come in first inning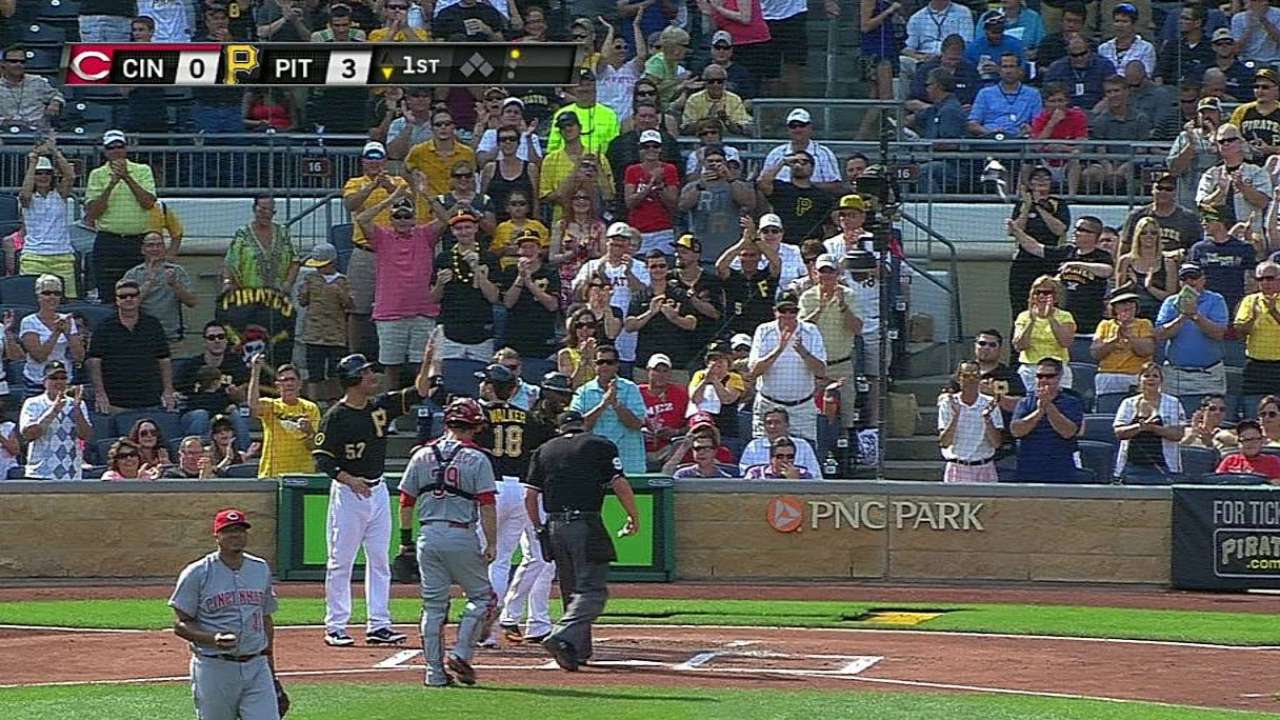 PITTSBURGH -- How the Pirates are ending August has much to do with their starting pitching.
Pittsburgh starters have left with the lead in all five starts the last time through the rotation, a trend Vance Worley continued Saturday afternoon. Worley's 6 1/3 productive innings and Neil Walker's three-run homer pushed the Bucs to a 3-2 victory against the Reds at PNC Park.
With Worley's showing included, the team's starters have a 1.35 ERA and 0.90 WHIP in their last five outings, yielding just five earned runs, 19 hits and 11 walks over the course of 33 1/3 innings during the homestand.
"It's a game within a game. We're trying to one-up each other and push each other to do better each outing," Worley said of the intra-clubhouse competition.
The win was the Pirates' seventh in nine tries, and it marked their third consecutive series victory against a division opponent. It also moved them within a game of the Cardinals for the second Wild Card spot, after St. Louis split a doubleheader with the Cubs on Saturday night. The Pirates also put themselves two games back of the Brewers for the division lead, after Milwaukee lost at San Francisco.
Worley was charged with two runs, one of which was earned. He struck out four, walked a pair and surrendered three hits. The right-hander lowered his ERA to 3.01 in the process and snapped a streak of three consecutive starts in which he gave up at least four runs and nine hits.
"I was able to get the ball down in the zone to start the outing," Worley said. "The last few outings, I was up in the zone, runs came in and I was working behind. ... I was able to get my angle on the ball again."
The only earned run Worley surrendered came when Todd Frazier belted a home run to the deepest part of the ballpark, putting a 3-1 offering a few rows deep over the left-center-field notch.
"You can't miss those," Frazier said of one of Worley's few mistakes. "Sometimes you foul them off, but when you get them, you have to take care of them."
Worley got in trouble in the seventh, when he hit Devin Mesoraco and gave up a single to Brayan Pena with one out before being pulled for left-hander Justin Wilson.
Another run scored, but it was no fault of Wilson's. He struck out Jay Bruce and then got Zack Cozart to loft a popup into shallow right field. First baseman Ike Davis, right fielder Andrew Lambo and second baseman Walker all converged on the ball, and it was a hesitant Davis who made a stab at catching it over his shoulder.
The ball dropped, Davis was charged with an error and Mesoraco scored. But Wilson kept Worley in line for the win, striking out Skip Schumaker to end the inning.
Manager Clint Hurdle turned setup man Tony Watson loose for the fourth game in a row, and the lefty pitched a perfect eighth. Mark Melancon then shut the door in the ninth for his 26th save.
Watson and Melancon have both been used regularly in the last week as the Pirates have had a handful of close leads late in games. However, the rest of the bullpen has certainly been able to stay fresh with the way the team's starters have worked.
"If our starters keep grinding like they are, it's going to put us in a good place," Hurdle said.
All of the Pirates' run production came four batters into the game as Walker hit his career-best 18th home run. The pair of Andrews batting in front of him -- Lambo and McCutchen -- singled and walked, respectively.
McCutchen's free pass came on five pitches, which Walker said made him expect a strike -- and he drilled the first pitch he saw to deep right-center field.
"When he walked [McCutchen], I felt like the first thing he'd want to do was get ahead of me," Walker said. "I felt like being aggressive was the right approach to go with. I could've easily hit that into a double-play ball, but I didn't. That's how baseball works."
Russell Martin added a double in the inning, and Josh Harrison singled in the second, but that would be all the Bucs' bats could do against Reds starter Alfredo Simon."Big Pasta" settled in and went seven innings, walking two hitters and striking out seven.
The Pirates have won two games this weekend while scoring in just two innings and going scoreless in 16 others (their two eighth-inning runs lifted them Friday night). Hurdle made sure to point out this rarity, and Walker made sure to credit what he saw as the reason for the wins.
"That's a testament to our pitching staff, honestly," Walker said. "Those guys have been fantastic, top to bottom -- starters, relievers, closer. Those guys are what kept us in games."
Stephen Pianovich is an associate reporter for MLB.com. This story was not subject to the approval of Major League Baseball or its clubs.