Padres earn third straight walk-off win
Amarista delivers the winning RBI single in 10th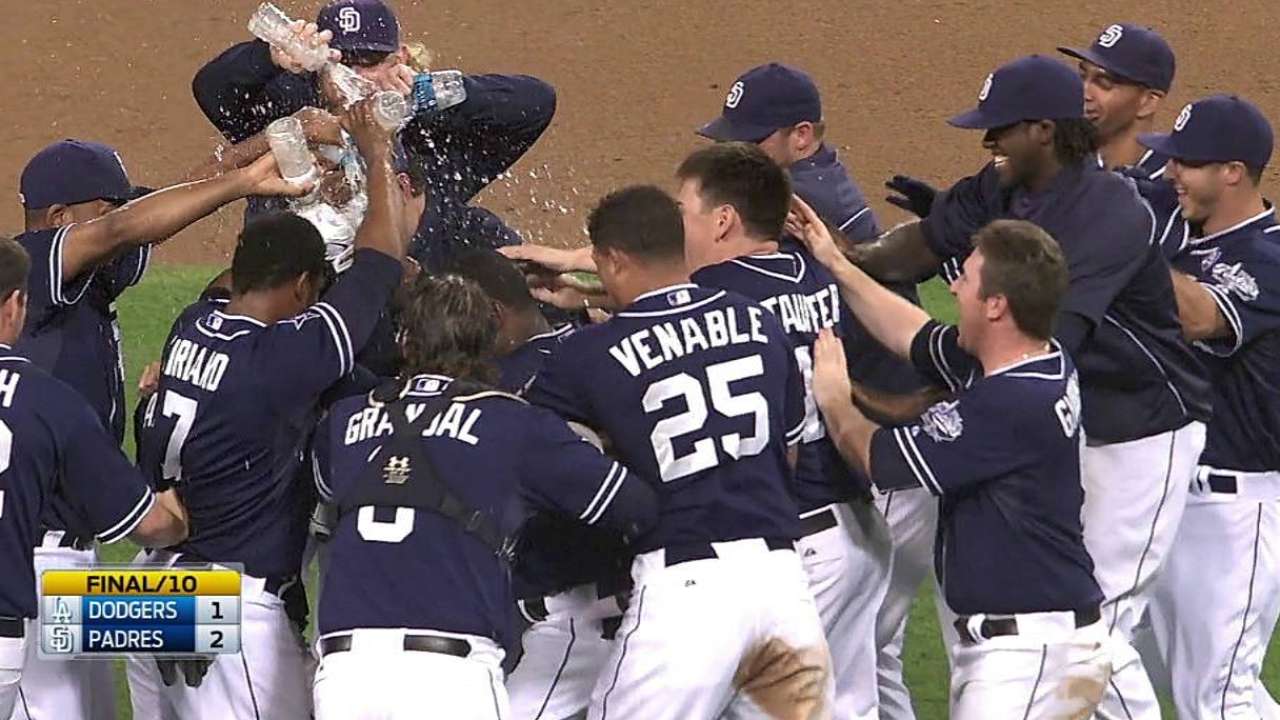 SAN DIEGO -- Three consecutive victories, all in extra innings and all in walk-off fashion. It was more than Padres manager Bud Black could wrap his head around Saturday.
"These are," he said, "unexplainable events."
But enjoyable, nonetheless, even if Black wasn't in the dugout to witness Alexi Amarista's bloop single to center field in the 10th inning that sent the Padres to a 2-1 victory over the Dodgers in front of a sold-out crowd of 43,926 at Petco Park.
Black was ejected by first-base umpire Clint Fagan during the top of the 10th inning when he disputed -- rather vehemently -- a swinging strike call on Yasiel Puig with Matt Kemp at second base and two outs.
"That was a critical point of the game," Black said. "I thought he swung … bottom line."
San Diego reliever Tim Stauffer (6-2) struck out Puig anyway, preserving the tie, setting up another win in their final at-bat, the first time the Padres have done so in three consecutive games since 1986.
Will Venable singled to start the inning and stole second base. After Rymer Liriano struck out, Venable raced home with the game-winning run when Amarista dumped a single into center field off of Jamey Wright (4-4).
Venable got a good read on the hit, which hung perilously in the air far longer than he cared for.
"They're [Dodgers] playing in and in that situation, I didn't go immediately," Venable said. "But once the ball got over my head, I just felt like I needed to go. I wanted to be aggressive."
The three consecutive victories in extra innings by the Padres (64-70) mark the first time it's occurred in franchise history.
The Padres are 16-10 in August and 23-16 since the All-Star break. Overall, they have won their last four games. So what's going on here, exactly?
"We're in games and very rarely is there a lopsided score one way or the other," Black said. "And our pitching has been stellar all year."
It was Saturday, as well, with starting pitcher Ian Kennedy, who took a one-hit shutout into the sixth inning before allowing a two-out home run to former Padre Adrian Gonzalez.
That was about the only mistake Kennedy made, as he allowed the one run on four hits with three walks and eight strikeouts in seven innings. He got a lot of mileage out of his fastball and changeup combination.
"I was getting ahead of a lot of guys early on and they were aggressive early. I wanted to throw a lot of quality strikes early on," Kennedy said.
His counterpart, Zack Greinke of the Dodgers, was equally good.
Greinke allowed one run on four hits with two walks and eight strikeouts in eight innings.
The Padres struck first, as they scored a run in the third inning as Rene Rivera doubled and later scored when Kennedy doubled to center field.
After dropping eight of their first 11 games to the Dodgers (76-60) this season, the Padres have won three of the last four meetings and on Sunday will attempt to complete a three-game sweep.
"They pitch, they catch it. Bud does a great job with the club over there. They play hard, keep playing. It seems all the games are decided like this one," said Dodgers manager Don Mattingly.
"It seems every time we play San Diego, we're not swinging good. It goes back to the guys over there, give them credit, they did a nice job with us and we have to make adjustments back. We have to understand what they are doing."
Corey Brock is a reporter for MLB.com. Keep track of @FollowThePadres on Twitter. This story was not subject to the approval of Major League Baseball or its clubs.