Dodgers lose in walk-off to see NL West lead slip
Greinke turns in eight strong innings, but offense can't deliver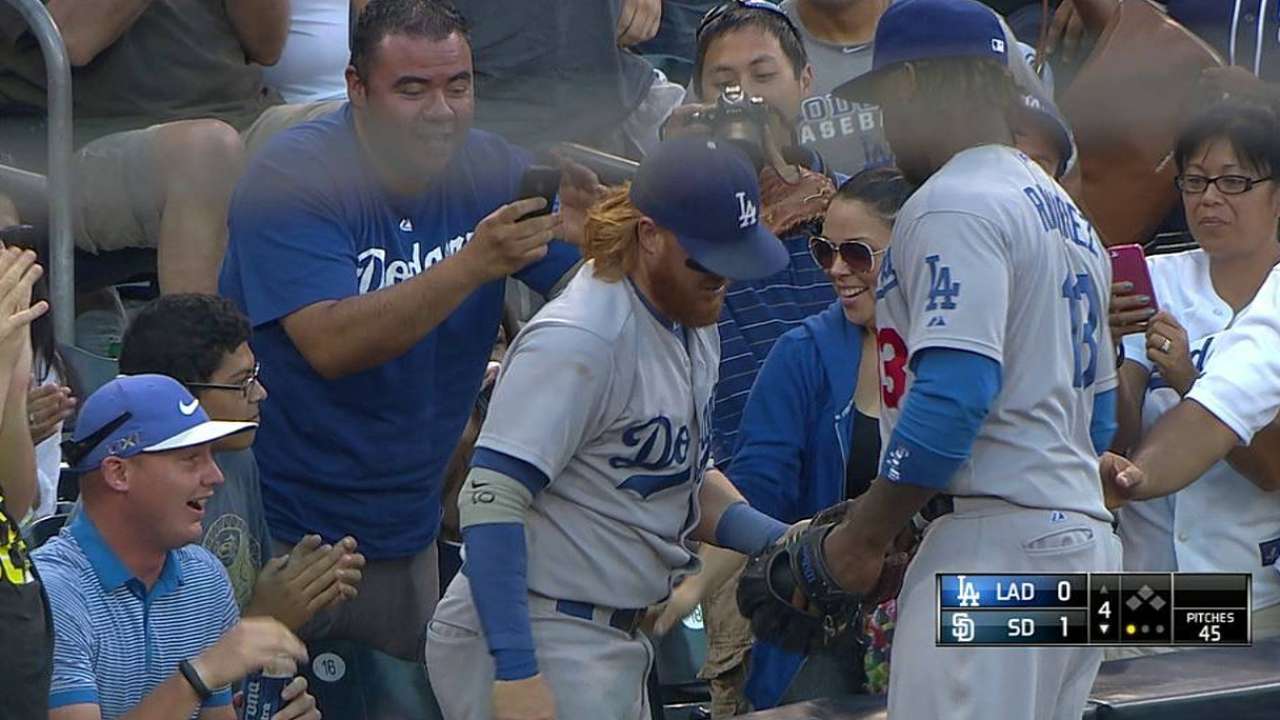 SAN DIEGO -- A Dodgers lead over the Giants that swelled to six games in the middle of August has shriveled to 2 1/2 games after a second consecutive walk-off loss to the Padres Saturday night, 2-1, in 10 innings.
"I expected this from early on," manager Don Mattingly said of the tightened race. "Everybody told me we'd run away with the division and we were down 9 1/2 games and had no chance to win. Then we're up by six and now we're back to this. Everyone in this locker room understands how good the Giants are, how hard we have to play, how hard games are to win down the stretch."
The Dodgers wasted a second straight quality start, this one by Zack Greinke, who allowed one run over eight innings in a no-decision duel with nemesis Ian Kennedy, who triggered last year's brawl for the D-Backs by hitting Greinke and Yasiel Puig with pitches.
The Dodgers got pitching and game-extending defensive gems, but the offense was flat again. Adrian Gonzalez homered against his former club for the only run by the Dodgers, who stranded 10 runners and went 0-for-6 with runners in scoring position.
That despite the return to the lineup of Puig from his "frustration day" benching and shortstop Hanley Ramirez, who was a late addition after not making the original card because of concern over left leg soreness that knocked him out of Friday night's loss after his game-tying home run.
Puig struck out three times and bat-flipped a harmless flyout, but snapped an 0-for-22 slump with a single off the end of the bat. Going 1-for-5, his average slipped below .300. Ramirez went 0-for-5.
"It seems every time we play San Diego, we're not swinging good," said Mattingly. "It goes back to the guys over there, give them credit, they did a nice job with us and we have to make adjustments back. We have to understand what they are doing. We didn't square up a lot of balls."
Alexi Amarista won it with a one-out single off Jamey Wright that scored Will Venable from second base. Venable led off with a single, stole second without a throw as pinch-hitter Rymer Liriano took a called third strike. On Amarista's soft single to center, Venable beat a powerful throw home from Puig.
On the Liriano strikeout, the pitch wasn't close to catcher Drew Butera's target and plate umpire Todd Tichener's call appeared to be late. Butera said he wasn't initially sure if it was strike three or ball four, as Liriano took a first step across the plate as if heading to first, then stopped when he heard the umpire call the pitch a strike.
"In my head it was a borderline pitch and I was getting ready to throw and Liriano stepped forward and the situation wasn't good to throw," Butera said. "I didn't want to throw over or around him and throw it away. I erred on the side of caution. It is what it is."
Greinke said his elbow, which has bothered him for a month, felt the same as it has, although he didn't convince Padres manager Bud Black of that.
"I'm not sure, but we heard reports of a [sore] elbow, but that didn't show tonight," said Black, who was ejected in the top of the 10th inning for arguing a check-swing call on Puig. "He ramped it up to 94 mph and showed good secondary stuff. He threw the ball well tonight."
The Dodgers pulled off at least three remarkable defensive plays: Third baseman Justin Turner tumbling into the stands after catching a foul pop; Ramirez sneaking behind pinch-runner Cameron Maybin to take Butera's throw for an eighth-inning pickoff at second base; reliever J.P. Howell accidentally catching a line-drive bullet from Yasmani Grandal and turning it into a double play in the ninth.
But the Dodgers offense? Not so much.
Ramirez and Dee Gordon went 0-for-5 each. Matt Kemp ripped a two-out double in the top of the 10th, but was stranded by Puig's third strikeout. The Dodgers went the first four innings without a hit, but stranded runners in each of the last eight innings.
Kennedy came into the game winless against the Dodgers this year in four starts, most recently allowing them five earned runs in five innings Aug. 19 at Dodger Stadium. But the Dodgers were scoreless until Gonzalez's tying two-out solo homer in the sixth inning, his 19th, giving him 91 RBIs.
That was the only run Kennedy allowed in seven innings and it only got Greinke even, as he had fallen behind to the bottom of the Padres' batting order. No. 7 batter Rene Rivera led off the third inning with a double to left, took third on Amarista's ground out and was doubled home by Kennedy, who came into the game hitting .095.
Ken Gurnick is a reporter for MLB.com. This story was not subject to the approval of Major League Baseball or its clubs.