Pipeline Preview: Minors HR race enters home stretch
Cubs' Bryant leads Rangers' Gallo by two homers, as their showdown nears an end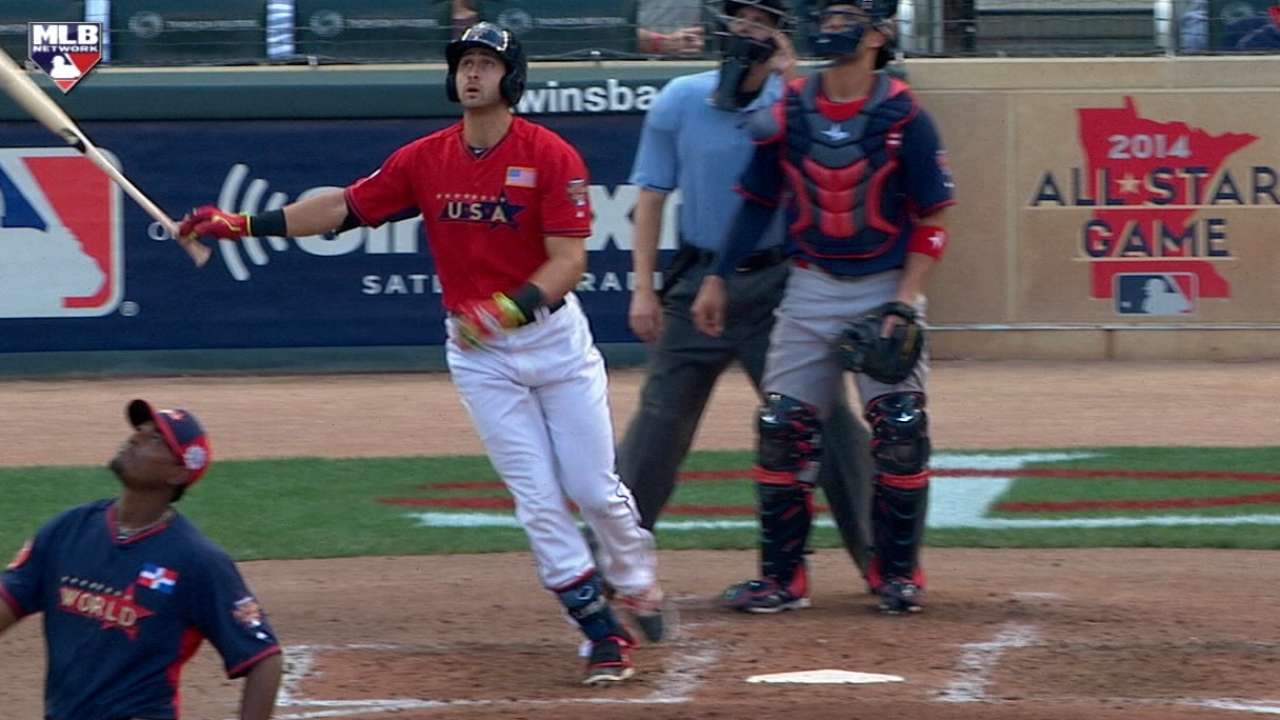 At the end of the long Labor Day weekend, some prospects will be bound for the Minor League playoffs, some will be headed to the Major Leagues as rosters expand and some will be on their way home, seasons over.
But, first, three days remain in the Minor League regular season and several races must be resolved -- from playoff spots to the home run showdown that Cubs' No. 1 prospect Kris Bryant and Rangers' No. 1 prospect Joey Gallo have waged all summer.
For Bryant, the playoff push and home run race overlap. Triple-A Iowa trails Oklahoma City and Omaha by three games in the Pacific Coast League Northern Division and staved off elimination Friday by beating Oklahoma City, 5-4, in 11 innings. While Bryant went hitless in the victory, he still leads Gallo 43-41 in the home run race. That series will continue Saturday, with Iowa hosting Oklahoma City at 8:05 p.m. ET in a game that can be seen on MiLB.TV.
Bryant, ranked No. 3 on MLBPipeline.com's Top 100 Prospects list, enters the day hitting .296/.417/.635 with 21 home runs in 67 games since he was promoted in June from Double-A Tennessee.
When Bryant arrived in Iowa, he joined a team that also included fellow Top 100 prospects Javier Baez and Arismendy Alcantara, a group that soon grew to include Jorge Soler. Now, Baez, Alcantara and Soler are playing in the big leagues, leaving Bryant to anchor Iowa's lineup for the playoff push. The Cubs have said multiple times that Bryant will not be called up this September.
Unlike Bryant, Gallo has already secured his spot in the playoffs, as Double-A Frisco won the Texas League's South Division in the first half of the season. Saturday, Frisco returns home to begin a three-game series against Midland, which it will also face in the divisional round of the playoffs beginning Wednesday. First pitch Saturday is scheduled for 8:05 p.m. and can be seen on MiLB.TV.
Gallo, ranked No. 8 on the Top 100, enters the series hitting .274/.333/.527 with 20 home runs in 65 games since getting promoted from Class A Advanced Myrtle Beach. He has already surpassed his home run total from last season, when he led all Minor Leaguers with 40, and Thursday he was named Carolina League MVP despite not having played in the league since June.
Saturday's Minor League slate will also be highlighted by several pitchers ranked in the Top 100, including Taijuan Walker (No. 7), Carlos Rodon (No. 22), Alex Meyer (No. 30), Braden Shipley (No. 45), C.J. Edwards (No. 56), Matt Wisler (No. 64) and Aaron Blair (No. 83). Fans can watch all but Edwards on MiLB.TV, beginning with Shipley and Blair leading Double-A Mobile against Jacksonville in a doubleheader set to begin at 5:05 p.m.
Rodon, the White Sox No. 1 prospect, could be among the players called up next week when rosters expand. For now, the third overall pick in the 2014 First-Year Player Draft will make his third start in Triple-A, as Charlotte visits Gwinnett. He faced the Braves last Tuesday in his debut with the Knights, striking out three batters in three innings and allowing one run on one hit and three walks.
Top prospect probables:
Cody Anderson (Indians' No. 11), Akron vs. Erie
Dylan Baker (Indians' No. 15), Carolina vs. Winton-Salem
Matt Barnes (Red Sox No. 12), Pawtucket vs. Syracuse
Zachary Bird (Dodgers' No. 14), Great Lakes at West Michigan
Blair (D-backs' No. 4), Mobile at Jacksonville
Austin Brice (Marlins' No. 17), Jupiter at Fort Myers
Parker Bridwell (Orioles' No. 12), Frederick vs. Potomac
Jonathon Crawford (Tigers' No. 3), Wet Michigan vs. Great Lakes
Edwards (Cubs' No. 6), Tennessee at Chattanooga
Stephen Gonsalves (Twins' No. 15), Cedar Rapids at Clinton
Severino Gonzalez (Phillies' No. 7), Reading at Trenton
Ismael Guillon (Reds' No. 9), Bakersfield vs. Visalia
Branden Kline (Orioles' No. 9), Bowie vs. Altoona
Ben Lively (Reds' No. 6), Pensacola at Birmingham
Meyer (Twins' No. 4), Rochester vs. Buffalo
Dillon Overton (A's No. 5), Vermont at Staten Island
Wes Parsons (Braves' No. 8), Lynchburg at Myrtle Beach
Zach Petrick (Cardinals' No. 15), Memphis at New Orleans
Alex Reyes (Cardinals' No. 4), Peoria at Kane County
Felipe Rivero (Nationals' No. 17 prospect), Harrisburg at Portland
Rodon (White Sox No. 1), Charlotte at Gwinnett
Adrian Sampson (Pirates' No. 19), Indianapolis vs. Columbus
Antonio Senzatela (Rockies' No. 20), Asheville at West Virginia
Shipley (D-backs' No. 2), Mobile at Jacksonville
Nick Travieso (Reds' No. 8), Dayton at Lake County
Tyler Wagner (Brewers' No. 14), Brevard County vs. Dunedin
Walker (Mariners' No. 1), Tacoma at Fresno
Wisler (Padres' No. 2), El Paso vs. Salt Lake
Teddy Cahill is a reporter for MLB.com. Follow him on Twitter at @tedcahill. This story was not subject to the approval of Major League Baseball or its clubs.