A's fall three games back, lose Crisp to injury
Offense, defense off the mark behind Lester in Anaheim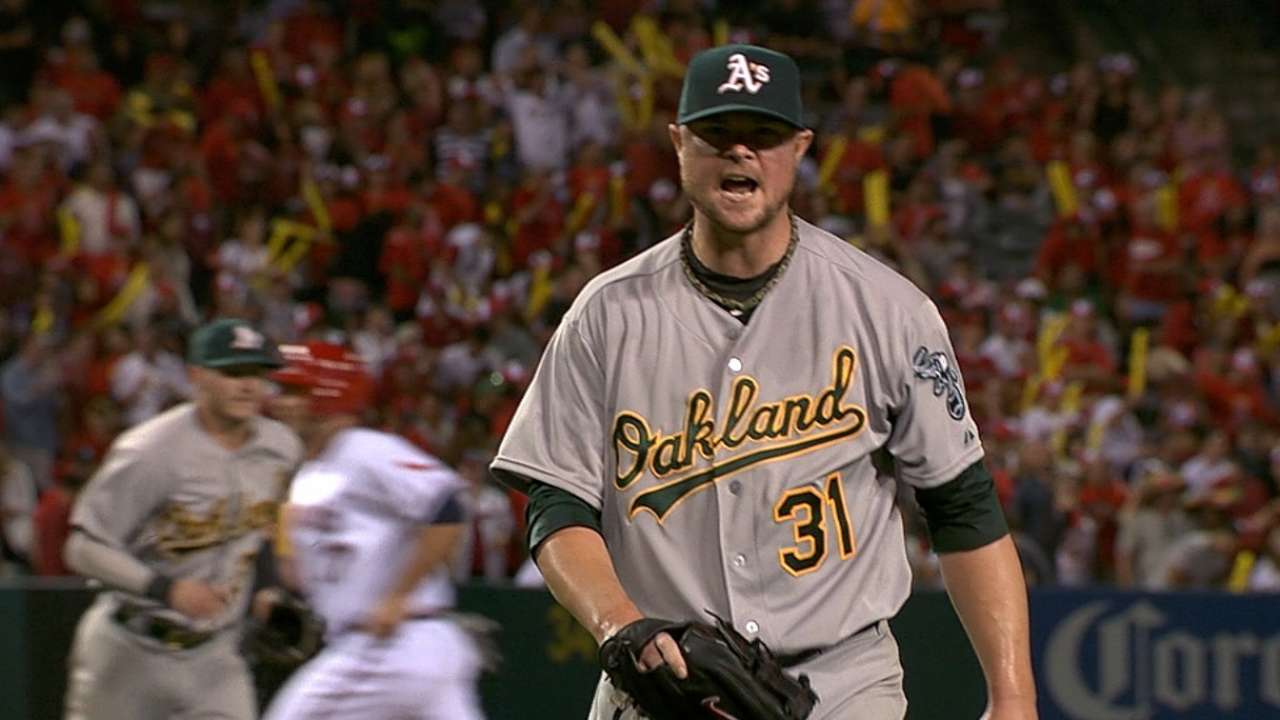 ANAHEIM -- The A's joyride has hit a major speed bump at the most unfortunate of times, and they're suddenly swimming in unfamiliar territory with a season-high three-game division deficit.
It was exactly three weeks ago, on Aug. 9, when they held a four-game lead over the Angels in the American League West, but they've dropped 12 of 18 games since then, including back-to-back contests to the Halos, who shut them out, 4-0, on a nightmarish Friday at Angel Stadium.
The A's also lost their center fielder, Coco Crisp, in the middle of it all to another neck injury.
Crisp is considered day to day, but this same neck issue has forced him to miss more than a dozen games this year, and the A's are already without infielders Jed Lowrie and Nick Punto, catcher John Jaso and closer Sean Doolittle.
They're also still recovering from the loss of Yoenis Cespedes, whom general manager Billy Beane swapped for ace Jon Lester at the Trade Deadline. The A's are 12-15 since the trade went down, though their downfall arguably began long before then. They were 51-30 at the halfway point of the schedule on June 29 but are 27-26 since, including 19-20 since the All-Star break.
August in particular, though, has brought about painfully glaring offensive woes. Oakland is batting .221 over the past 15 games, averaging just 3.4 runs in that time.
"This has been a month of adjustments in this clubhouse," admitted Stephen Vogt. "Anybody that doesn't believe that isn't telling the truth. But they're good adjustments. It's not that they're bad. It's just different. It's a different clubhouse, and anytime you get that at the Trade Deadline, it's going to take some getting used to. But it's all positive. It still just takes time to get used to."
"It's frustrating," said Josh Reddick. "We get a good stretch and it seems like something kicks us right back down the hill. We can't catch any breaks this month. We're hitting the ball hard. Guys are hitting the ball hard. We can't get that big hit. We can't get that one person to step up like we always do, and it's frustrating to see."
As a result, Vogt suggested, guys are pressing, trying to do too much during this funk. That a pitcher of Jered Weaver's caliber was on the mound Friday didn't help matters. The Angels right-hander allowed just three hits in seven innings, leaving Lester zilch wiggle room.
The A's southpaw really only made one mistake, and Chris Iannetta belted it over the left-center-field wall for a two-run homer, but not before Crisp made a valiant effort to grab it when he injured himself.
The A's also committed back-to-back two-out errors in the sixth that led to the Angels' third run and forced Lester to throw an additional 15 pitches in the inning. Howie Kendrick's sharp grounder deflected off the glove of Josh Donaldson, and Eric Sogard proceeded to throw away David Freese's ensuing grounder off the top of the A's dugout. Erick Aybar bunted for a single to load the bases.
Lester walked his next batter, gifting the Angels their third run, and finished the inning at 107 pitches, giving manager Bob Melvin no choice but to go to his bullpen in the seventh. Right-hander Evan Scribner got the call and surrendered a two-out homer to Albert Pujols.
"On my side of it, very frustrating. Team side of it, same thing," said Lester. "We've been grinding at-bats, grinding pitches, and not getting all of the results we want right now. We're just not putting consistent games together on both sides of the ball."
"It's frustrating. They're frustrated, no doubt," said Melvin. "Seems like every ball we hit hard today was hit right at somebody and it's just the way it goes sometimes. You have to play through it. They keep fighting, they're playing hard, they're running down the line. Just things aren't going our way right now, but it will turn."
It's the first time the A's have trailed in the division by more than two games since Aug. 29, 2013, when they were three back of Texas.
"It's three games," said Lester, offering perspective. "We split, we're back to one."
"We're going to come out of it," said Reddick. "We know we are. It's just bad timing. You get these two series against these guys, we pull out two out of three at home and then they take the first two here, it adds a little bit more pressure to us. We've been in bigger pressure situations before. We just have to go out and worry about tomorrow."
Jane Lee is a reporter for MLB.com. This story was not subject to the approval of Major League Baseball or its clubs.