Giants romp past Brewers into Wild Card lead
Posey tallies five hits; Panik collects four behind Vogelsong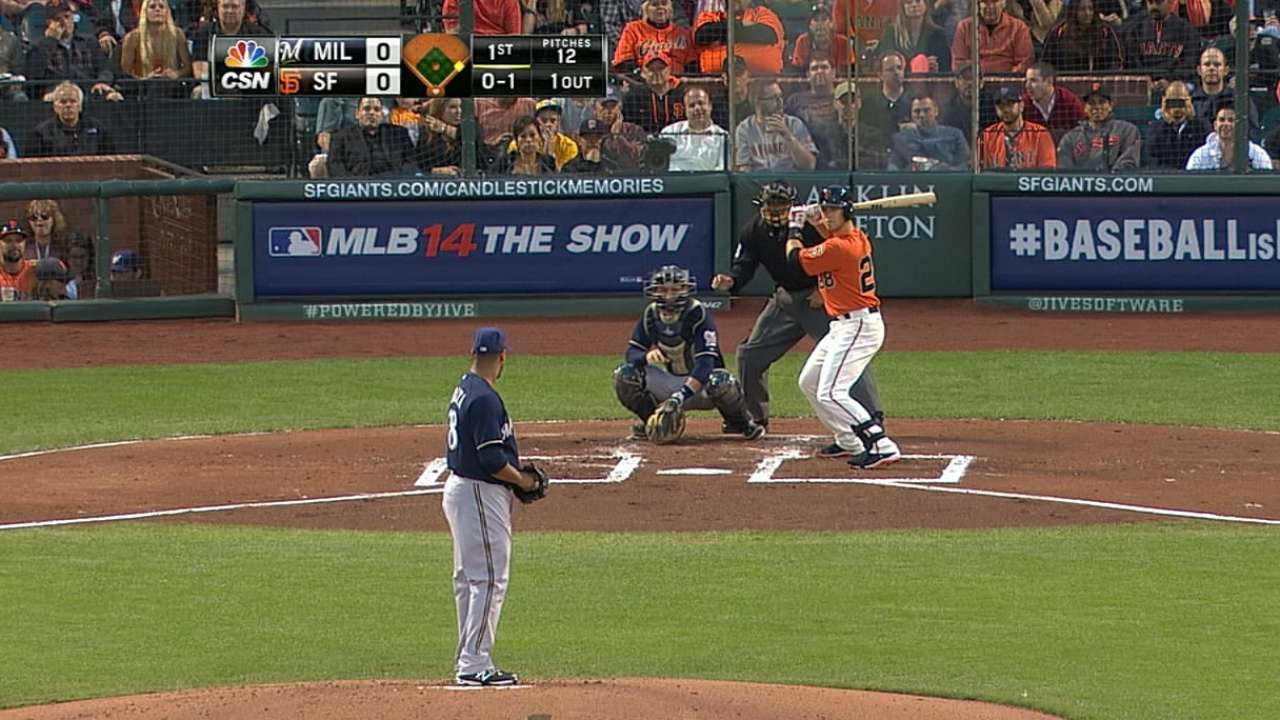 SAN FRANCISCO -- The Giants regained first place Friday night ... in the National League's Wild Card race.
Overcompensating for their shabby treatment of Ryan Vogelsong, who had been backed by the lowest run support among all Major League starters in home games, the Giants whipped the Milwaukee Brewers, 13-2, and nudged past St. Louis to climb atop the Wild Card standings. San Francisco leads the Cardinals by a half-game and trails first-place Los Angeles in the NL West by 3 1/2 games.
Buster Posey went 5-for-5, equaling a personal best. Rookie Joe Panik rapped four hits, matching the most prolific output of his 46-game big league career, as the Giants recorded their largest victory margin of the year.
With a full month remaining in the Giants' season, manager Bruce Bochy predictably downplayed the club's Wild Card ascent.
"You'll hear me say this so many times: The only thing we can do is try to win every game and we'll see where we are at the end," Bochy said. "Because this thing's going to go back and forth. It's going to be tight in [the Wild Card] and in the division races, too. We can't get caught up in that as much as we have to focus on what we need to do out there."
The Giants maintained their focus nicely against NL Central-leading Milwaukee, extending their winning streak to four -- their longest since they captured five in a row June 4-8.
Maybe, just maybe, the Giants are on the brink of recapturing the "mojo," as Bochy has called it, that they possessed when they went on their 31-11 binge from April 23-June 8. After all, they exorcised the demons that haunted them when Vogelsong took the mound at home, where they lost his seven previous starts. They've also improved overall at AT&T Park, winning seven of their last nine there.
The Giants seemed at home in this series opener against Milwaukee. Their 13-run output was their highest in an AT&T Park date since a 16-run clamor against Cincinnati on Aug. 24, 2010. Moreover, the Giants' 19 hits were the second-most they've amassed here, eclipsed only by a 20-hit assortment against the Marlins on Aug. 14, 2001.
Having produced exactly zero runs for Vogelsong while he was in the game in his previous five starts at AT&T Park -- and an average of 1.89 runs at home in 13 starts all season -- the Giants generated enough offense for him to throw underhanded.
They scored in each of the first five innings, stunning Milwaukee with a three-run first inning that included consecutive singles by Panik, Posey, Pablo Sandoval and Hunter Pence. Brewers starter Wily Peralta (15-9) would have tied Dodgers ace Clayton Kershaw for the Major League lead in victories had he subdued the Giants. Instead, he yielded six runs and nine hits in three innings.
"We put up some really, really good at-bats against a really tough guy," said Vogelsong (8-9), who yielded four hits and both of Milwaukee's runs while striking out seven in seven innings. "It's easy to let your guard down and it's tough when you're sitting in the dugout that long every inning. I'm pretty happy that I was able to keep my focus."
As a picturesque sunset formed in the skies beyond right field, Posey performed as if the sun had just begun to rise on his season. After singling Panik to third base to launch the Giants' first-inning surge, Posey drilled an RBI single in the second inning, singled off shortstop Elian Herrera's glove to lead off the fourth, tripled in the fifth and singled in the sixth. He scored three runs and drove in three more, earning the final three innings off.
"It would have been nice to have him go for six, but the rest was more important," Bochy said.
"At this point in the year I got to get a chance to come out and get in the cold tub," Posey said. "It was already a three-hour game at that point, and I want to be in there as much as I can the rest of the way."
That's understandable. In nine games since Aug. 21, when he went 4-for-4 at Chicago, Posey's hitting .500 (20-for-40) with 11 runs scored, three doubles, a triple, five homers and 13 RBIs. He has lifted his batting average during this span from .278 to .297, matching the highest figure he has reached since May 13.
Posey preferred to talk about Panik.
"Talk about confidence," Posey said. "It seems like for the last three or four weeks, every time he comes up to bat he feels he's going to get a hit. He's got a really nice, simple approach and a knack for getting the barrel on the ball."
The success was shared by Angel Pagan, who went 3-for-5; Gregor Blanco, who drew three walks preceding a fifth-inning homer; and Vogelsong, who singled and scored in the second inning.
"This was gone, basically, pretty early," Brewers manager Ron Roenicke said. "We got a run early and you hope you can bounce back. But once it gets to that point, you're trying to survive with your pitching staff."
Chris Haft is a reporter for MLB.com. Read his blog, Haft-Baked Ideas, and follow him on Twitter at @sfgiantsbeat. This story was not subject to the approval of Major League Baseball or its clubs.