Angels boost AL West lead with shutout of A's
Weaver fires seven innings; Iannetta homers on three-RBI night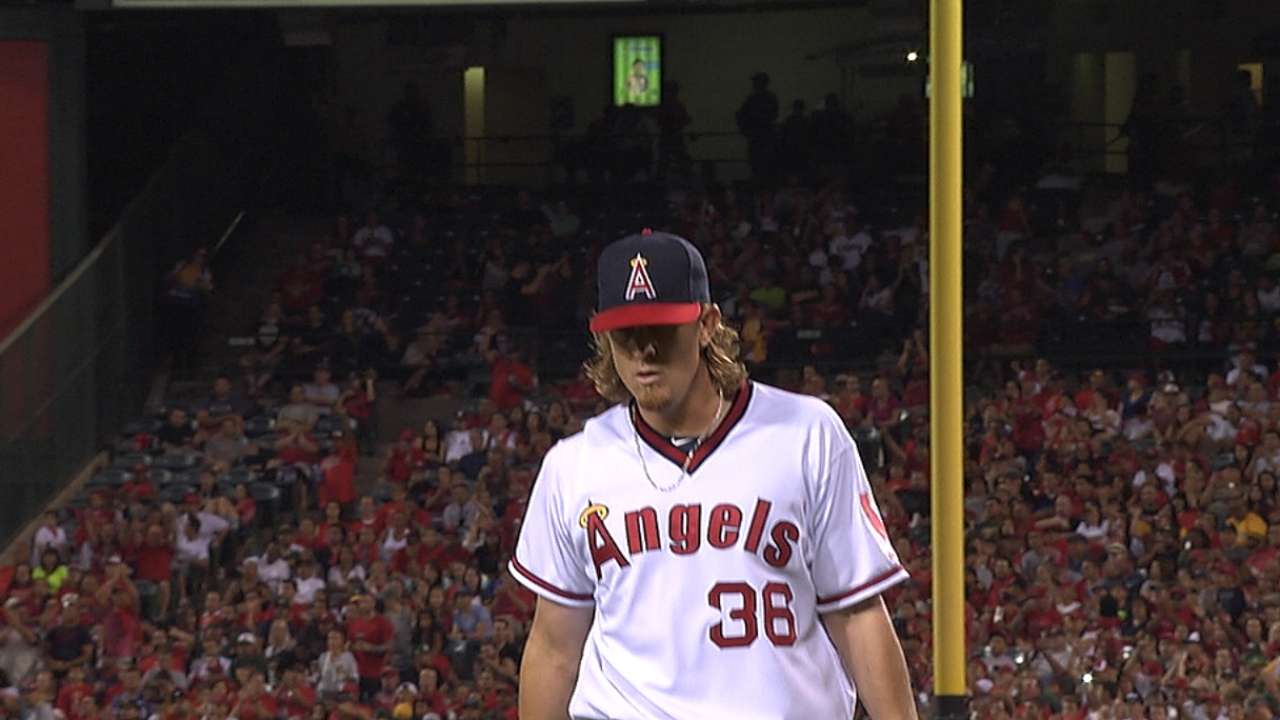 ANAHEIM -- Ask the Angels what this series means, and it's just another series against another team on another August night.
"You try not to put too much emphasis on this one series with a month to go," starting pitcher Jered Weaver said. "We got to take it game by game."
"Anything can happen and we just need to play down to the wire and see what happens," catcher Chris Iannetta said.
But during the Angels' 4-0 win over Oakland on Friday night -- one that pushed them a season-high three games ahead of the A's in the American League West -- the actions spoke otherwise.
There was Coco Crisp and his high-speed, seemingly sacrificial effort at the wall in the fifth. There was Josh Hamilton and his sprinting, diving, reaching catch in foul ground.
There was Mike Trout banging into the wall, there was Sam Fuld sliding in the dirt.
"I don't know if it speaks to a rivalry or a pennant race, but it really reflects on how hard these guys are playing and that's a big reason why our two clubs are battling it out and having good seasons, because they have a bunch of gamers over there and we do in our clubhouse also," Angels manager Mike Scioscia said.
Every out was earned and every catch magnified -- even the one that wasn't a catch.
With Erick Aybar at first and a 3-1 count in his favor, Iannetta rocketed Oakland starter Jon Lester's 92-mph fastball to the left-center-field wall, just where Crisp intended to meet the ball. Crisp jumped at the wall at full speed, had the ball in his glove, and crashed into the barrier before the ball trickled out of his mitt over the fence.
"Unbelievable, came out of nowhere to get to it," A's manager Bob Melvin said. "Airborne. Actually in his glove for a while, he just couldn't pull it back. We've seen him hit the wall hard several times before but no more so than that."
"It would've been probably the greatest catch I've ever seen," Lester said.
Instead of a game-changing play, Crisp left the game with a strained neck and the Angels had a 2-0 lead.
"I know if he's got a chance to catch it, he's probably going to," Iannetta said. "Luckily, the force of him hitting the wall just kind of knocked it out of his glove. That would've been a great play by him."
In the top half of the inning, Hamilton made his own highlight-reel play, running towards the left-field line and diving into foul territory to snag Alberto Callaspo's fly ball.
Instead of an 0-2 count with runners on first and second with one out, the diving grab helped kill a rally.
"Just when you think that he wasn't going to get there, he kind of took a couple extra strides to get to the ball," Weaver said. "It was a great play and it was a momentum-changer for sure."
Weaver kept the momentum with the Angels the rest of the way, tossing seven innings for his second win over Oakland in five days. He allowed two late homers Sunday in 6 2/3 innings of three-run ball.
"When you face a team consecutively in five days, there's no doubt that there's a little chess match that goes on, some adjustments to your game plan," Scioscia said. "I thought Weave had much better stuff tonight than he did in Oakland, and I thought he really took advantage of it.
"Seven innings was big for us tonight and he pitched his heart out."
Weaver only struck out three batters but yielded just three hits as the A's were shut out for the seventh time this season.
"He's our guy for a reason," Iannetta said. "He goes out there day in and day out and gives us a chance to win. Nights like this, he's dominant."
Iannetta dominated in his own way, driving in three runs for the first time in 16 months and snapping a 56-game homerless drought with his fifth-inning blast. He also drew an eight-pitch walk in the sixth to plate an insurance run. Albert Pujols homered in the seventh for another.
"That's my job," Iannetta said. "If I just call a good game, that's not good enough. You have to contribute offensively. My job is to do both and that's what I want to do every night."
And he'll get a chance to do it again Saturday against just another team on just another August night.
Matthew DeFranks is an associate reporter for MLB.com. This story was not subject to the approval of Major League Baseball or its clubs.