Scherzer roughed up as Tigers drop matinee
Ace fans 11, but is undone by a four-run third inning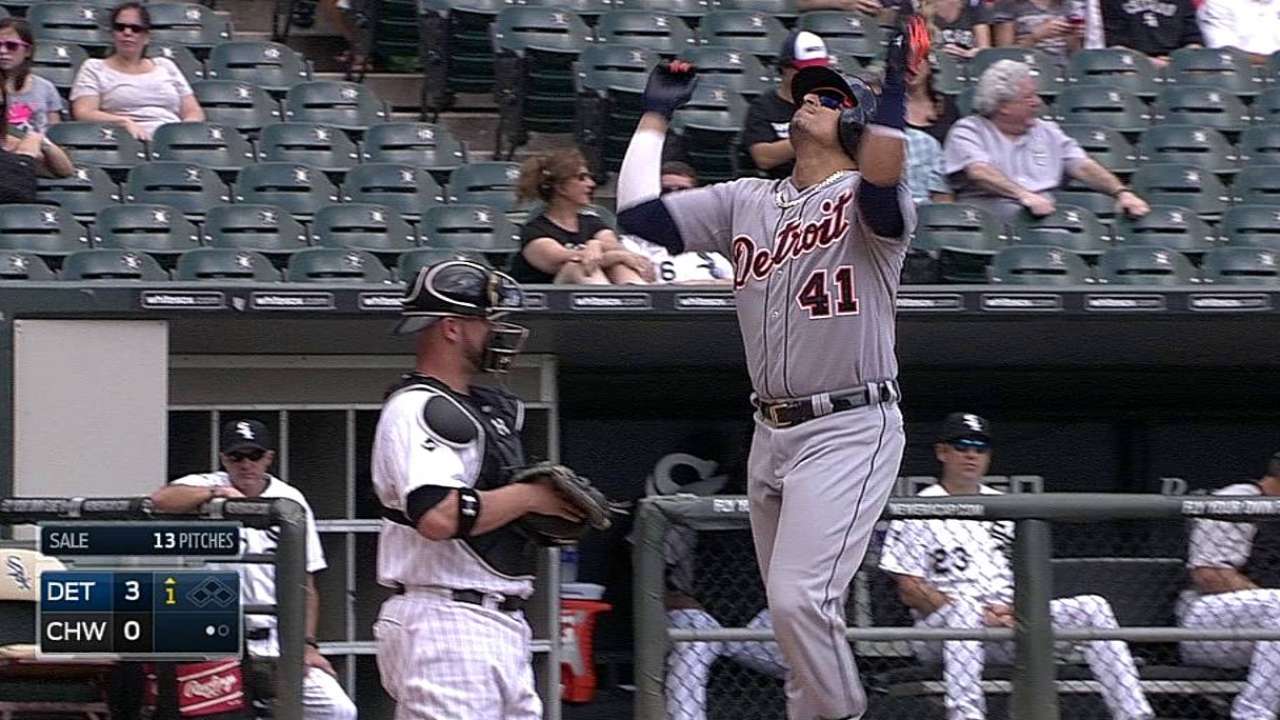 CHICAGO -- Chris Sale and Max Scherzer eventually had their pitching duel on Saturday afternoon at U.S. Cellular Field. It just took some damage during the early innings to get them there. Difference was, the White Sox did more with their big inning off Scherzer than the Tigers did off Sale.
"I had great stuff. I got beat on a couple pitches," Scherzer said after Detroit's 6-3 loss started off Saturday's day-night doubleheader.
"There was a little more offense than everyone expected," Tigers manager Brad Ausmus said.
This was the matchup the Tigers tried to leverage. They set up Scherzer specifically to pitch opposite Sale -- even moving Scherzer from the night game to the day game once the White Sox did the same with Sale. Essentially, they went big to give themselves a chance for the sweep, rather than playing for a split.
When Ian Kinsler and Victor Martinez homered off Sale in the first inning, it looked like a ingenious move. The Tigers had a 3-0 lead after the first four batters, and they had opportunities during the next two innings to add to their advantage.
Then, as Ausmus put it, "He settled down and became Chris Sale again."
It's not that he wasn't himself at all. He did strike out six Tigers over those three innings, after all. Take away the strikeouts, though, and the Tigers were 6-for-8 when they put the ball in play.
Both outs in play were second-inning groundouts to short -- one to lead off the inning, the other for a double play to end it. He struck out the side in the first and the third innings, including a called third strike on Nick Castellanos to strand runners on second and third in the third inning.
A well-hit single would have given Detroit a 5-1 lead. Instead, a strikeout gave Sale his chance to recover.
"I get in that scenario a lot. I start overthrowing and start coming out of my shoes and things just compound after that," Sale said. "[Pitching coach Don Cooper] and I talked a lot this week about slowing things down, not gripping and ripping when bad things start happening, kind of slowing it down. And that's what I did today, just tried to slow it down and not try to overthrow and do too much."
They were huge missed opportunities, but they looked like luxury runs for Scherzer -- who hadn't allowed a hit since Adam Eaton's single to lead off the game.
Scherzer began the third by fanning Carlos Sanchez for his fifth strikeout of the game, and his fourth in five batters, protecting a 3-1 lead. By the time he recorded another out, he was trailing.
Four batters. Four hits. Four runs.
For real.
"The margin of error between success and failure, right now, when you're facing a team like this is razor thin," Scherzer said. "You have to be really be on top of your game to have success. Really, in my mind, I felt I had great stuff today. But it only takes a couple pitches to get beat."
The 0-2 curveball Scherzer threw to Eaton that began his demise wasn't one of those pitches. Eaton took back-to-back fastballs for strikes, and Scherzer put the breaking ball below the knees. Eaton got enough for a one-out, line-drive single into right field.
"He has the ability to fight some stuff off, put something in play and get on base," White Sox manager Robin Ventura said.
The ensuing at-bat with Alexei Ramirez was one where Scherzer came close to another big strikeout, spotting a 1-2 fastball around the outside corner at 96 mph. It was close enough that Scherzer, who doesn't normally give looks on calls, looked surprised when he didn't get it.
"I don't sit here and complain about umpires," Scherzer said. "They have a tough job back there. I put a ball in a perfect spot. I didn't get a call. I don't want to make excuses over there."
Ramirez ran the count full before getting a slider over the plate and sending it off the fence in left-center for an RBI double. Jose Abreu fouled off three straight pitches -- two of them with two strikes -- before reaching for a slider off the plate and sending a ground ball through the middle for a game-tying single.
Up came Adam Dunn, owner of 23 strikeouts in 47 at-bats against Scherzer up to that point. Scherzer fell behind him before leaving a 2-1 curveball up for Dunn to pull down the right-field line for his 20th home run of the year.
That was one of the pitches. Another hanging curveball to Tyler Flowers for a fourth-inning solo shot was the other.
"That's the frustrating part," Scherzer said. "I had great stuff today. Anytime you can strike out 11 and not walk any, you're doing things right. But I got beat on a couple pitches."
Scherzer (15-5) missed out on a chance to join Clayton Kershaw as baseball's only 16-game winners this season. He struck out 11 batters, but allowed six runs (five earned) on nine hits over 6 2/3 innings. Sale (11-3) looked more like himself, striking out six Tigers over a seven-batter span on his way to a season-high 13 strikeouts over seven innings.
Jason Beck is a reporter for MLB.com. Read Beck's Blog and follow him on Twitter @beckjason. This story was not subject to the approval of Major League Baseball or its clubs.