Sale overcomes rough first to tame Tigers
Southpaw fans 13 over seven innings to pick up 11th victory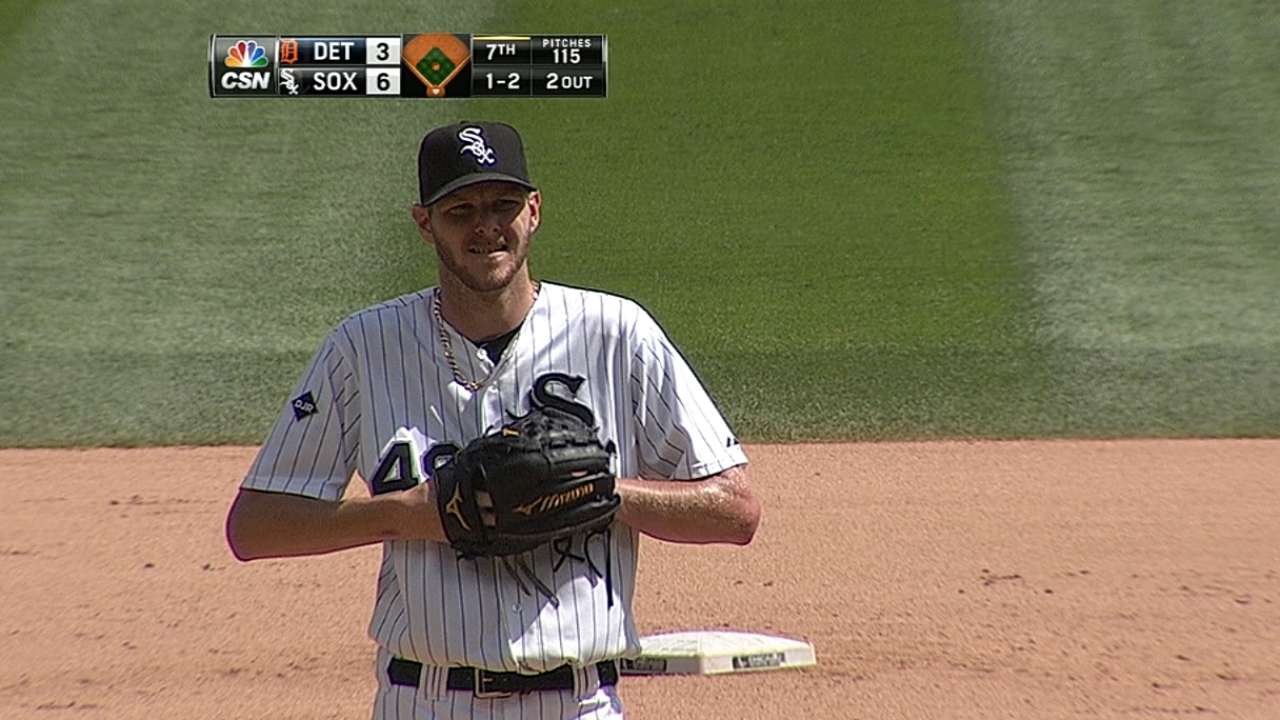 CHICAGO -- Chris Sale did not finish the month of August winless, after pitching well enough to come out on top in four of his previous five starts.
The White Sox ace received plenty of support in the team's 6-3 victory over the Tigers in Game 1 of a split doubleheader on Saturday at U.S. Cellular Field, marking his sixth and final effort of the month and first winning decision since July 26 at Minnesota. He even pitched around a rare solid-contact first inning, in which the Tigers (73-61) scored three times on three hits -- including home runs by Ian Kinsler and Victor Martinez.
But after that opening blip, Sale (11-3) stood as the picture of utter dominance.
"I get in that scenario a lot. I start overthrowing and start coming out of my shoes and things just compound after that," said Sale of pitching through the tough first inning. "Coop [White Sox pitching coach Don Cooper] and I talked a lot this week about slowing things down, not gripping and ripping when bad things start happening.
"That's what I did today. I just tried to slow it down and not try to overthrow and do too much."
Sale's changed game plan clearly worked. Take a glance at some of the milestones he reached through Saturday's performance.
• A final strikeout total of 13 represented Sale's season high, while he walked just two. For the season, Sale has fanned 178 and walked 31 over 149 innings pitched.
• Those 13 strikeouts pushed Sale's career single-game, double-digit total to 17, tying Ed Walsh for the franchise record according to the Elias Sports Bureau. Walsh hit that mark in start No. 288 for the White Sox. Sale did the same during start No. 81.
• In the first, third, fifth and sixth innings, Sale struck out the side.
• Miguel Cabrera struck out in three straight at-bats against Sale. Martinez, who is 15-for-28 lifetime vs. Sale, even went down swinging to end the fifth.
• Over the fifth and sixth innings, Sale struck out six of the seven batters faced. He finished his day after 119 pitches over seven innings, allowing the three runs on six hits, and maintaining his AL lead with a minuscule 2.11 ERA.
Individual accomplishments matter more to Sale's friends and family, who were standing around him outside the White Sox clubhouse, as Sale conducted his postgame interview. He was more impressed by the White Sox comeback against Max Scherzer (15-5).
"What I really respect about this team and what was the [most fun] part was watching them come back," Sale said. "We get in a hole there early and our work ethic, our focus and our drive hasn't attenuated one bit. We fought until the end against a great team and a great pitcher."
"They responded great," said White Sox manager Robin Ventura of his team. "They were swinging the bat early. After that, Chris settled down and he'd get to a point where he starts getting into a groove and today he did that. He was able to keep us there long enough ... and just the guys fighting back against a great pitcher."
Scherzer could not make that advantage hold, despite striking out 11 over 6 2/3 innings. The White Sox (61-74) scored one unearned run in the first on Kinsler's fielding error, and punctuated a four-run third with Adam Dunn's 460th career homer and 20th this season. Dunn now has 12 seasons of at least 20 long balls -- including six of at least 40.
Jose Abreu singled home Alexei Ramirez with the game-tying run in the third, after Ramirez doubled home Adam Eaton, who finished with two hits. Abreu struck out in the first but singled in his next three at-bats, giving him a 10-game hitting streak, six multi-hit efforts over his last eight games played and a .320 average in his still long-shot bid for the American League Triple Crown in his rookie season. Abreu continues to hit despite getting treatment on his upper left leg, just under his hip, with a .528 average (19-for-36) over this 10-game run.
"It isn't an injury. It's just something that's bothering me," said Abreu through interpreter and White Sox director of public relations Lou Hernandez. "I'm just going about everything the same way I always have and getting some work on it."
Tyler Flowers added a solo shot in the fourth, his 10th, as part of the 10-hit attack. The White Sox need three more wins to surpass their 63-victory total of '13 -- and with Sale having approximately five more starts, the chances are good they will exceed that target simply with their AL Cy Young candidate on the mound.
"His slider was good today, he had the changeup working, his fastball was explosive -- 95, 96 [miles per hour]" Tigers right fielder Torii Hunter said. "Sale is probably one of the best -- if not the best -- lefties in the game. You talk about three of the best lefties, [Clayton] Kershaw, [David] Price and him. Not fun."
Scott Merkin is a reporter for MLB.com. Read his blog, Merk's Works, and follow him on Twitter @scottmerkin. This story was not subject to the approval of Major League Baseball or its clubs.