Rockies give back late lead in rocky eighth inning
Ottavino nearly escapes bases-loaded jam before Lamb's grand slam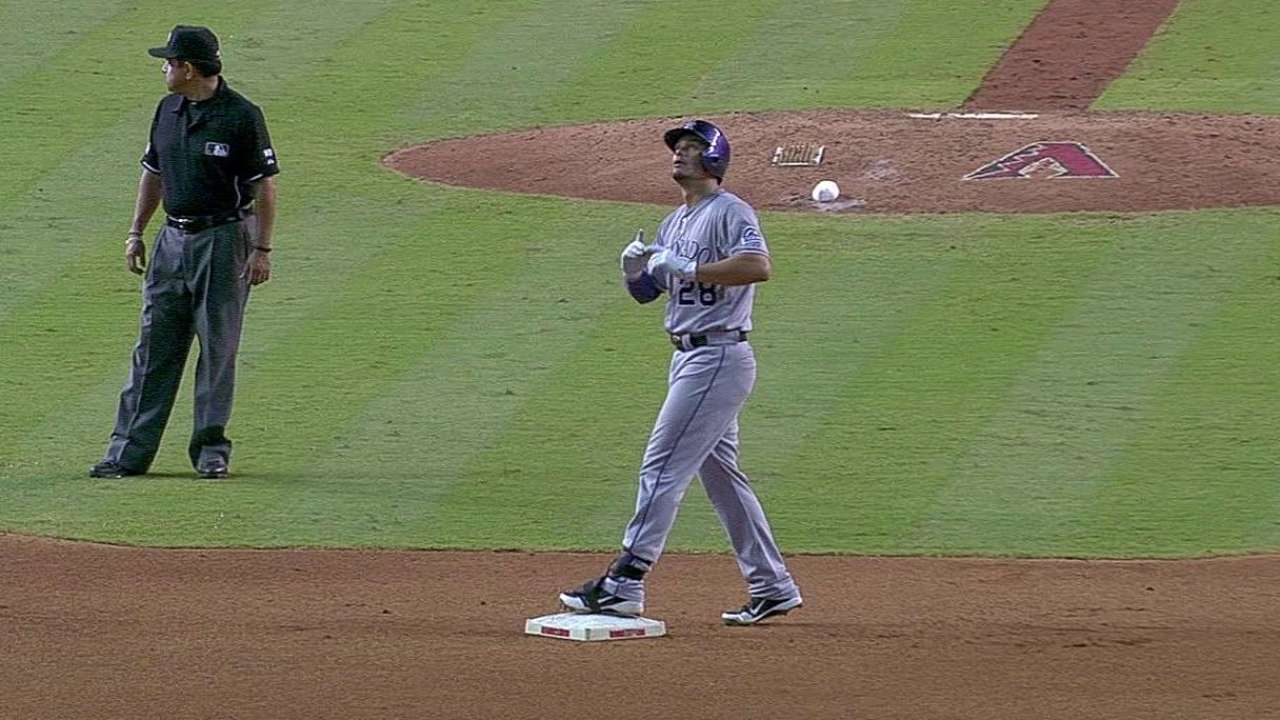 PHOENIX -- It's been a tough season for the Rockies. Between injuries and a current residence in the cellar of the National League West, not much has gone right.
But for a few moments, it looked like Friday's series opener with the similarly struggling D-backs would be a small bright spot.
Instead, it turned into a black hole as the Rockies bullpen gave up a lead in the eighth inning when Adam Ottavino allowed a grand slam to D-backs rookie Jake Lamb, sending the Rockies spiraling to a 5-2 loss at Chase Field.
"I thought he was going to do it again," manager Walt Weiss said. "He's going to find a way out of this."
And Ottavino nearly did despite being put in as bad of a situation as a reliever can find himself in.
Rex Brothers started the inning, but he issued three consecutive free passes to the top of the D-backs' lineup. He exited the game after throwing 17 pitches, 12 of which were balls and five of which were in the dirt.
"It was a bad performance," Brothers said. "I don't have anything, no excuse. … There's no room for that."
Ottavino came in and got the next two batters out, forcing Mark Trumbo to hit a grounder back to him so he could get the forceout at home and striking out Miguel Montero.
Up next with the last attempt to salvage the inning was Lamb, who had only one homer in his short career.
Lamb worked a 2-1 count before crushing a 97-mph fastball from Ottavino into the center-field concourse to give the D-backs a resounding 5-2 lead.
"I thought I had it," Ottavino said. "If I could have got one more strike, I think I would have had it because then there would have a little doubt in his mind about what was coming.
"But I misfired on two pitches to get to that situation, then I had to throw a strike. … Being conservative, I just tried to throw a strike, thinking I could overpower him."
Said Lamb: "I hit it good, but I didn't think I could get it up to dead center or left-center or whatever that was. I got it good."
Lamb's grand slam quickly ended what would have been an impressive comeback against the D-backs' bullpen and spoiled a solid start from rookie Christian Bergman.
The Rockies' offense struggled mightily against D-backs starter Josh Collmenter, who went 6 1/3 innings while giving up only one run on two hits. Collmenter allowed a hit to Charlie Blackmon to open the game, but he didn't allow another baserunner till the sixth inning, retiring 18 batters in a row.
"Location is the key for me. I'm not going to blow guys away," Collmenter said. "That's the key for me. That's my game. Location, deception and staying ahead of the hitters."
Bergman matched him for the early part of the game. Although he struggled with his command, walking five batters in 5 1/3 innings, he didn't allow a hit until the fifth. That hit -- one of two Bergman allowed -- came off the unlikely bat of Collmenter's.
"It was going well there for a little bit," Bergman said. "But I didn't even know I had a no-hitter going with all the baserunners going around."
Adam Lichtenstein is an associate reporter for MLB.com. This story was not subject to the approval of Major League Baseball or its clubs.