Lamb lifts D-backs with go-ahead grand slam
Arizona takes advantage of wild eighth inning for comeback win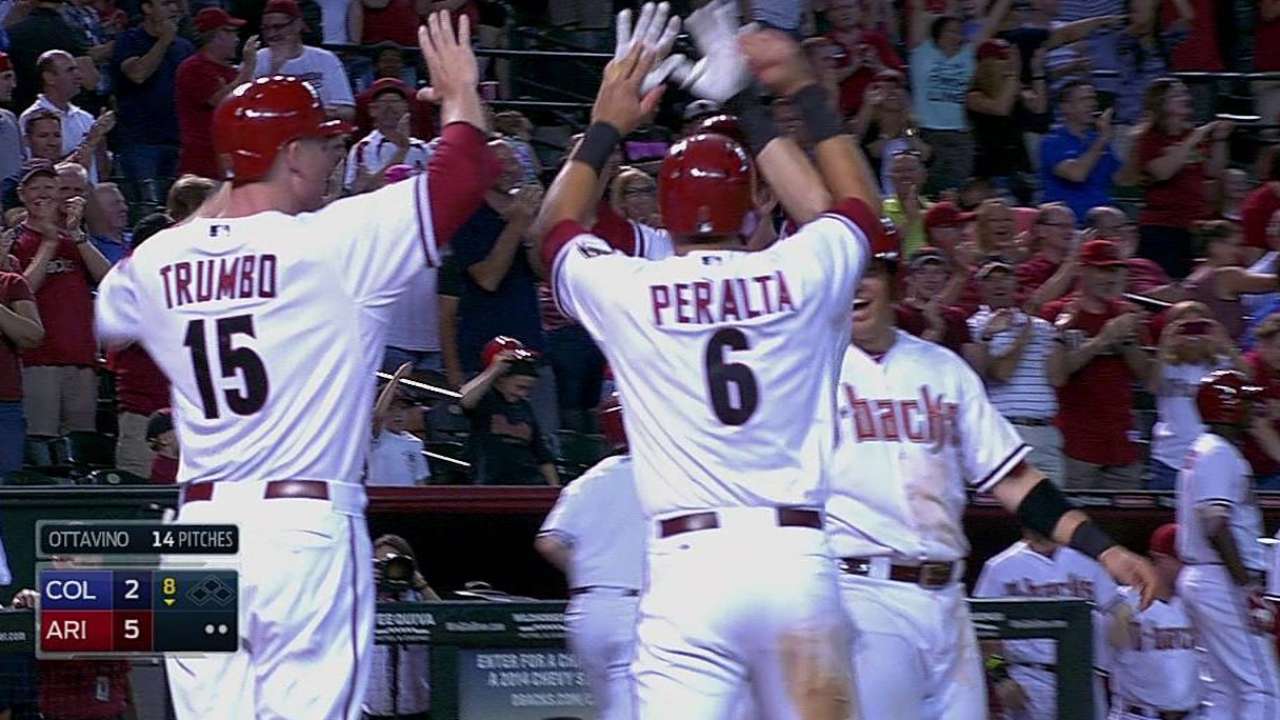 PHOENIX -- At one point early in Friday night's game after he had swung through yet another fastball, D-backs third baseman Jake Lamb stepped out of the batter's box and looked at his bat.
"I was just like, 'Dude these are going right by me,'" he said. "I guess I needed to shorten up a little bit."
In the eighth inning, Lamb shortened his stroke and it helped him smash a 97-mph fastball for his first career grand slam as the D-backs beat the Rockies, 5-2, at Chase Field.
"That was really cool," Lamb said. "I missed a lot of fastballs early on in the game. It was more than frustrating, but went up there, the guy was throwing hard and just wanted to have a short swing, quick to the ball and when he's throwing that hard and you get barrel on it, it can go far."
Lamb's slam came during a wild eighth inning.
Reliever Rex Brothers started the inning for the Rockies and walked the first three batters he faced.
The Rockies then went to Adam Ottavino and he got Mark Trumbo to hit a tapper back to the mound for a forceout at the plate, and then fanned Miguel Montero.
One out away from getting out of the nasty jam with the Rockies ahead, 2-1, Ottavino left the fastball over the plate and Lamb hit it into the overhang just to the left of the batter's eye in center.
"He did a good job," Ottavino said. "Obviously, I was going right at him with everything I had and missed my location a little bit, but he put a good swing on it and came up big."
Lamb was 0-for-3 with a pair of strikeouts before the grand slam.
"I was actually happy that it was after kind of a rough start to that game," Lamb said. "Because you strike out twice and hit a weak ground ball and you can just quit, you can give up. But I came up and the team needed me to come up with a big hit and I did."
The game started out as a pitchers' duel between Josh Collmenter and Christian Bergman.
Collmenter allowed a single to Charlie Blackmon to open the game before retiring the next 18 batters. He would not allow another runner to reach until Drew Stubbs bunted for a hit with one out in the seventh.
However, with Collmenter's inning total already exceeding that of last season, D-backs manager Kirk Gibson decided to remove the pitcher after the bunt. Collmenter allowed two hits and struck out five while throwing 81 pitches.
"He threw well," Gibson said. "Once more he didn't walk anybody. He was in control of the game. Our bullpen hadn't thrown in a while. We had to kind of watch how far he goes, as well as some other guys."
For Collmenter it was a simple formula for success.
"Location is the key for me," Collmenter said. "I'm not going to blow guys away. If I can spot my fastball in and out and keep them off a lot of the offspeed stuff. And I've been in favorable counts. I've been able to get into 1-2 and 0-2 counts where I can throw pitches that they have to hit as opposed to getting into 2-1 or 3-1 counts where I have to throw pitches over the plate. That's the key for me. That's my game. Location, deception and staying ahead of the hitters."
Bergman weaved his way in and out of trouble as he allowed five walks and a pair of hits over 5 1/3 innings.
The D-backs did not get their first hit of the game until Collmenter doubled to right-center with two outs in the fifth.
The D-backs scored the game's first run in the sixth when David Peralta tripled with one out and scored when reliever Christian Friedrich uncorked a wild pitch.
The lead did not last long as Nolan Arenado doubled home Stubbs after he reached on the bunt single in the seventh. Then in the top of the eighth the Rockies took a 2-1 lead when Blackmon's sacrifice fly scored Josh Rutledge.
Steve Gilbert is a reporter for MLB.com. Read his blog, Inside the D-backs, and follow him on Twitter @SteveGilbertMLB. This story was not subject to the approval of Major League Baseball or its clubs.