Rookie uprising: Young hitters seize night vs. Astros
Choice, Odor crank three-run homers; Telis collects RBI in third start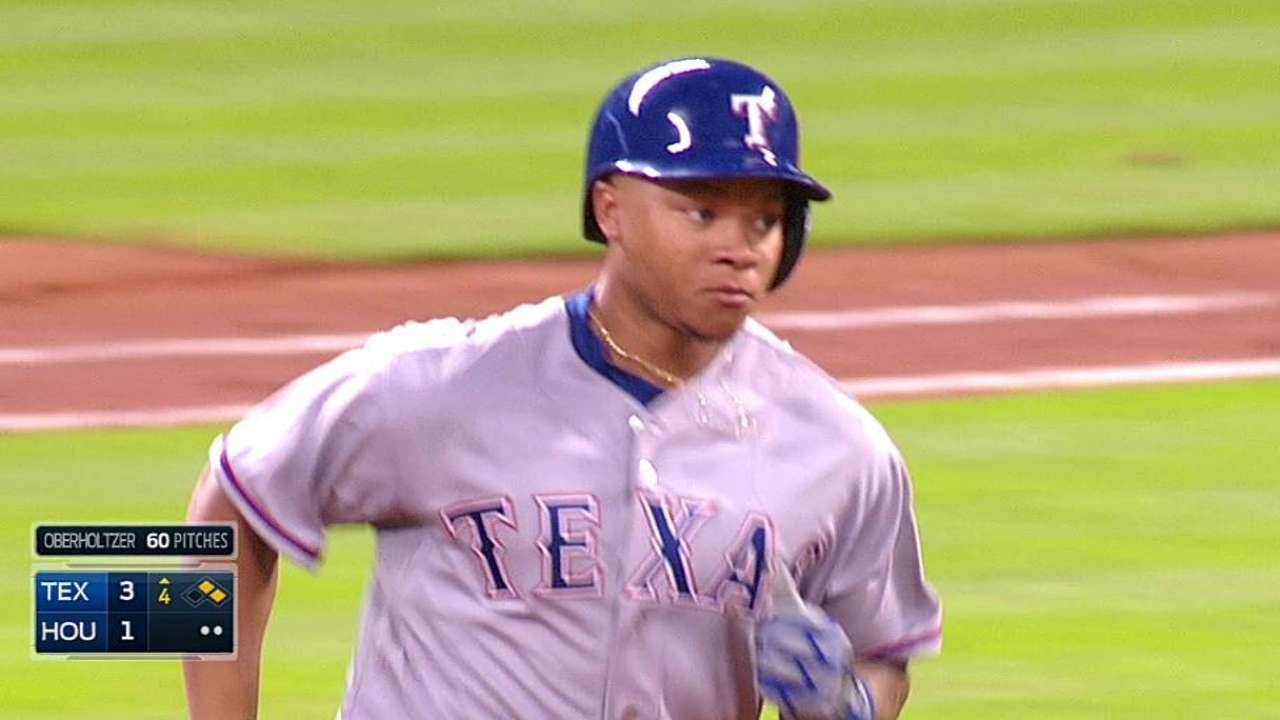 HOUSTON -- Robin Williams exhorted his students to "seize the day" as John Keating in the movie Dead Poet's Society.
Rangers manager Ron Washington isn't quite as poetic or dramatic but still quite direct when he exhorts the latest of his Major League-record-tying 59 players to "take advantage of the opportunity."
In other words, this is the time to get yourself noticed while the Rangers limp to the finish line with an All-Star team on the disabled list. Those still active were doing that on the mound and all throughout the lineup on Friday night at Minute Maid Park.
With a lineup that included five rookies, the Rangers went out and pulverized the Astros with a 13-6 victory. Scott Baker picked up his second straight victory by holding the Astros to two runs in 6 1/3 innings and the Rangers have won four of their last six games.
"We swung the bats and made things happen," Washington said. "I'm even more happy with what Baker did. We've called on him plenty of times and he got us into the seventh. He did a tremendous job."
Four of the five rookies starting on Friday made their Major League debut this season. Two of them did so this week. On Friday night, those five rookies were a combined 9-for-23 with seven runs scored and eight RBIs.
Outfielder Michael Choice, who was 0-for-10 in his first three games since being recalled from Triple-A Round Rock on Monday, was 3-for-4 with a three-run home run.
"I felt good coming back up here and I wanted to continue that," Choice said. "I just looked at some video and made a small adjustment at the plate. I was pulling my head out as the ball was getting close to the hitting zone so I was focused on keeping my head down for as long as I could."
Outfielder Daniel Robertson, who has carved out a spot as at least a part-time leadoff hitter, was 2-for-4 with a walk, a stolen base, run scored, RBI and outfield assist. Second baseman Rougned Odor, who had a grand slam on Wednesday, also had a three-run home run while going 2-for-5.
"I'm just seeing the ball good...feeling good right now," Odor said.
Catcher Tomas Telis had an RBI single in his third Major League start and the Rangers are now 3-0 with him behind the plate. Ryan Rua made his Major League debut at first base and got his first big league hit with an infield single. He also made a couple of key defensive plays at first base.
They are just five of the 19 rookies used by the Rangers this season, including 10 on the current active roster. That is tied for the most by any team in the Majors. Rangers rookie position players have been in a combined 311 games, third most of any team in the Majors.
"We're just trying to play the game the right way, get on base and score some runs," Robertson said. "We have a bunch of guys who want to win and they showed it tonight. There are people here who have a lot to prove. You want to stick in the big leagues. It's easy to get here but staying here is the hard part. Guys want to prove they belong here."
Robertson got the Rangers started in the first by drawing a leadoff walk against Astros left-hander Brett Oberholtzer and scoring on a hit-and-run double by Elvis Andrus. After the Astros tied it in the bottom of the first on an RBI single by Dexter Fowler, the Rangers went ahead in the third on a double by Choice, a single by Robertson and a sacrifice fly by Andrus.
The Rangers then broke it open with four runs in the fourth. Singles by Adrian Beltre, Adam Rosales and Telis brought home one run and Choice delivered a three-run home run with two outs.
"I wasn't hitting my spots, but they were putting pretty good swings on the ball," Oberholtzer said. "I walked the first batter of the game and it was downhill from there."
Doubles by Alex Rios and Beltre made it 7-1 in the fifth. In the sixth, Robertson beat out an infield hit with one out and runners at the corners to drive in another run. Odor finished a five-run seventh with his seventh home run of the season.
T.R. Sullivan is a reporter for MLB.com. Read his blog, Postcards from Elysian Fields, and follow him on Twitter @Sullivan_Ranger This story was not subject to the approval of Major League Baseball or its clubs.