Archer roughed up as Rays drop opener to Red Sox
Righty allows eight runs in first two innings, but tempers don't flare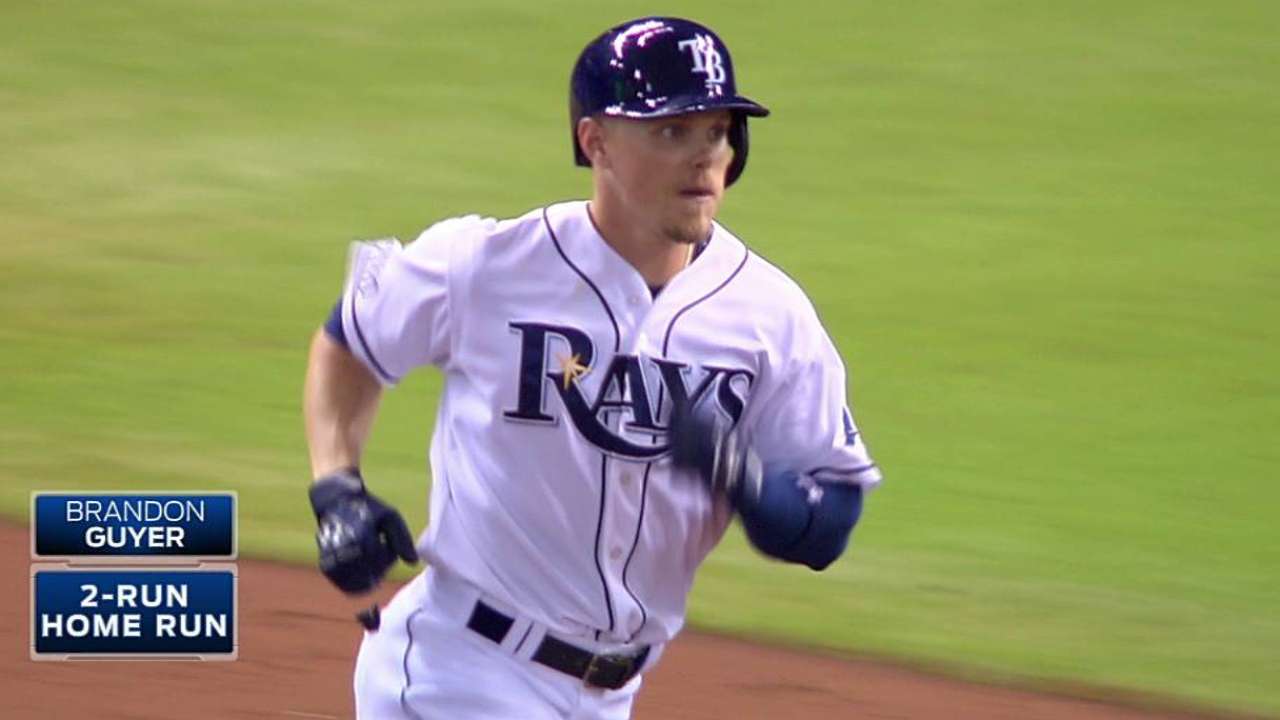 ST. PETERSBURG -- The Rays opened their final series against the Red Sox at Tropicana Field in 2014 without a bang.
There were opportunities Friday night, during the Rays' 8-4 loss, to fuel the ongoing American League East feud between the two rivals. The fact that the two 2013 playoff teams have fallen to the bottom of the division this year hadn't stopped fireworks from going off in their two prior meetings at The Trop.
On Friday, Chris Archer could have retaliated against David Ortiz for his slow home run trot in July, which led to postgame shots fired by both players. The Rays bench could have reacted to the Red Sox stealing third base up 8-3 in the seventh inning -- the exact situation in which Yunel Escobar stole third in May, which led to a benches-clearing brawl.
But Archer didn't retaliate. He didn't throw at Ortiz, or behind him, or in his general vicinity. Heck, Ortiz was one of the only hitters Archer could get out all night, as the Rays dropped to 65-70, 13 games behind the division-leading Orioles and nine out of a Wild Card spot.
Archer gave up all eight runs in the first two innings of the series opener, seven of them coming with two outs. The right-hander was done after four innings, which took him 98 pitches to get through. The Red Sox batted around in the first and the second, with the scoring capped off by rookie Mookie Betts' first career grand slam.
"We need to straighten this out rather quickly," manager Joe Maddon said. "That was not a good game tonight. We did not play well."
Even if the Rays do straighten things out, they could easily still be watching games from their couches come October. At this point, with 27 games remaining, they'd need to go 20-7 just to get to 85 wins -- hardly a guarantee of a playoff spot.
Shoddy defense behind Archer didn't help Friday -- the Rays committed two errors, including a wild double-play relay by shortstop Escobar that would have ended the second long before Betts' grand slam. Still, all eight of the runs were earned and Archer made one of the errors himself. He also walked and hit a batter after Escobar's miscue to load the bases for Betts on a night when he was knocked around in general.
"We had a lot of good at-bats, a lot of hard contact," Boston manager John Farrell said. "Mookie obviously with the big blow in the second that gives us quite a bit of breathing room. But we had very good at-bats in those first two, three innings."
Archer already had the Rays in an 8-0 hole when Kevin Kiermaier got them on the board with an RBI single in the second, and Tampa Bay still trailed by five after Brandon Guyer drove a two-run homer into the left-field stands in the fifth.
"This game has a funny way of humbling you, and tonight was a very humbling experience," said Archer, who had been 2-0 with a 1.99 ERA in August prior to the setback. "I'm disappointed in myself because I'm capable of much, much more than that."
But at least he didn't give Ortiz occasion to flip his bat.
Friday was Archer's first time facing Boston and its slugging designated hitter since July 27, the date of Big Papi's big bat flip on a three-run homer off Archer. Archer said Ortiz's bat flip and long jog around the bases were a perfect example of Ortiz acting bigger than the game of baseball, and Ortiz responded that the young pitcher was not the right player to be making that remark.
The next day, Archer noted that he never had the chance to get back at Ortiz, since he was watching the flight of the home run ball and didn't see what Ortiz had done until later.
But when Ortiz stepped into the box to a chorus of boos in the first inning, there wasn't a note of chin music to be heard, and Ortiz flew out to center. When Big Papi came back up in the second, Archer pitched him normally again, and Ortiz grounded out.
In those two innings, it took Archer 18 batters to record six outs. Ortiz accounted for two of them.
Maddon said he didn't think Ortiz was in his pitcher's head at all.
"There were no indicators of that happening," Maddon said. "I just think it was a bad night."
Even when Archer faced Ortiz in the third with the Rays down, 8-0, the at-bat was uneventful. Archer worked Ortiz away, and Big Papi drove a long single off the right-field wall -- leaving the ball a few feet short of bat-flip territory.
Then, later, when Daniel Nava swiped third in the seventh, the Rays' dugout kept quiet -- unlike the Red Sox on May 25.
In that game, after Escobar stole in nearly identical circumstances, Boston's David Ross started barking at him from the dugout. Escobar began shouting back, then-Red Sox left fielder Jonny Gomes charged Escobar from the outfield, and both dugouts emptied.
And yet, despite Nava's steal producing a feeling of deja vu, it didn't reproduce a scrum.
"Ironical," Maddon said with a slight smile after the game. "The goal of the game is to score more runs than the other team. Always."
With his team's already slim playoff chances fading even further after the loss to the cellar-dwelling Red Sox, Maddon didn't have much else to smile about.
David Adler is an associate reporter for MLB.com. This story was not subject to the approval of Major League Baseball or its clubs.