Betts' first slam helps Red Sox cruise over Rays
Rookie youngest on club to achieve feat since '65; Ranaudo now 3-0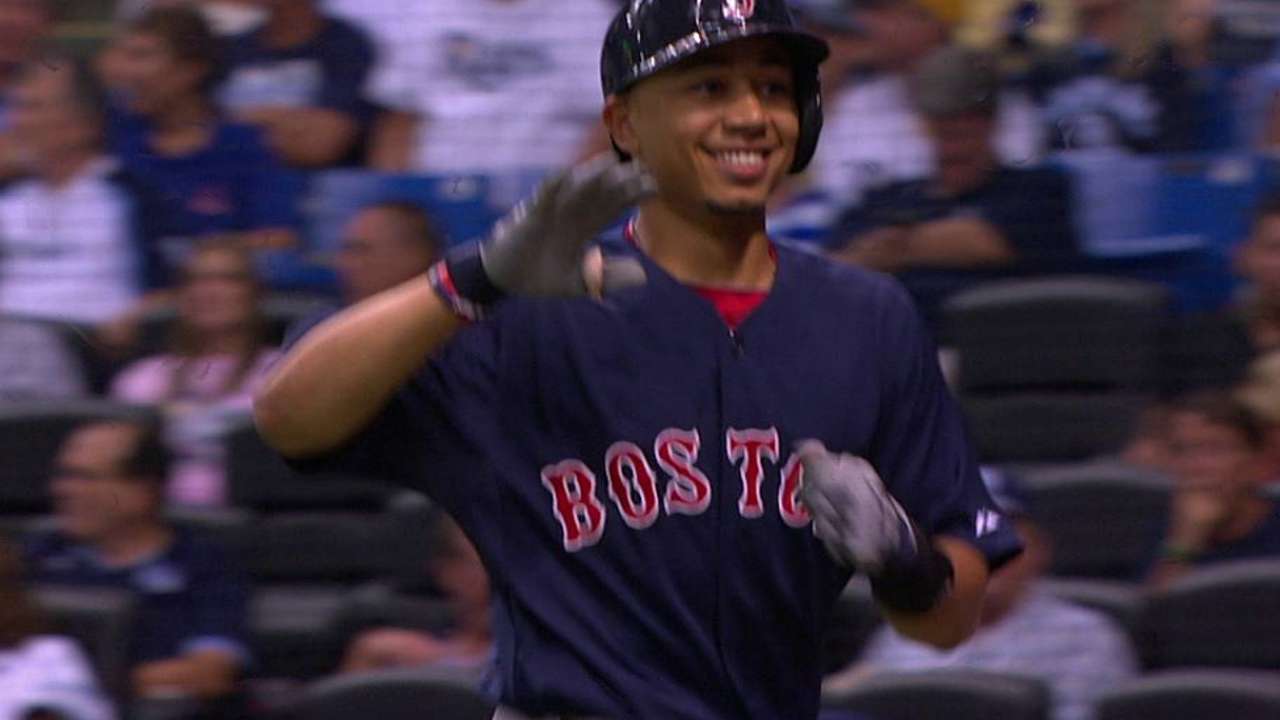 ST. PETERSBURG -- Mookie Betts, at the age of 21 years old, hit his first Major League grand slam on Friday night against the Rays.
Just don't bother asking Betts how old he was the last time he came up with four RBIs on one swing.
"I can't tell you the last time I hit a grand slam, going back to high school," said Betts. "I honestly don't remember hitting one in high school, either. Just to hit one is pretty enjoyable."
The slam by Betts led the Red Sox to an 8-4 victory at Tropicana Field.
It was the latest highlight of a surreal season for Betts, who made his debut at Double-A in April, which was followed by a promotion to Triple-A in May before the ultimate ascension to the Red Sox.
Where did the slam rank in a season full of firsts?
"Probably No. 1," said Betts.
Anthony Ranaudo, another potential key piece for the future, came up from Triple-A Pawtucket for the third time and won.
Ranaudo (3-0, 4.50 ERA) allowed five hits and three runs over six innings, walking three and striking out four.
"I thought tonight, of the three starts he's made for us, this was probably the best overall mix of three pitches that he had -- particularly a little bit more use of his changeup tonight," said Red Sox manager John Farrell. "A solid night all the way around."
After being sent down following victories in each of his first two starts, Ranaudo will stick around this time, most likely for the rest of the season.
"That'll be nice," said Ranaudo. "I don't know what the plans are. I'm taking every day as it is. If I'm here, that's great, that's another day to get better and learn a little bit more and be a part of the team. If I can do that, that'd be great. But I don't know what the plans are going forward."
As for Betts, he became the youngest Red Sox player to hit a grand slam since Tony Conigliaro, who did it as a 20-year-old in 1965.
Coming up through the Minors, Betts was known more as a speed guy. But he has made it clear this season there is some power in that bat.
"I kind of knew I had the ability to do it," said Betts. "I don't think anybody else believed in me, but I believed in myself to do it. It was just a matter of learning the pitches to swing at and grooving my swing to where when I get those pitches, I'm able to do something with it."
Early on, the offense allowed Ranaudo plenty of run support at the expense of Rays starter Chris Archer.
Brock Holt opened the game with a single. With two on and one out, Yoenis Cespedes looped in an RBI single to right. Daniel Nava delivered a two-out RBI single to left. And Boston got some help when Archer bobbled a slow roller by Betts for an error that loaded the bases. Will Middlebrooks hit an RBI infield single to make it a 3-0 game.
Not only did the Red Sox bat around in the first inning, but they did the very same thing in the second. Again, it was Holt who started things with a single. Cespedes ripped an RBI double to the gap in right-center. Archer got himself into more trouble by walking Mike Napoli and hitting Nava.
Then came the big blow, as Betts smashed a liner to left on a 1-0 fastball for his grand slam, and third career homer. Just like that, the Red Sox had an 8-0 lead.
"The home run to Betts, that's just good hitting," said Rays manager Joe Maddon. "I don't know him, but you can see, he reminds me a little bit of the left fielder in Milwaukee [Khris Davis]. They've got this little thing in the bat, the ball comes off it pretty hot. He's a nice-looking player. I've never seen him before, really, to that extent. Look at the replay. He just dragged his hands inside and got the barrel to the ball."
It was the first time the Red Sox batted around in their first two innings of a game since Aug. 14, 1962, against the Angels.
Though the Red Sox would much prefer to be in contention at this point of the season, their place in the standings gives them a chance to get extended looks at players like Betts.
"Yeah, you know he generates quite a bit of bat speed, so it's not so much the size that's the predictor of power," said Farrell. "But in a short period of time in his pro career he's, I think the last two years, he's led the organization in extra-base hits or slugging percentage, and it is a little surprising when you see the stature of him. When you boil it down to the bat speed, it's very good."
Ian Browne is a reporter for MLB.com. Read his blog, Brownie Points, and follow him on Twitter @IanMBrowne. This story was not subject to the approval of Major League Baseball or its clubs.