MLB.com Columnist
Bernie Pleskoff
Nelson's power pitching gives Brewers key weapon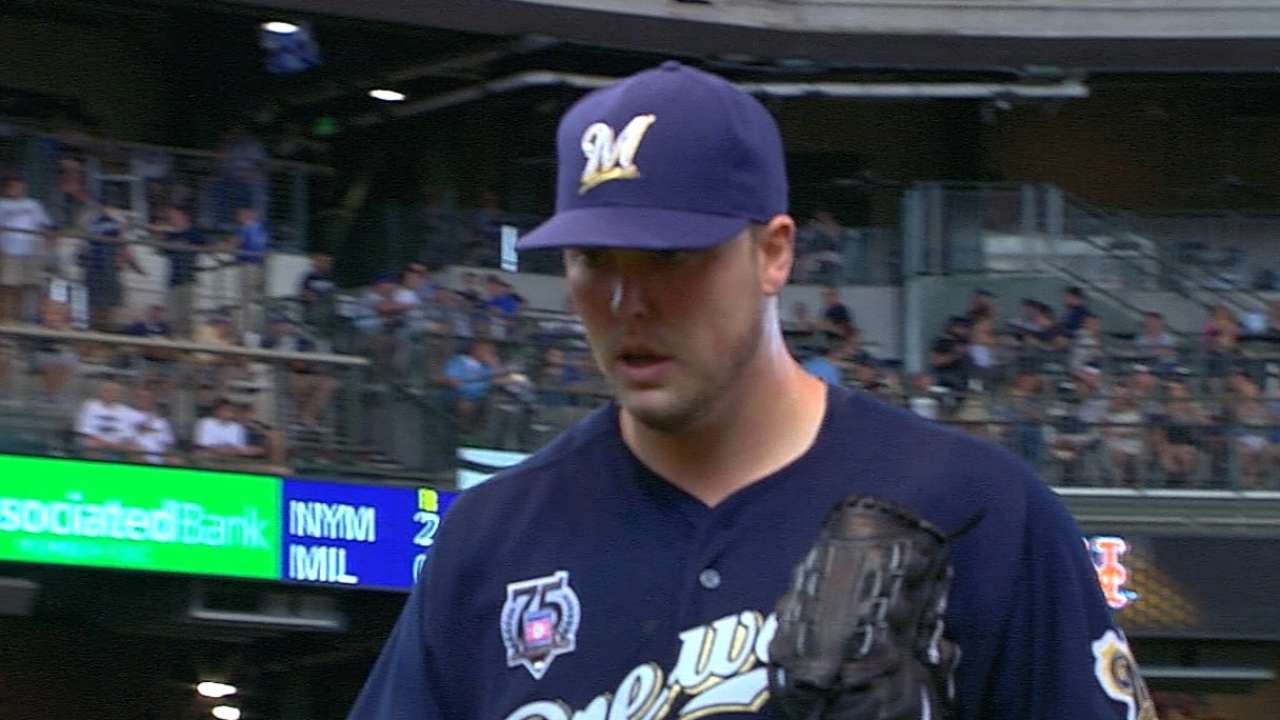 Milwaukee Brewers right-handed pitcher Jimmy Nelson comes from an athletic family. His dad played football and ran track at University of Florida. His mom was a basketball player at Florida State.
Nelson was a standout pitcher for Niceville (Fla.) High School. He had a record of 8-0 in his junior year with a 1.48 ERA. His success took him to the showcase circuit and put him on the prospect map.
Following High School, the Cincinnati Reds selected Nelson in the 39th round of the 2007 First-Year Player Draft. Instead of signing with the Reds, Nelson attended the University of Alabama. He scuffled a bit his freshman year but improved for the Crimson Tide in each of the next two seasons. In his sophomore year, he began the season as the team's closer but was converted to the rotation.
The Milwaukee Brewers chose Nelson with their second round pick in the 2010 draft. He signed with the club and was assigned to Helena in the Pioneer Rookie League for what remained of the 2010 season.
Big and strong at 6-foot-6, 245 pounds, Nelson has a power fastball with great sink that induces swings and misses as well as ground balls. His physical presence can be intimidating, pitching downhill and hiding the ball well. At the age of 25, he is not likely to grow beyond his current frame. He takes an aggressive, no nonsense approach on the mound, using his size and stature as a weapon, an ally.
Nelson was the No. 1 rated Brewers prospect among the team's Top 20 before graduating from the list recently. His hard work refining his command and control earned him a promotion to the Majors, where he is now pitching in Milwaukee's starting rotation.
For me, Nelson epitomizes the value and purpose of a development program. He was once a pitcher with command issues who yielded up to 7.2 walks per nine innings following a promotion to Double-A Huntsville in the second half of the 2012 season. Nelson reduced his walk rate this year to 2.6 batters per nine innings while starting the 2014 season at Triple-A Nashville. He is throwing strikes much more consistently now and pounding the lower half of the strike zone with a sinker that consistently touches 95 mph. Nelson has grown from a thrower to a pitcher in a relatively short time. His four-seam fastball usually sits between 94 and 95 mph as well.
My first extended look at Nelson came in the 2012 Arizona Fall League, when he pitched for the Desert Dogs. He threw 22 1/3 innings in seven games, starting six of them. He yielded 22 hits and had an ERA of 4.91. His 1.64 WHIP was inflated by allowing 14 walks. He struck out 23, which showed he had the ability to miss bats, however, his tendency to overthrow at the time caused many walks.
Nelson has a dynamic fastball/slider combination that should provide a consistent role in the Brewers' rotation. When he finds the strike zone consistently with his fastball and sinker, his slider can be a "finishing put away" type pitch. I think he will benefit greatly by improving the development of a little used changeup. That extra pitch might be just what he needs to get himself out of trouble.
He had his first taste of life in the big league's in September 2013 following a call up when the rosters were expanded to 40. He started one game of the four in which he appeared. After logging one big league game in May, the 25-year-old was recalled in mid-July to help the Brewers' quest for a postseason berth.
Nelson has little difficulty keeping his big body in sync. Often pitchers with such huge frames lose focus or have a difficult time coordinating their arms, legs and body. That isn't the case with Nelson. He is able to repeat a smooth delivery. This year, in the Major and Minor leagues combined, he has been effective against both right and left-handed hitters. In the past, lefties have given him some trouble.
Nelson's continued improvement gives the Brewers a huge and important power-pitching weapon moving forward.
Bernie Pleskoff has served as a professional scout for the Houston Astros and Seattle Mariners. Follow @BerniePleskoff on Twitter. This story was not subject to the approval of Major League Baseball or its clubs.