Game gets away from Buehrle in seventh
Lefty starts strong before career-long issues vs. NY resurface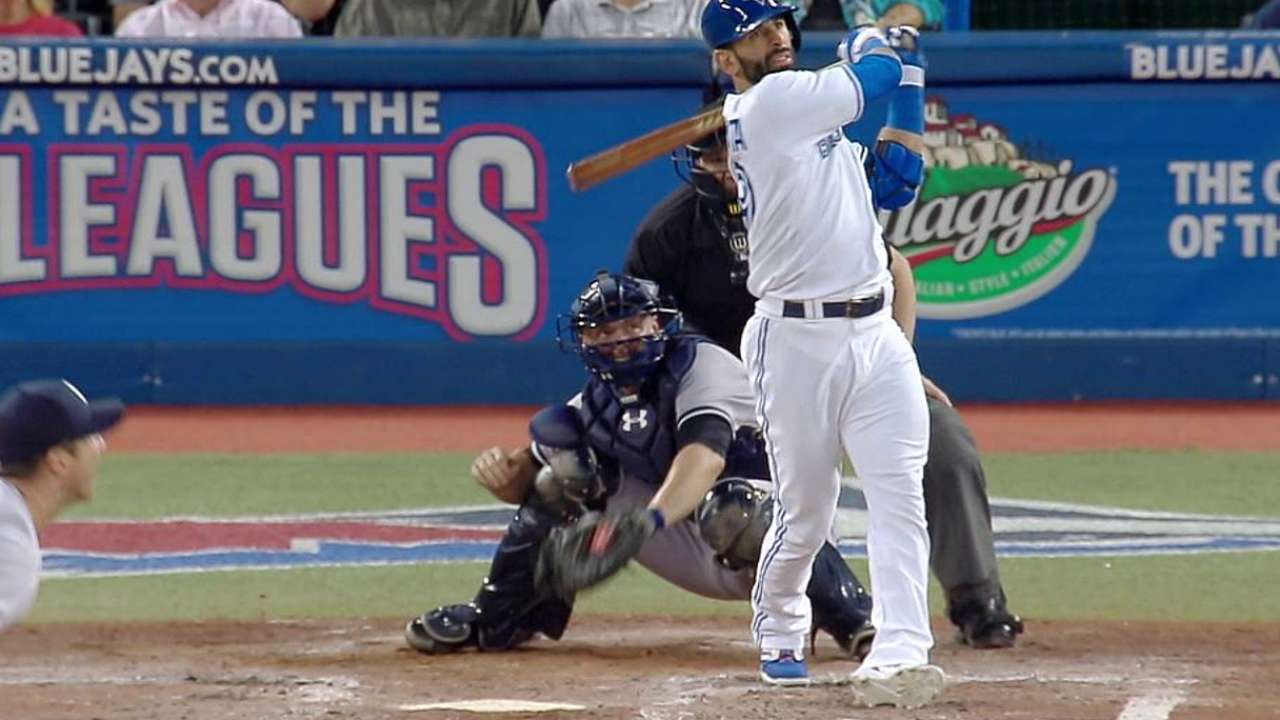 TORONTO -- Even when Mark Buehrle pitches well against the Yankees he can't seem to catch a break.
Toronto's veteran left-hander has enjoyed a lot of success throughout his 15-year career, but none of it has come against New York. For whatever reason, the Yankees have been his Achilles' heel for far longer than he would care to remember.
Buehrle was effective through six innings on Friday night, but then his outing fell apart as his losing streak vs. New York was extended to 11 games with the Blue Jays' 6-3 loss at Rogers Centre.
"Six innings, shutout, cruising right along, and then bad things happen," Buehrle said. "Bad luck. I've had some games when I've pitched good against them. I've had some bad games where I couldn't get anybody out. It just seems like everything can't go together. Offensively, defensively, pitching -- just one of these teams I can't seem to figure out."
Buehrle's issues with the Yankees have been well-documented for several years, but now they've started to approach historic lows. Buehrle hasn't defeated the Yankees since he allowed two unearned runs during a start on April 10, 2004.
The ensuing 16 starts without a win is the second longest of any pitcher vs. the Yankees during the past 100 years. The only starter with a longer skid is Slim Harriss, who went 19 starts without a win from 1920-25.
Buehrle's 1-13 career record against the Yankees also has some historical context. His .071 winning percentage is the second-worst all time vs. New York (minimum 19 starts), with only Red Ruffing having a worse percentage at .059 (1-16).
"You know it coming into the game, but I don't go out there thinking about it," Buehrle said. "I guess, if anything, they've owned me my whole career, I'm due for a win.
"I don't go out there every time I face the Yankees and say, 'Man, we don't have a chance to win tonight.' I go out there trying to go deep into games and hope for the best. Obviously it hasn't happened against these guys."
Despite the track record, Buehrle cruised through the early stages of Friday night's game. The veteran lefty retired the first eight hitters and faced two batters over the minimum through five innings. It was vintage Buehrle as he worked quickly and effectively, but all that changed when he came back to start the seventh.
Buehrle's issues began with a leadoff double by Brian McCann. Two batters later, Brett Gardner hit a double over the head of Jose Bautista in right field. One runner came around to score and a second was added when second baseman Steve Tolleson forced the issue with an ill-advised throw to third that was well off the mark.
A few pitches later, Buehrle was chased from the game after a single by Ichiro Suzuki. He allowed four runs on seven hits and one walk. Gardner scored when catcher Dioner Navarro attempted to pick off Suzuki at first, and Jacoby Ellsbury added a two-run homer off Aaron Loup.
"He's not easy to score on, he's had a successful career for a reason," Yankees shortstop Derek Jeter said of Buehrle. "We didn't get anything going with the exception of that one inning.
"It's not like we're all running to the bat racks because Buehrle is pitching. He's got great stuff and he's a competitor. I'm sure he wants the ball when we face him. I think that's just a fluke thing."
Bautista gave the Blue Jays an early 1-0 lead with a solo homer in the fourth inning. Bautista has homered in three consecutive games and has moved beyond a slump earlier this month which saw him go through an 0-for-17 skid. He is three home runs shy of reaching 30 for the first time since 2011.
Toronto put together another rally in the seventh, as Kevin Pillar hit an RBI double and Melky Cabrera added a sacrifice fly. Edwin Encarnacion came up later in the inning with the tying run on first base, but he flew out to right, and that was as close as the Blue Jays would get.
The Blue Jays have lost 11 of their past 15 games. Toronto's seven victories this month are the fewest in the Major Leagues, and their .292 winning percentage in August is the lowest in franchise history.
"We just have to swing our way out of it," Blue Jays manager John Gibbons said. "We're better hitters than we've been producing as a whole right now, no question about that. Just have to keep battling every day. I don't have any other answer for you, nobody does. Just keep grinding away. What else are you going to do?"
Gregor Chisholm is a reporter for MLB.com. Read his blog, North of the Border, and follow him on Twitter @gregorMLB. This story was not subject to the approval of Major League Baseball or its clubs.