Grandal delivers walk-off as Padres play spoiler
Cashner allows one run in six frames in first home start since June 18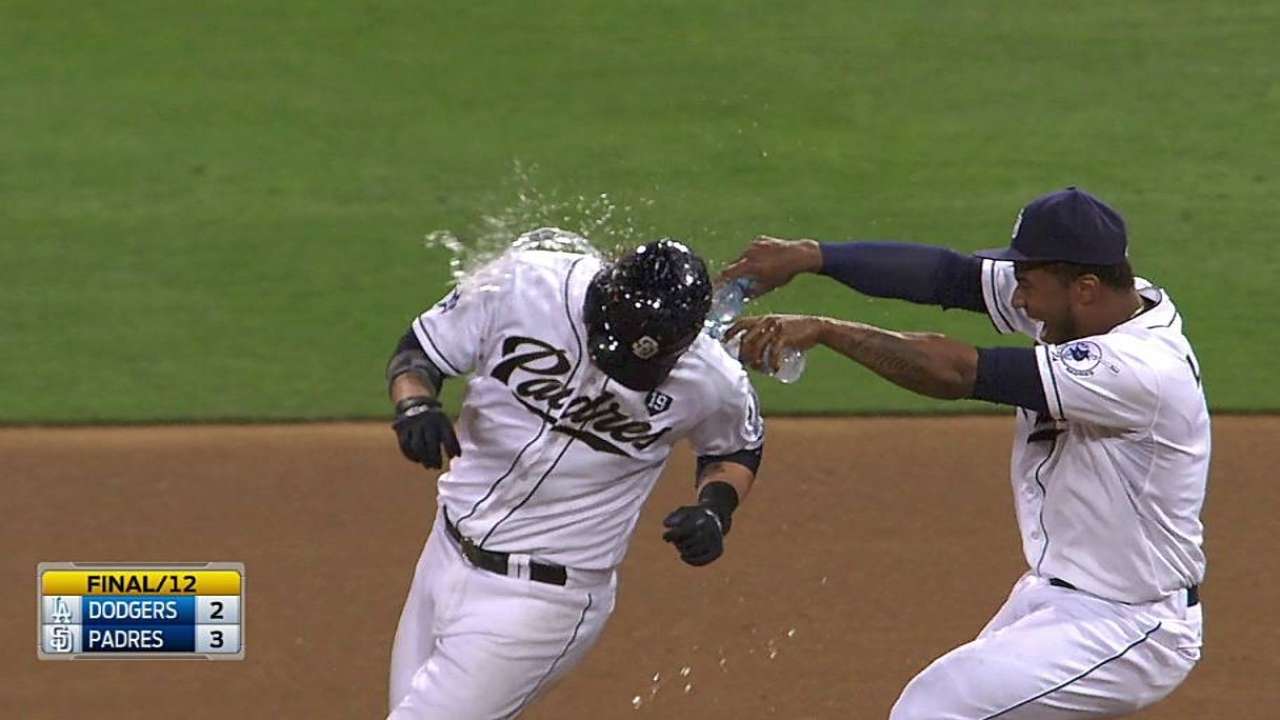 SAN DIEGO -- Up until his final at-bat Friday, Yasmani Grandal wasn't especially pleased with the way his offensive performance had gone against the Dodgers.
To that point, Grandal was 0-for-4 with a walk and three strikeouts, not that he was willing to let himself mire in a pity party, not when his team desperately needed a run.
"Just because I struck out three times didn't mean I was going to give up that last at-bat, too," Grandal said."
It's a good thing that he didn't, as Grandal's run-scoring single with two outs in the 12th inning lifted the Padres to a 3-2 victory over the Dodgers before a crowd of 30,818 at Petco Park.
"He was down 0-2, laid off a few pitches, fouled a few pitches off and worked [the count] full and then KC [Dodgers reliever Kevin Correia] had to come in with a strike. It was a little bit up," said Padres manager Bud Black.
"That was a good one."
The 12th inning started with Correia (7-15) -- the former Padres pitcher -- allowing a single to Alexi Amarista. One out later, Correia walked Yangervis Solarte and then Abraham Almonte. That brought up Seth Smith, a lefty, with the bases loaded.
The Dodgers employed an unusual shift, using four players on the right side of the infield. Smith obliged by hitting a ball on the ground to second baseman Dee Gordon, who threw home for the force. Smith beat the return throw from A.J. Ellis to allow Grandal a chance to hit.
"That was something. I don't think I've ever seen that. You come to a ballpark every night, you're going to see something new," Black said.
Even Dodgers manager Don Mattingly admitted that four infielders on one side was rare.
"Smith is a shift-guy for us. But four on one side, usually we put three guys on that side. We practice that in Spring Training, but without that extra guy. I've never seen all of them on one side like that," he said.
The Padres saw something else that rated as fairly new Friday -- pitcher Andrew Cashner on the mound, making his first start at Petco Park since June 18. Cashner, who missed 51 games while on the disabled list with a sore right shoulder, made his first start last week against the D-backs.
He admitted to feeling more comfortable against the Dodgers, especially with his changeup, as he went six innings, allowing one run on six hits with no walks and eight strikeouts.
"I thought I was a lot sharper," Cashner said. "The biggest thing tonight was the movement on my sinker and the release point and depth on the sinker."
Cashner also benefited from a nice running catch in right field by rookie outfielder Rymer Liriano, who hauled in a ball off the bat of Gordon to end the fifth inning with a runner on, just before face-planting into the fence. That catch saved a run.
For the longest time, it didn't appear as if extra innings would be necessary.
With the Dodgers (76-59) trailing 2-1, Hanley Ramirez tied the game with a home run -- his 13th of the season -- off reliever Dale Thayer in the eighth inning.
The Padres used Thayer in the ninth inning because Kevin Quackenbush would have closed, because the closer, Joaquin Benoit, has a recurring sore right shoulder, which bothered him earlier this month. He will not likely be available for a few days.
Blaine Boyer gave the Padres (63-70) two scoreless innings and Tim Stauffer pitched a scoreless 12th inning for the victory. All told, six Padres pitchers combined for 15 strikeouts.
The Padres got a sacrifice fly from Rene Rivera in the second inning for an early 1-0 lead and then a two-out, RBI single by Amarista in the third inning off Dodgers pitcher Dan Haren.
Haren allowed two runs (one earned) on five hits over six innings with one walk and three strikeouts.
The Dodgers got three hits from Justin Turner and three more from Ramirez, who also drove in the first run of the game for Los Angeles with an RBI double in the third inning.
Corey Brock is a reporter for MLB.com. Keep track of @FollowThePadres on Twitter. This story was not subject to the approval of Major League Baseball or its clubs.