Scioscia: Controversial call was 'strange play'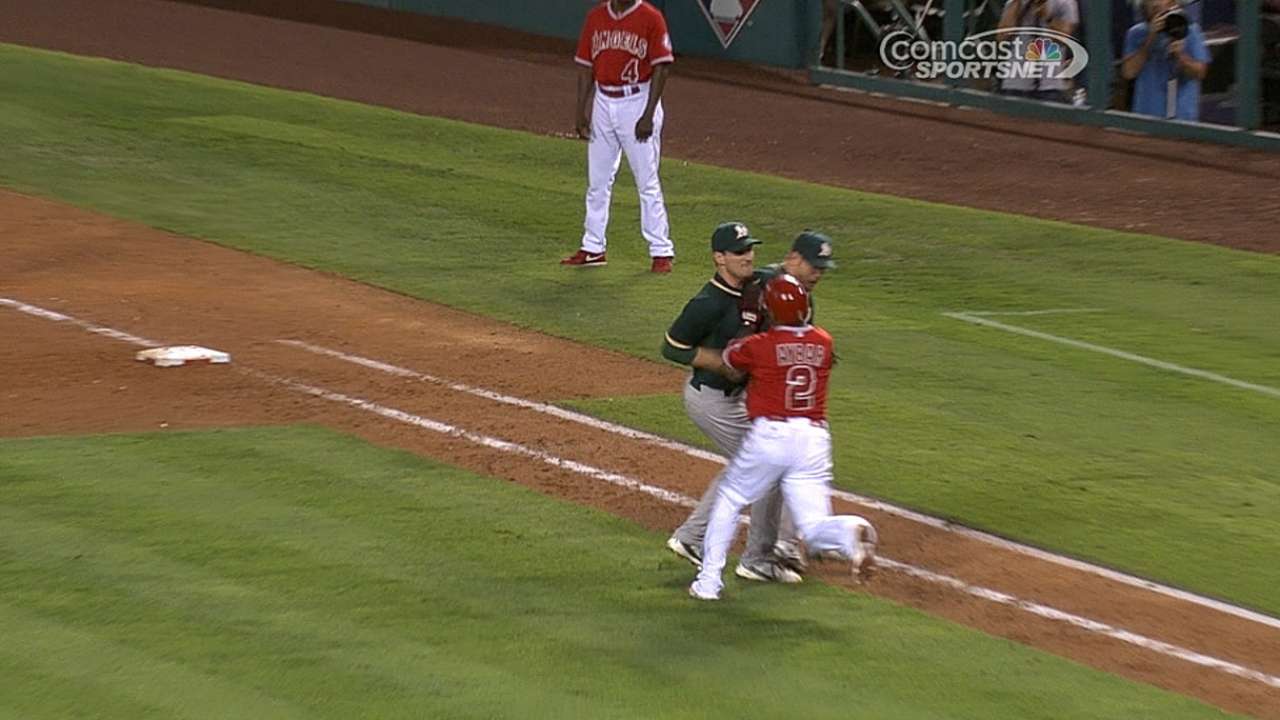 ANAHEIM -- When Angels manager Mike Scioscia met with the media after Thursday night's game against the A's, he hadn't seen a replay of the ninth inning's controversial obstruction call.
But Scioscia reviewed the tape before Friday's game and said "it was a strange play, there's no doubt about it."
As the leadoff hitter in the ninth inning of a 3-3 game, Erick Aybar bounced a high chopper off the plate and down the first-base line, where pitcher Dan Otero and first baseman Brandon Moss both rushed to field the ball. Otero gloved the ball before Aybar collided with him on the infield grass.
Aybar made a late swerve toward the field -- away from Moss on the first-base line but toward Otero in fair ground -- and plate umpire Greg Gibson called obstruction on Moss, awarding Aybar first base.
"If it's a step later, you could have called interference on Erick for interfering with a fielder," Scioscia said. "If it was a step earlier, it's probably a clean play because Moss could get out of the way and Erick would have a path to run."
Oakland manager Bob Melvin argued the call before notifying the umpires the A's were playing the game under protest. The A's withdrew their protest after determining "the call in question was a judgment call and not worthy of pursuing further," the club said in a statement Friday.
"It's just a judgment call," Scioscia said. "There was a lot happening when everyone converged."
The Angels scored the winning run in the 10th inning, lifting them to a 4-3 win and a two-game lead in the American League West.
Matthew DeFranks is an associate reporter for MLB.com. This story was not subject to the approval of Major League Baseball or its clubs.