Dodgers' West lead slips as Correia takes loss
Haren's solid start, Hanley's two RBIs go to waste in extra innings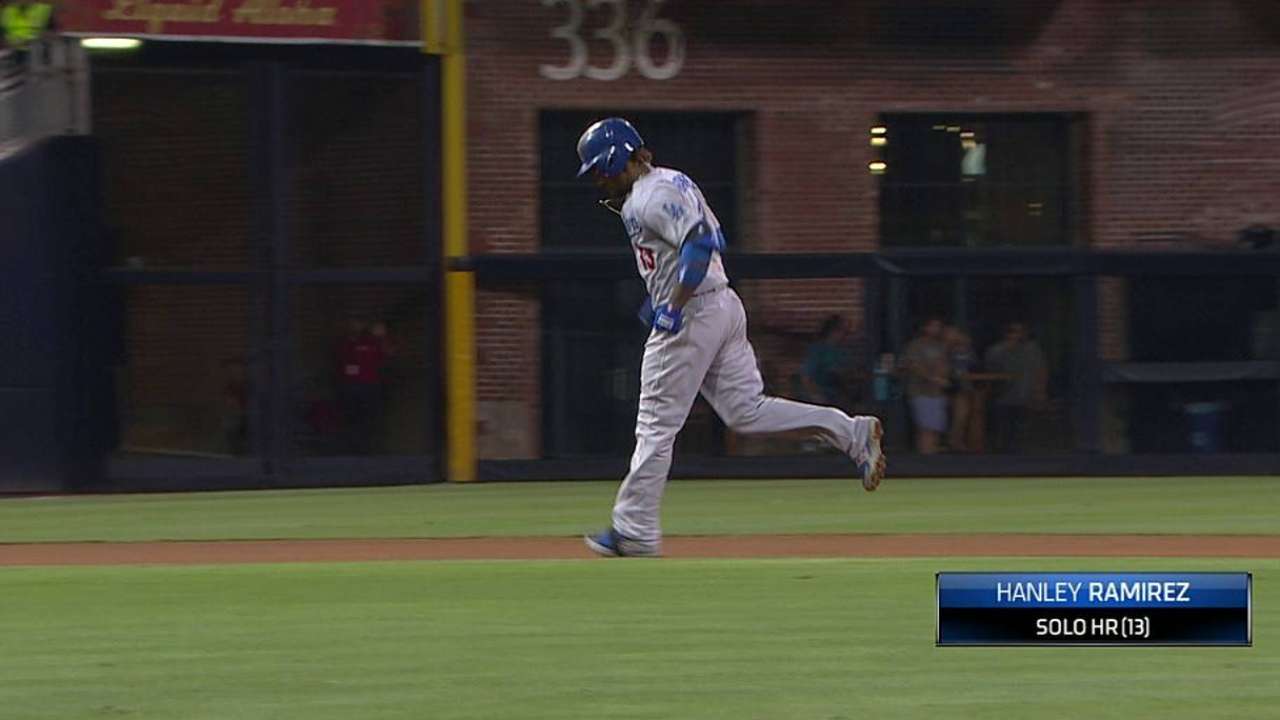 SAN DIEGO -- Despite six weeks of Spring Training and 135 regular-season games, there are times when you just wing it in ways you never imagined, as the Dodgers did Friday night with disappointing results.
They lost to the Padres, 3-2, on a bases-loaded, walk-off single by Yasmani Grandal with two outs in the bottom of the 12th inning.
The losing pitcher was Kevin Correia, making his first relief appearance since 2012. The inning included a Dodgers defensive shift conceived on the fly by manager Don Mattingly that used four "infielders" on the right side for the first time since, maybe, ever.
One of them was Andre Ethier, brought in from center field, where he had started in place of a benched and slumping Yasiel Puig. One more thing the Dodgers weren't counting on. Puig struck out pinch-hitting in the seventh inning and is hitless in his last 19 at-bats.
Ultimately, they wasted a homer and two RBIs from Hanley Ramirez, who left with an injured left leg. They wasted three hits from Justin Turner, a quality start from Dan Haren and five scoreless innings from their other six relievers.
Ramirez doubled in a run in the third inning, slipped rounding first base on a single in the sixth, talked his way into staying in the game long enough to tie it with a homer in the eighth, then was removed.
Correia wasn't in the clubhouse afterward to discuss his unexpected outing. Primarily a starter for the last 7 1/2 seasons, he was acquired this month from Minnesota and made three Dodgers starts, but was bumped from the rotation because Hyun-Jin Ryu will come off the disabled list to start Sunday.
Haren answered questions that would have been posed to Correia.
"I'm sure he feels like crud," said Haren. "It's tough to get loose for a starter. You can long toss for 20 or 25 minutes and get ready. It's not easy to do. That said, I'm sure he feels bad about tonight."
Alexi Amarista greeted Correia with a line single to left. Jake Goebbert flied out. Yangervis Solarte walked. With Abraham Almonte up, Correia bounced a wild curveball and the runners advanced. Ethier, the center fielder with Puig out, was brought in to first base to form a five-man infield. Almonte walked to load the bases.
For Seth Smith, the Dodgers put Ethier, Adrian Gonzalez, Dee Gordon and Miguel Rojas equal distances apart from first to second base (Justin Turner stayed at third base) and it worked, sort of. "That was something," said Padres manager Bud Black. "I don't think I've ever seen that. You come to a ballpark every night, you're going to see something new."
Smith bounced to Gordon, who threw to the plate on a bounce, gloved deftly by A.J. Ellis to get Amarista for the second out.
"The play A.J. made on the ball was awesome," said Haren.
But Gordon's second misdirected throw of the night (the first cost a run) cost the Dodgers a chance for an inning-ending double play.
Grandal fell behind 0-2, but worked the count full before singling through the right side.
"He got himself into trouble and almost got out of it," Mattingly said of Correia. "He got in that (3-2) count and had to throw a strike."
Haren allowed two runs on five hits, one of the runs unearned because of Gordon's throwing error. Haren went six innings and has a quality start in four of his last five outings after a five-start losing streak.
Haren walked Grandal leading off the bottom of the second. He got a likely double-play grounder from Jedd Gyorko, but Gordon snowconed the one-hopper and threw it away, leaving runners on second and third instead of in the dugout. Haren limited the damage to one unearned run on Rene Rivera 's sacrifice fly.
Turner and Ellis opened the third inning with singles. With two outs, Ramirez doubled home Turner to tie the game, his first RBI since returning from the disabled list Sunday.
San Diego regained the lead with a two-out rally in the fourth inning on singles by Rivera, Rymer Liriano and Amarista.
Liriano also saved a run, running down Gordon's towering fly to right-center as he crashed into the fence to end the fifth inning and strand Turner, who led off the inning with a double.
Ken Gurnick is a reporter for MLB.com. This story was not subject to the approval of Major League Baseball or its clubs.