Felix stung by four Nats homers in series opener
Homer total marks career high for Hernandez in first start vs. Nationals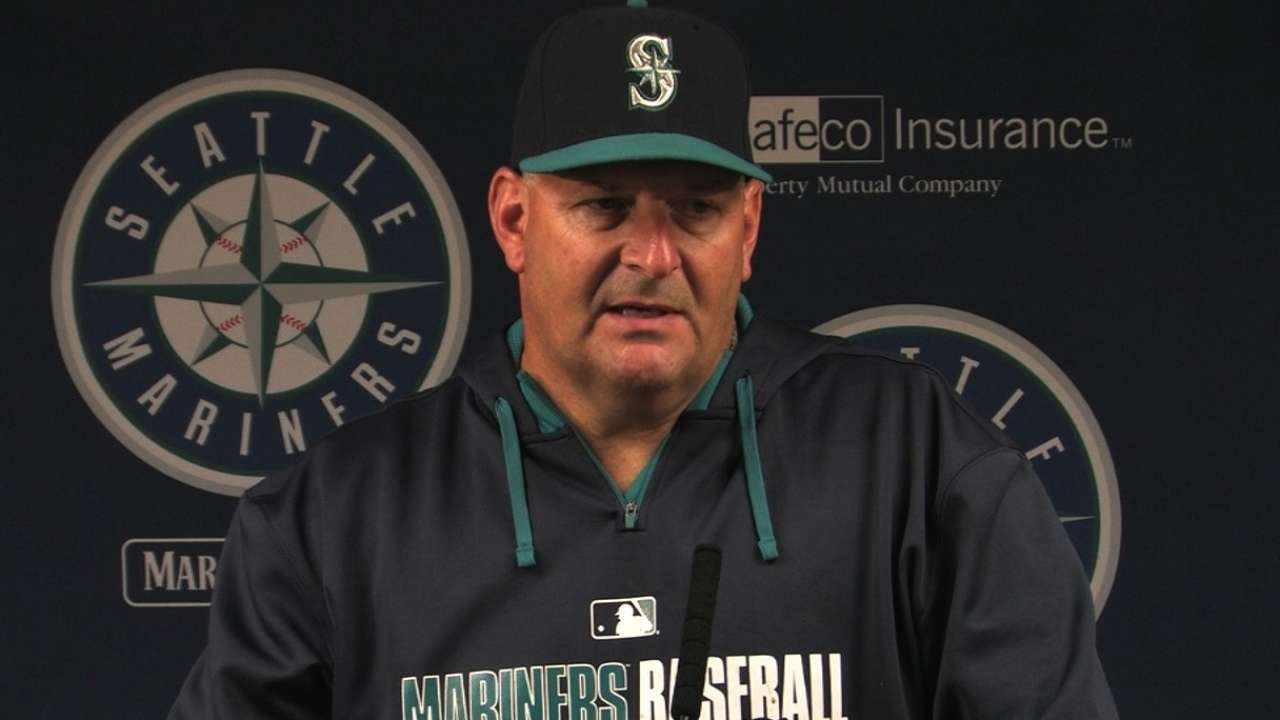 SEATTLE -- On a night the Mariners needed a win to keep pace with the Detroit Tigers in the race for the second American League Wild Card spot, starter Felix Hernandez allowed a career-high four home runs, and the usually stout Seattle bullpen allowed two more in Friday night's 8-3 loss to the Nationals at Safeco Field.
Working on six days' rest after having his scheduled Wednesday start pushed back, Hernandez gave up five runs over seven rocky innings and struck out just one. With the loss, the ace right-hander dropped to 13-5 on the season while his ERA went from 2.07 to 2.23.
"We ask a lot of him, we expect a lot of him. I think he's up for the challenge, but he's human and the other team is getting paid too, so it's gonna happen," said interim manager Trent Jewett, who was in his first of two games in charge while Lloyd McClendon attends his daughter's wedding in Indiana.
"I know eventually the question is going to come up about pushing [Hernandez] back, but I think Lloyd [McClendon] did it for a long-term move, not just for Felix, for everybody," Jewett said. "It was looking at things long-term and the workload and bouncing back and so forth. We'll see the benefits from it in the days to come."
For now, the loss dropped the 72-61 Mariners a game behind the Tigers, who beat the White Sox 7-1 on Friday, for the final AL postseason berth. Seattle has lost 10 straight games to the Nationals, dating back to 2005.
The onslaught started early.
The Nationals jumped to a 1-0 lead in the first inning when Hernandez gave up a solo home run to Anthony Rendon. In the third frame, Jayson Werth hit a two-run blast into the bullpen in left-center field to make it 3-2.
The Nats continued pounding Hernandez in the fourth.
Leading off, Ian Desmond hit a solo shot on the 10th pitch of his at-bat. Later in the inning, Wilson Ramos added a home run of his own to make it 5-2.
"It was a tough day. I couldn't get out of the middle of the plate the first four innings," Hernandez said. "I was up and I got crushed.
"Everything was off."
Hernandez finished with three scoreless innings, but that wasn't enough. Asked if pitching on the seventh day instead of the usual five threw off his routine, Hernandez was succinct.
"Not at all," he said.
Nationals right-hander Jordan Zimmermann allowed two runs over six innings while improving to 10-5. He struck out eight, walked one and worked out of multiple jams after allowing two runs in the first inning.
Down, 1-0, Dustin Ackley rallied the Mariners with a one-out triple. Robinson Cano followed with a walk, then Kendrys Morales hit a sharp RBI single that glanced off the glove of first baseman Adam LaRoche and into shallow right field, advancing Cano to third.
The next hitter, Kyle Seager, worked the count to 3-2 before hitting a chopper down the third-base line that Rendon fielded before throwing wide of second base. Seager was credited with a single and Cano came around to score to give the Mariners a 2-1 advantage.
But they couldn't add on.
In the third, the Mariners put runners on first and third with one out when Cano singled, then Morales followed with a single on a hit-and-run, but Seager and Mike Zunino struck out to end the inning.
In the fifth, Ackley and Cano hit back-to-back, one-out singles, putting runners on first and second, but Morales and Seager popped out.
"I don't know that he made a whole lot of adjustments. In the first couple innings, we hit some balls hard. He kept pouring it in the strike zone, that's what he does," Jewett said of Zimmermann. "That's typically his outing. He's gonna keep coming after you, and he did it again tonight."
The Nationals added two more in the eighth when Ramos and Bryce Harper hit back-to-back solo home runs off Joe Beimel to make it 7-2. Appearing in a rare-non save situation in the top of the ninth, closer Fernando Rodney allowed a LaRoche sacrifice fly that gave Washington an 8-2 lead.
The Mariners made one final push in the ninth.
Endy Chavez hit a two-out RBI double in the ninth inning to cut the lead to 8-3. Then Austin Jackson singled. But Ackley lined out to center field to end the game.
"We know that things aren't going to be easy," Cano said. "We got to fight all the way through the end. Tough game. Bad game… It's not like we made a lot of errors or anything like that. They beat us. They scored a lot of runs, nothing else you can do."
Adam Lewis is an associate reporter for MLB.com. This story was not subject to the approval of Major League Baseball or its clubs.