Cardinals set back by youthful Cubs
Wild Card contender's cause takes hit after Neshek's hiccup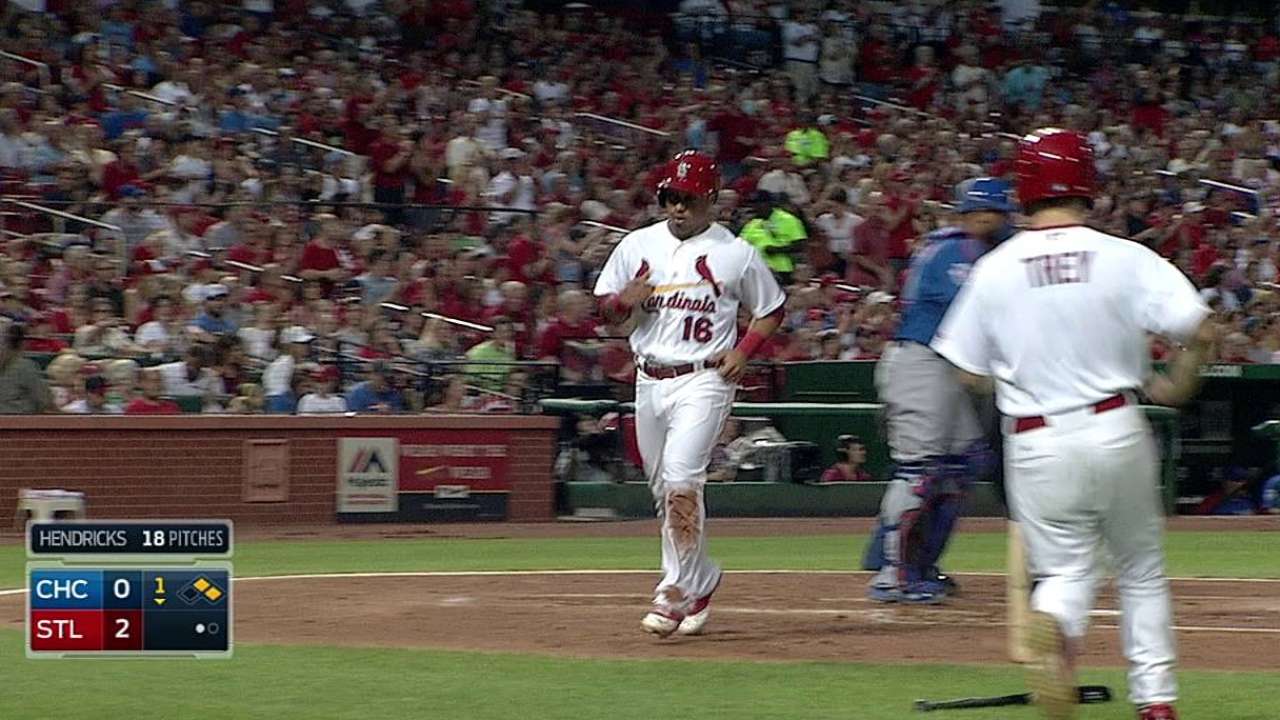 ST. LOUIS -- In what has been a standout season for Pat Neshek, Friday will stand out as the one night he'd rather forget.
A tie game unraveled under Neshek's watch, as the Cubs knocked him around for four runs on the way to a 7-2 win over the Cardinals. It was hardly the drawn-up ending to a day that started with the celebration of Yadier Molina's return and featured a strong showing by starter Shelby Miller in front of 43,181 at Busch Stadium.
Instead, the cavalcade of young Cubs nudged their way into the spotlight.
"They have some studs," said Miller, who has one win over his last 13 starts. "They've done a good job of rebuilding that offense. They're tough, man. They're a good team."
Despite their long-ago exit from the playoff picture, the Cubs are positioned to play a large role in the outcome of the National League Central race. They have 18 games remaining against the three contending teams, including six against St. Louis. Pieces of the Cubs' future could spoil another team's present.
"They have a couple of guys who hit some balls that we haven't seen hit like that here," said manager Mike Matheny, whose club allowed four 400-plus foot homers. "They've got some power."
Jorge Soler, three games into his Major League career, belted two of the long balls, the first a game-tying shot off Miller and the second a knockout punch off Neshek. Soler's second blast came just after Javier Baez, whose career spans 25 games, delivered the tiebreaking two-run double.
Rookie Arismendy Alcantara got involved with a solo shot in the ninth, capping a game that was started by Kyle Hendricks, who was seeking to become the third rookie in franchise history to go 5-0 in a month.
"These kids are showing you why they've been talked about so much," Cubs manager Rick Renteria said. "It's good to see."
Neshek had been as close to automatic as any reliever in baseball this season. He had allowed five earned runs over 59 appearances before the Cubs nearly doubled that in a six-batter span. Neshek hadn't given up four hits in a game all season. In fact, he had surrendered two hits in an outing only five times previously.
"It's been a good run, and I'll finish strong," Neshek said. "I feel like with a lot of those guys, if I make better pitches, I think I would have done a lot better."
The loss, the Cardinals' third in a row, cost the club the chance to gain ground on first-place Milwaukee, which lost 13-2 in San Francisco later Friday night. The Cardinals had won 10 of their last 12 games at home and seven of 12 against the Cubs.
Neshek inherited the game from Miller, who bookended August with seven-inning starts, this one marred only by a pair of solo home runs. Luis Valbuena led off the second with the first one to cut into the Cardinals' 2-0 lead.
The homers to Valbuena and Soler were the 19th and 20th that Miller has allowed this season, equaling the total he served up in 20 2/3 more innings a year ago. Eight of those home runs have been hit over Miller's last seven starts, though he's minimized the damage by allowing only one of those to come with a runner on base.
Valbuena's homer came off Miller's cutter, the newest pitch in his repertoire. Soler jumped on a first-pitch fastball.
"I couldn't have given him a better pitch to hit," Miller said. "The toughest thing about it is giving up the homer in the seventh with a 2-1 lead. That's a bad time to give it up. I felt like that gave them a little momentum going back into the eighth."
The Cardinals kept Hendricks from improving his 5-1 record, but their success against him was limited to a first-inning ambush.
Each of the Cardinals' first three hitters reached, with Matt Holliday extending his hitting streak to 10 games with an RBI single to left. Two batters later, after Kolten Wong had swiped third, Jhonny Peralta delivered another run-scoring single.
The three hits the Cardinals tallied in that inning would be more than they'd collect in Hendricks' next five innings. A chat with pitching coach Chris Bosio after the first helped Hendricks turn around his night.
"It's nothing about picking the right pitch in the right situation, it's just picking a pitch and throwing it to the glove," Hendricks said. "The first inning I really wasn't doing that and was just lobbing it over and trying to get it over."
Hendricks retired 11 straight beginning with a Molina strikeout in the first, and allowed two innocuous singles the rest of the way. The Cardinals' labor-intensive offense could only admire the Cubs' blitz, as Chicago hit as many homers on Friday as the Cardinals had in their last 371 at-bats.
"I told you I was done tipping my cap, but that kid was 5-1 with a sub-2.00 ERA when he walked in there in a hitter-friendly park," Matheny said. "There haven't been a lot of people putting a lot of runs on him. Do I expect us and do our players expect us to do more than what we did? Yes. Absolutely. We just couldn't get anything going."
Jenifer Langosch is a reporter for MLB.com. Read her blog, By Gosh, It's Langosch, and follow her on Twitter @LangoschMLB. This story was not subject to the approval of Major League Baseball or its clubs.