Soler homers twice as Cubs thump Cardinals
Baez adds two RBIs, Alcantara goes deep in rookie showcase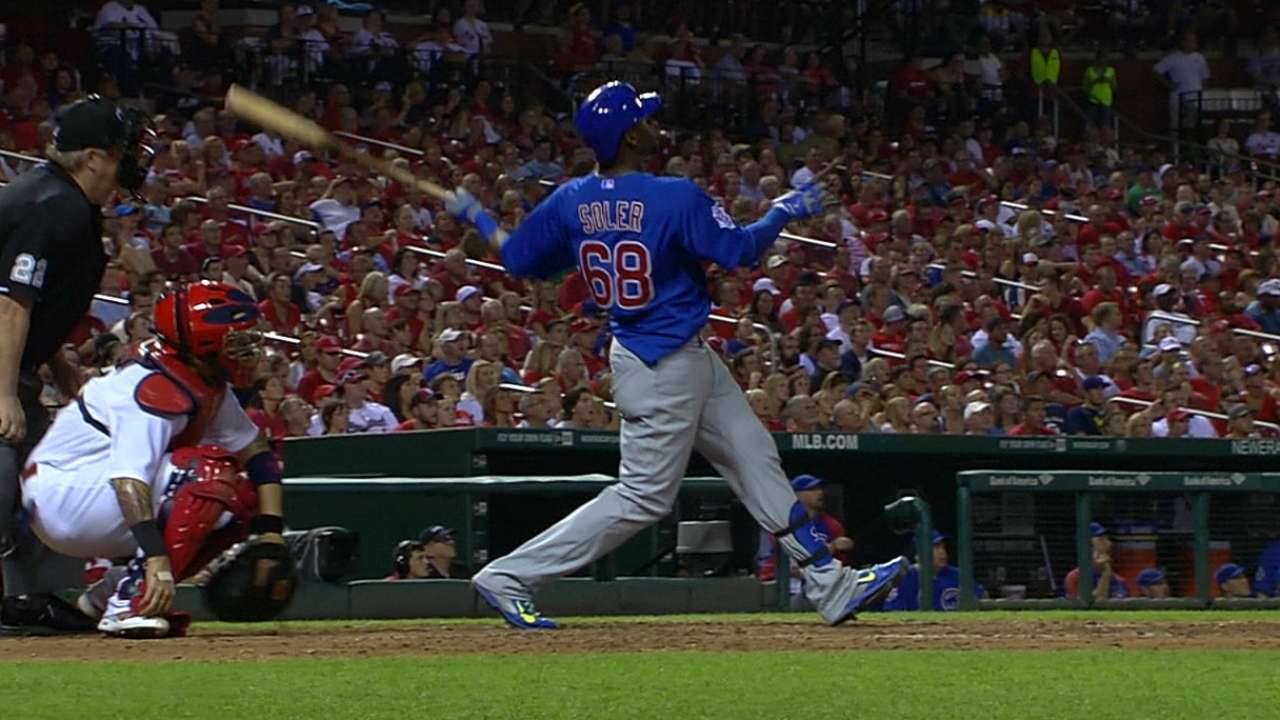 ST. LOUIS -- The Cubs future looked bright Friday night.
Jorge Soler belted two home runs and Javier Baez smacked a tiebreaking two-run double to power the Cubs to a 7-2 victory Friday night and wake up the Cardinals.
"They have some studs," St. Louis starter Shelby Miller said of the revamped Chicago lineup. "They've done a good job of rebuilding that offense. They're tough, man. They have a lot of power in that lineup, and even have guys who are a little scrappy and can run. They're definitely a tough lineup to face."
And the Cubs are missing two of the so-called "core four:" Kris Bryant and Albert Almora are at Triple-A Iowa and Double-A Tennessee, respectively.
"We're just waiting for Bryant now," Baez said. "Hopefully, he'll keep working and he'll be here soon."
Cubs general manager Jed Hoyer repeated for the umteenth time Friday that Bryant, who has 43 home runs this season, will not be called up. Would Baez like to see Bryant with the rest of the young Cubs?
"For sure," he said.
For now, he and Cubs Nation will have to be patient.
Playing just his third big league game, Soler led off the seventh inning with his second career home run to tie the game, and he added a two-run, 442-foot shot in the eighth that landed on the concourse behind the left-field bleachers at Busch Stadium.
Soler is the second Cubs player in history with a multi-homer effort in his first three career games; the first was Baez, who did so on Aug. 7 against the Rockies. It's now the 24th time it's happened in MLB history (Baez was No. 23). The last player to do so who wasn't a Cubs rookie was the Dodgers' Yasiel Puig, who hit two homers in his second game.
"I'm always looking for a fastball, and they threw me a fastball in those at-bats and I took advantage," said Soler, who connected on the first pitch in both at-bats.
"Soler got me pretty good," said Cardinals pitcher Pat Neshek, who served up the second one. "Especially for a right-handed guy, I haven't seen too many guys hit a ball like that off me. That was a no-doubter. At first, I thought it might be going foul because it was such a hack. It was impressive."
Baez delivered his double with two on and nobody out in the eighth, lining a 2-2 pitch from Neshek into the gap in left-center. Neshek served up four runs in two-thirds of an inning. He had given up five runs over 55 1/3 innings this season.
"I think that's my greatest at-bat since I came up," Baez said. "Hopefully I keep doing it to get better."
Baez said he saw something on video that helped him slow down and let the ball go deeper. It worked.
"They have a couple guys coming up who are not getting cheated," Cardinals manager Mike Matheny said of Baez and Soler. "They're getting their swings in, and they have the power to go along with it. It just makes our job more interesting [Saturday] to try and find the holes."
Kyle Hendricks was vying to become the first Cubs rookie pitcher to win five games in August, but instead did not get a decision. He did post his fifth quality start in six outings this month, and closed the month 4-0 with a 1.69 ERA.
Hendricks had to work against the Cardinals, who took a 2-0 lead in the first on RBI singles by Matt Holliday and Jhonny Peralta. Hendricks needed 26 pitches that inning, and then settled into a groove where he retired 16 of the next 17 batters he faced.
"There are some innings, you go out there and make pitches and give up runs, and you can live with that," Hendricks said. "The first inning, I wasn't throwing any pitches with conviction."
He talked to Cubs pitching coach Chris Bosio after the first, and, with a better mindset, went to work.
"It's not just picking the right pitch in the right situation, it's picking a pitch and throwing it to the glove," he said. "The first inning I really wasn't doing that and was just lobbing it over."
Luis Valbuena hit a solo home run in the second and rookie Arismendy Alcantara added a solo shot in the ninth. The Cubs now have 34 home runs this month, most in the National League.
The Cubs still have to face the Brewers, Pirates, Blue Jays, Reds and Dodgers.
"We have a really tough schedule the rest of the way," Hoyer said. "I like it because watching our young guys play against callups from other teams or Triple-A guys, we wouldn't feel we were learning anything. Now we'll watch these guys almost every series against a contender and against teams going full bore. It's going to be a full learning experience for the young guys.
"When this thing ends on Sept. 28, they're going to know what they need to work on this winter."
And so will the other teams.
Carrie Muskat is a reporter for MLB.com. She writes a blog, Muskat Ramblings, and you can follow her on Twitter @CarrieMuskat. This story was not subject to the approval of Major League Baseball or its clubs.