Verlander pitches Tigers to within a half-game of KC
Righty allows one run, fans eight over 7 IP; offense capitalizes on errors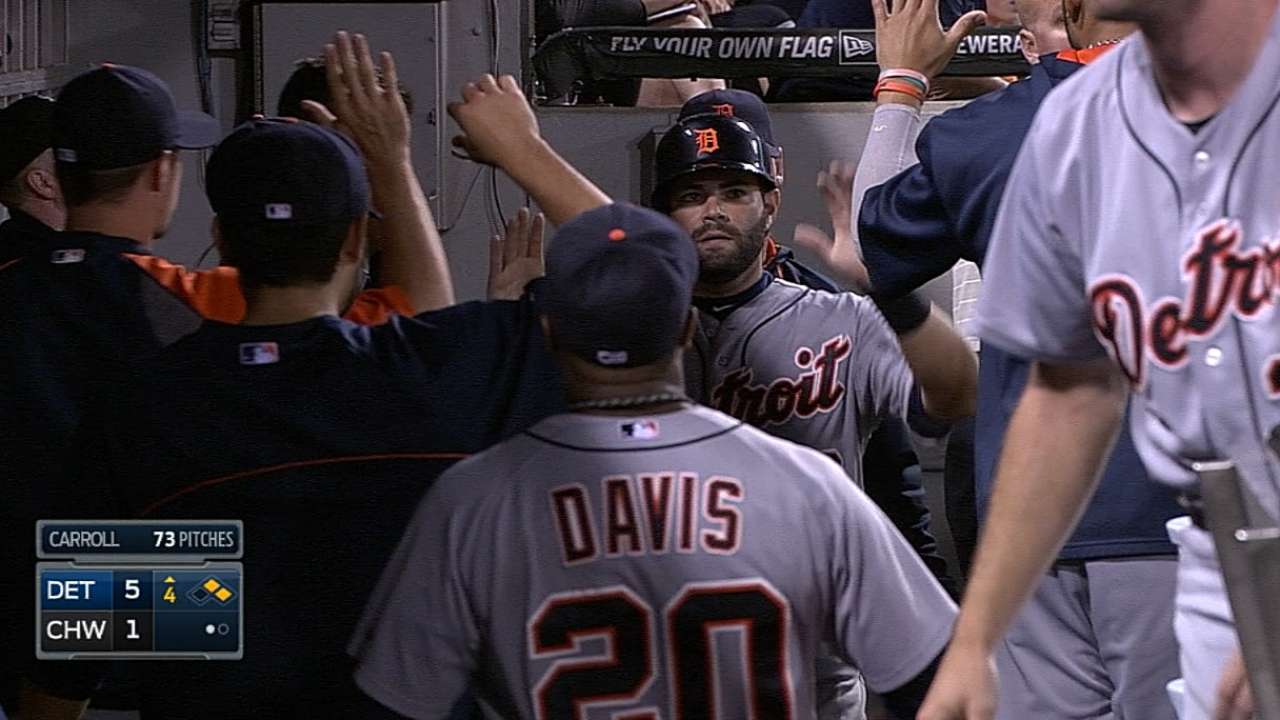 CHICAGO -- Statistically, this was Justin Verlander's best outing of the season. That says a lot about where Verlander has been this season.
"Just trying to execute better pitches, not walk so many guys, get ahead in the count, those types of things," Verlander said after seven innings of one-run ball with eight strikeouts in the Tigers' 7-1 win over the White Sox on Friday night at U.S. Cellular Field. "I know that's still there to be the guy I want to be. Just gotta find it."
Those numbers aren't necessarily vintage Verlander, but at this point, vintage is a luxury. On a night when the Tigers jumped White Sox rookie starter Scott Carroll for seven runs in the first four innings, it was plenty good enough. On a night when the Tigers began another stretch of four games in 48 hours, it was exactly what they needed.
"He's still Justin Verlander," White Sox leadoff hitter Adam Eaton said.
And as Detroit heads into Saturday's day-night doubleheader just a half-game behind Kansas City for the American League Central lead, and one game up on Seattle for the second AL Wild Card, and with a fresh bullpen, it can thank Verlander for the setup. If the Tigers can take both games from the White Sox, they'll guarantee themselves at least a tie atop the division at day's end.
On a night when Verlander stared at the seventh hitter in the batting order in the opening inning with the bases loaded and a run already in, it sure beat the alternative. It wasn't like last Friday, when Robbie Ray exited in the second inning and Detroit ended up using nearly its entire bullpen, as well as its backup shortstop for an inning, and lost by two touchdowns. Still, it was the precipice of disaster.
Maybe the adversity brought out the best in Verlander. It at least brought out arguably his two best pitches of the night.
"You can't put your team in a 3-0 deficit right away," Verlander said. "I made a bad throw to allow those guys to score an easy run, and then once the bases are loaded, you're just thinking to leave the damage where it's at and make your pitch here."
With a 1-1 count on White Sox catcher Tyler Flowers, Verlander went to his curveball, the pitch he threw and missed three times in the previous at-bat for a two-out walk to Conor Gillaspie. This time, he put it in the strike zone, setting up Flowers with a 1-2 count.
It was a count for Verlander to try his fastball, and he ended up with his hardest of the night. It came in at 96 mph, and Flowers took it for a called third strike.
"It still takes him a couple pitches to get loose every inning, it seems like," Tigers manager Brad Ausmus said. "But once he does, he seems pretty good for the remainder of the outing. And like he has all year, he's had the ability to turn it up a notch when he feels like he's in trouble.
"We saw a few 95s, I saw at least one 96 up there. So he can still reach back, which is a good sign. He seemed to be able to still reach back in spots that he thought he needed to."
Seven of the first 12 White Sox batters reached base. He limited the damage to a first-inning run with help from his defense, including a solid evening from second baseman Ian Kinsler, and lasted seven innings.
When the Tigers built their lead with a two-run third inning and five-run fourth on a flurry of singles and doubles, none for more than one RBI, Verlander provided shutdown innings, retiring six consecutive batters from the third inning through the fourth. When he needed to thwart threats, he recorded three inning-ending strikeouts with runners in scoring position.
"We had a chance," White Sox manager Robin Ventura said, "and you don't take advantage of it. He usually gets stronger as he goes along. You see him in the middle there, all of the sudden he can get it up there at 95. He gets stronger as he goes along and you have to take advantage of it early and we just missed our shot."
It wasn't vintage Verlander (12-11), not with nine hits allowed, but his seven innings of one-run ball marked his stingiest outing of the season. His eight strikeouts tied a season high, and included the 1,800th of his career. Six of the nine hits came from Eaton and rookie slugger Jose Abreu, both of whom had two singles and a double.
Jason Beck is a reporter for MLB.com. Read Beck's Blog and follow him on Twitter @beckjason. This story was not subject to the approval of Major League Baseball or its clubs.