May's rough rookie season continues in loss
Young righty cruises through three innings before faltering vs. the O's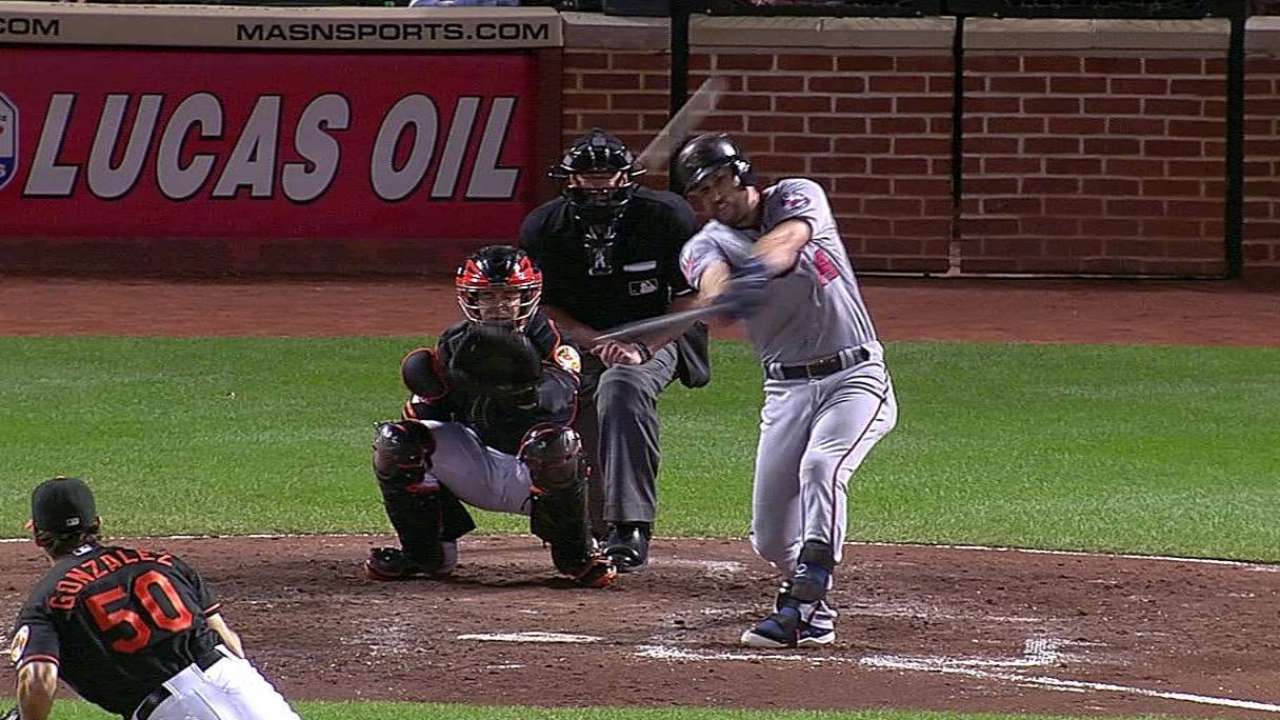 BALTIMORE -- The Twins keep waiting on Trevor May to make a big step forward.
There were some positive signs in his fourth career start Friday night against the Orioles, such as his three strong innings to open the game and his career-high eight strikeouts, but the rookie ultimately struggled again in a 9-1 loss at Oriole Park at Camden Yards.
May surrendered a career-high eight runs, struggling in the fourth and fifth innings, as he served up a grand slam to Chris Davis that was keyed by a pair of hit batters in the fourth, and a questionable two-run homer to Delmon Young that stood after a replay review in the fifth.
"I don't think it's all mental," May said. "I say it every time, but you have to make a pitch when you need to make a pitch. I mean, two pitches account for six of those runs. Both times I didn't make a pitch and I paid for it. It's frustrating to say the least."
May, who entered having walked 13 batters in 14 1/3 career innings, opened strong, cruising through the first three innings with just one bloop hit allowed and five strikeouts.
But it unraveled in the fourth, as his control problems came back to haunt him. May gave up a leadoff single to Jimmy Paredes before plunking Adam Jones and Nelson Cruz to load the bases with no outs. May hadn't hit a batter all season, even in his 18 starts at Triple-A Rochester.
May was able to strike out Young for the first out, but walked J.J. Hardy on four pitches to bring home the game's first run. He promptly fell behind Davis, who jumped all over a 3-1 fastball for a grand slam. It was the first homer given up by May in the Majors.
"It looked like he lost his poise out there," Twins manager Ron Gardenhire said. "He couldn't repeat it and put himself in some bad situations. He fell behind Mr. Davis up there. He tried to throw one over, and he deposited it. So it's a tough inning for him and he has to learn to control his emotions."
The Twins stuck with May for the fifth inning, but he allowed a one-out RBI single to Jones before giving up a two-run homer to Young with two outs that was reviewed and ultimately stood, even though it appeared a fan reached over the fence to catch the ball.
"That's a joke," Gardenhire said. "That's embarrassing, because the system didn't work tonight. The guy reached over the fence and caught the ball."
Young's homer against his former team knocked May from the game, as the right-hander gave up eight runs on six hits, two hit batters and a walk to fall to 0-4 with a 10.42 ERA in his young career.
Gardenhire said he plans on sticking with May, but the 24-year-old needs to learn to slow the game down and keep his composure when running into jams.
"We could obviously see from the dugout he was cranked up there and it didn't work out in his favor," Gardenhire said. "So he's learning here and going through some growing pains."
Reliever Samuel Deduno replaced May and went 2 1/3 innings, giving up a run in the sixth on a one-out double from Jonathan Schoop.
The Twins were held in check by Orioles right-hander Miguel Gonzalez, who gave up just one run on four hits and a walk over seven strong innings to get the win.
"He was solid," Orioles manager Buck Showalter said. "He had really good late life."
Minnesota scored its lone run on a solo shot from Trevor Plouffe off Gonzalez with one out in the seventh inning. It was home run No. 10,000 in franchise history, including the club's time as the Washington Senators, dating back to 1901.
"It was pretty incredible to be a part of history," Plouffe said. "I was just in the right place at the right time."
But it wasn't enough, and May put the blame on himself for not doing a better job after pitching well through the first three innings.
"Moving forward, it's about trying to add on to those three innings and make it six, seven, eight innings," May said. "It's about throwing zeros and trying to get wins. It's doing my job, and I haven't done it yet. But I know I'm capable of it and that things can go my way."
Rhett Bollinger is a reporter for MLB.com. Read his blog, Bollinger Beat, and follow him on Twitter @RhettBollinger. This story was not subject to the approval of Major League Baseball or its clubs.