Sloppy seventh sends Phils to loss to Mets
Walks, hit batter, pivotal error help NY score three runs without a hit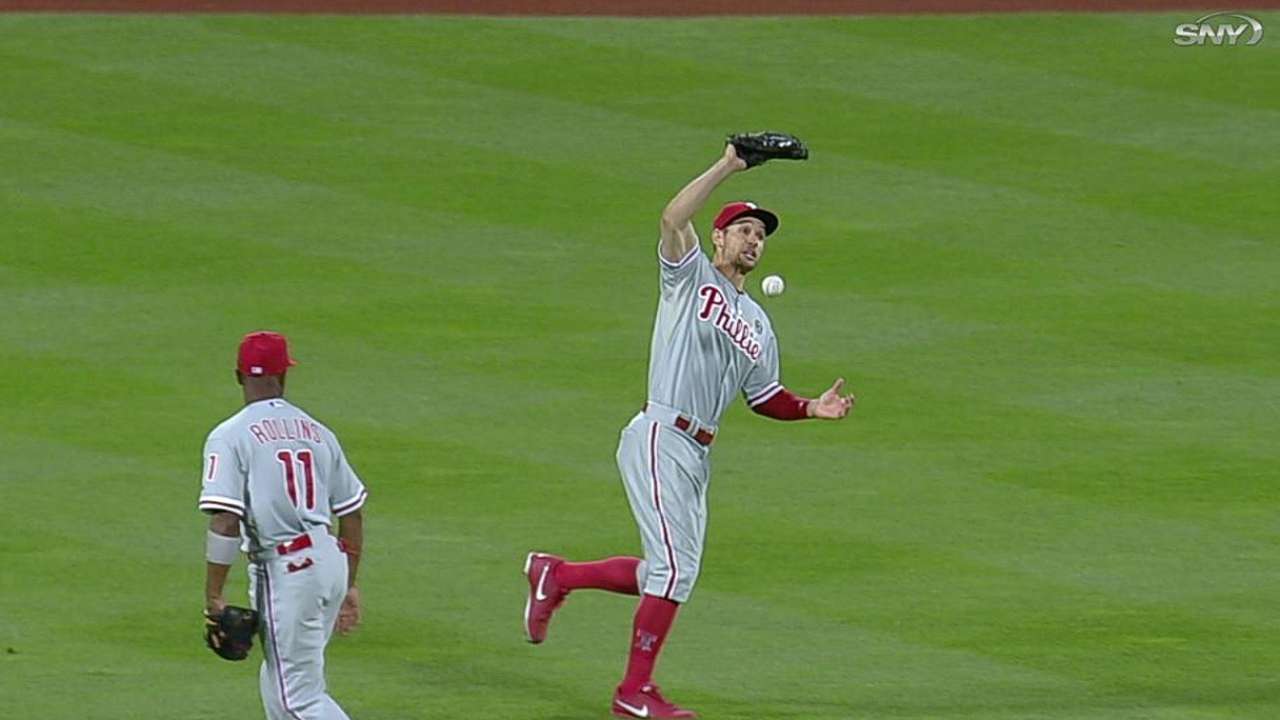 NEW YORK -- The Phillies need to find ways to motivate themselves with a month of games to play in 2014.
They are miles from a pennant race, so it will not be easy. But on Friday night at Citi Field, they at least had an opportunity to get out of last place in the National League East for the first time since June 27.
They remained there following a sloppy 4-1 loss to the Mets.
"It doesn't get much worse than that," Phillies left fielder Grady Sizemore said following a costly error in the seventh inning. "The guys played hard and I just happened to be a guy that let the team down, you know? That's all there really is to it."
The Phillies had won seven of their last nine games, but Friday was a reminder of what has been happening most of the season. They scored two or fewer runs for the 50th time in 134 games, which is third in baseball behind the Padres (61) and Rays (51). Phillies left-hander Jake Diekman loaded the bases with two walks and a hit batsman in a tie game in the seventh inning, while Sizemore's costly error led to three Mets runs.
The Mets scored those runs without the benefit of a single hit.
Diekman had one out in the seventh when he got 0-2 on Mets left fielder Matt den Dekker, who is hitting .186 in 86 at-bats. He threw four consecutive balls for the walk. After recording the second out, he hit Wilmer Flores with a pitch and followed that with a walk to pinch-hitter Eric Campbell to load the bases.
"That's uncharacteristic of what Diek has been doing," Phillies manager Ryne Sandberg said. "He's been pretty good at throwing strikes."
Justin De Fratus replaced Diekman and did his job against Juan Lagares, who hit a fly ball to shallow left field. Sizemore ran in for the easy catch, but dropped the ball.
Two runs scored to hand the Mets a 3-1 lead.
"I just missed it," Sizemore said. "There's nothing to it other than just a routine popup and I couldn't come up with it. Routine play. Had it the whole way, saw it fine, was under it. Just missed it."
The Mets scored their fourth run as Campbell swiped home when Phillies catcher Carlos Ruiz threw down as Lagares stole second.
"We had to look at the guy at third there," Sandberg said. "He didn't check him very well."
Three runs, no hits.
It has been that kind of season.
The Mets took a 1-0 lead in the fourth inning when David Wright hit a one-out single to center field and scored from second on a two-out single to left from Travis d'Arnaud. But Phillies rookie David Buchanan otherwise pitched well.
He allowed four hits, one run, one walk and struck out three in six innings. He also threw just 64 pitches to become the first Phillies pitcher since 2008 to throw 64 or fewer pitches in six or more innings. Brett Myers threw 64 pitches in six innings on Aug. 3, 2008, against the Cardinals.
Buchanan certainly could have pitched longer, but Sandberg elected to have Domonic Brown pinch-hit for him with runners on first and second and one out in the seventh inning. The Phillies had just tied the game and hoped to take the lead, but Brown bounced a ball back to Mets starter Jacob deGrom for an inning-ending double play.
"[Not] in a National League game where [deGrom's] throwing a great game and you have a chance to knock him out," Buchanan said, when asked if he was surprised about the early hook. "That was completely understandable."
"We only had nine outs to go in a game like that," Sandberg said. "I think we need to take a shot for a run in the seventh inning. We were running out of time."
Todd Zolecki is a reporter for MLB.com. This story was not subject to the approval of Major League Baseball or its clubs.