Royals' division lead shrinks with loss to Tribe
Esky's four-hit game not enough as Vargas' error fuels key third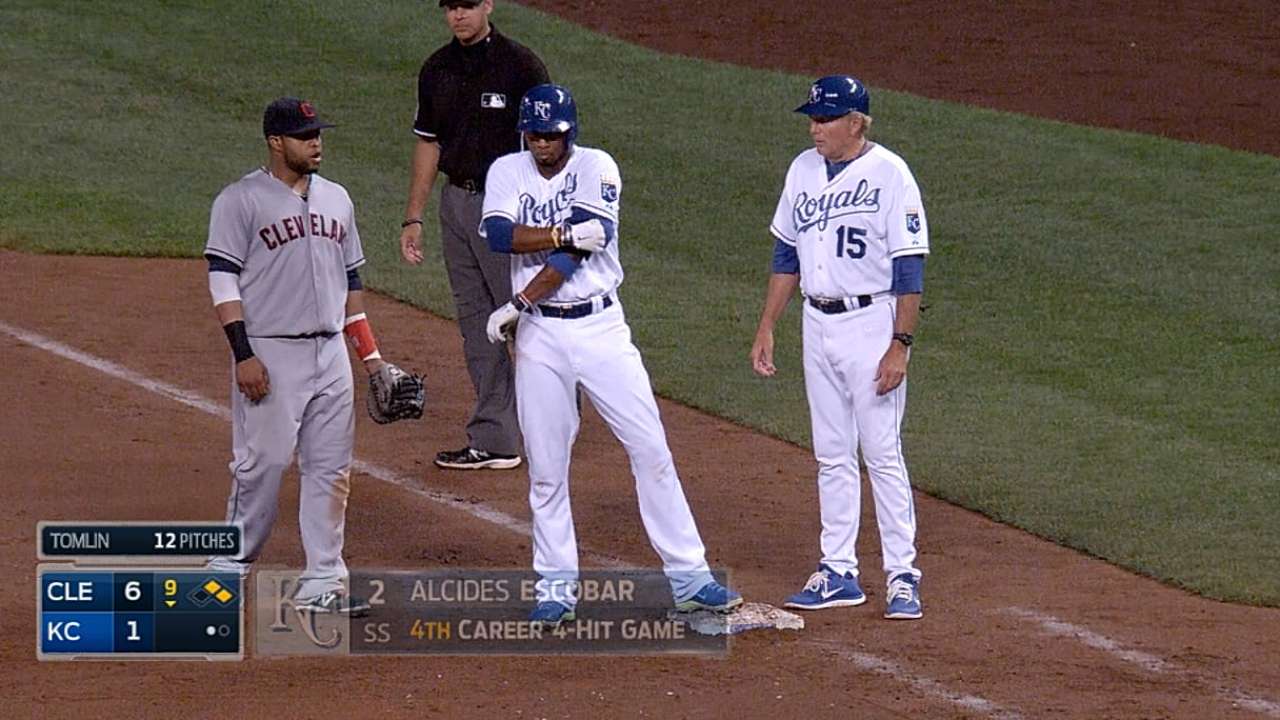 KANSAS CITY -- Now things are tightening up for the Royals.
A 6-1 loss to Cleveland on Friday night brought the Indians within 4 1/2 games of the front-running Royals in the American League Central. Of even more concern: Detroit is now just a half-game out after a win over the White Sox.
The Royals have lost two in a row and four of their last six games, their biggest stumble since launching a vigorous run toward first place on July 22.
"That's a good team that's really feeling good about themselves, so you're going to have play good to beat them," Indians manager Terry Francona said.
Especially disappointing for Royals manager Ned Yost was that his club couldn't conjure up much offense for the Kauffman Stadium crowd of 31,341.
"The crowd was absolutely fantastic. The problem was, we didn't give them anything to cheer about," he said. "They came with energy, the rain couldn't even dampen their spirits. It was a phenomenal crowd."
The Indians took an early 4-0 lead against left-hander Jason Vargas, a score that held as a downpour halted the game at 9:02 p.m. CT as the Royals came to bat in the sixth.
A single by Jason Kipnis and Zach Walters' double accounted for one run in the second inning.
Vargas had a bigger struggle in the third inning which began with Tyler Holt's bunt single and an accompanying wild throw by the pitcher. Vargas got to the bunt ahead of catcher Salvador Perez.
"I really did think that I had a better shot at it and if Salvy thought he'd have had it right there, he'd have called me off," Vargas said. "But the throw that I made wasn't very fundamental -- to turn and spin and cut it loose."
The ball skipped into right field, the error moved Holt to second and he scored on Jose Ramirez's one-out single.
Michael Brantley got an infield single and Carlos Santana looped a hit into right field, scoring Ramirez. And when Kipnis bounced into a forceout, Brantley scored too.
Vargas lamented his fielding error that triggered the three-run inning. He made a similar errant throw in his previous start, a loss to Texas.
"Those are just mental mistakes that I can't afford to make and put the team in that kind of situation," Vargas said. "The extending of those innings takes its toll later in the game and gives the other team confidence, and feeling like they're in a good position."
The Indians stayed in a good position after the 44-minute rain delay. Santana gave them a nice cushion in the ninth inning with a two-run homer off Francisley Bueno.
Santana has been a beast for the Royals to handle. He has a total of six homers in four straight games in Kansas City.
"I hope he continues. That's a nice swing, he can get streaky with his home runs and that would be really welcome if he wants to go on another one of those streaks," Francona said.
Overall this season, Santana has seven home runs and 14 RBIs in 13 games, and a .380 (19-for-50) average against the Royals.
"He plays well against us," said KC's Lorenzo Cain. "We've got to figure out a way to get him out, hopefully starting tomorrow."
Santana's six homers at Kauffman tied the record by an opposing player in a single season, matching the Twins' Jacque Jones in 2002 and the White Sox's Jose Valentin in 2003.
Indians right-hander Danny Salazar reeled through five shutout innings before the rain came. He was excused after the delay and a parade of relievers -- six in all -- finished up.
"I thought he threw his best fastball of the year, just as far as having life through the zone, and even in fastball counts, he got it by a couple pretty good hitters," Francona said.
The Royals finally broke through in the ninth against the Indians' seventh pitcher, Josh Tomlin. After an out, successive singles by Christian Colon, Nori Aoki and Alcides Escobar -- his fourth hit -- produced a run. But that was all.
Escobar's four hits tied his career high, but that's about where the Royals' offensive excitement ended.
And, in the AL Central standings, it was looking a bit more crowded at the top.
Dick Kaegel is a reporter for MLB.com. This story was not subject to the approval of Major League Baseball or its clubs.