Tribe trims Central deficit by stymying Royals
Salazar fires five scoreless frames, while Santana adds three RBIs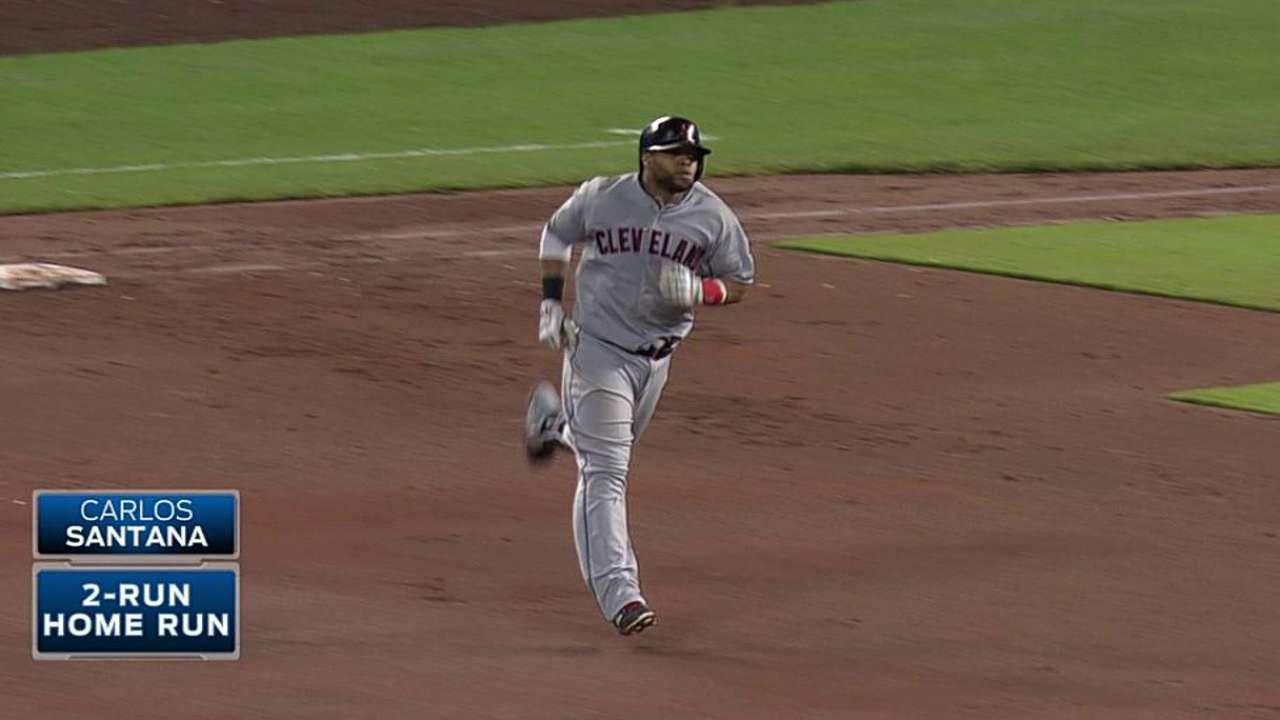 KANSAS CITY -- Danny Salazar's potential breaking point came in the fifth inning on Friday night.
Two Royals were aboard with MVP candidate Alex Gordon at the plate, threatening to derail a superb start. The showdown might have unwound differently in mid-April, at the nadir of Salazar's season.
But a rejuvenated Salazar retired Gordon, then observed the rest of the Indians' 6-1 triumph as a 44-minute rain delay ended his night after five innings in the series opener at Kauffman Stadium.
Despite the brief 72-pitch outing, Salazar's 15th start of the season was his first allowing zero runs. His ERA dropped to 2.84 in 38 innings since a July 22 recall from Triple-A Columbus.
"I think Danny was really good," manager Terry Francona said. "He was really aggressive with his fastball, and you could tell he had confidence in it, and even in the tempo in his delivery, which is something [pitching coach] Mickey [Callaway] kind of harps on him about, was really good from start to finish."
Six relievers polished off Cleveland's fifth win in six games, as the gap between the Tribe and the Royals in the American League Central shrank to 4 1/2 games. It was also the franchise's 9,000th win, the third most in American League history.
The Indians centered their offensive attack on the first three innings.
Zach Walters clubbed an RBI double in the second for a 1-0 lead. It was his first double with the Indians, while seven of his 11 hits with the team have been for extra bases.
Cleveland put up a crooked number in the third, scoring three runs to take a 4-0 lead. Jose Ramirez and Carlos Santana collected RBI singles, while Jason Kipnis plated the fourth run on a fielder's choice.
Santana, who capped the scoring with a two-run homer in the ninth, has 14 RBIs in 13 games against the Royals this season, the most for him against any other club. It was his 22nd blast of the season.
"I hope he continues. That's a nice swing, he can get streaky with his home runs and that would be really welcome if he wants to go on another one of those streaks," Francona said.
Salazar motored through the first four innings, blanking the Royals in 56 pitches. He allowed three hits, walked one and struck out three, the most impressive coming on a 96 mph heater to Billy Butler that blew away Kansas City's slugger in the second inning.
"I thought he threw his best fastball of the year, just as far as having life through the zone, and even in fastball counts, he got it by a couple pretty good hitters," Francona said.
But Salazar ran into trouble in the fifth. He walked Mike Moustakas to start the inning before retiring the next two batters. Alcides Escobar kept the inning alive with a single through the right side, bringing up Gordon, who had homered in two of his previous three games. Salazar induced a groundout to end the inning.
"He's a great batter, I think I did a pretty good job with him tonight," Salazar said.
Jason Vargas posted his third straight zero in the sixth before Salazar came out for the bottom half, throwing one pitch in a torrential downpour before the umpires called a delay at 9:02 p.m. CT.
C.C. Lee replaced Salazar when play resumed.
A shorter delay than expected affected the decision on whether to send Salazar back out.
"We were told originally that they were going to wait 40 minutes, so we weren't going to do that," Francona said. "And then they kind of changed because the rain stopped, so we weren't going to start him back up. It would have been 50 minutes anyway."
Salazar wanted to return, but he understood the circumstances.
"I had about 70-something pitches, and I was trying to at least get to 100, but it is what it is. We can't control that," Salazar said.
After Lee threw a scoreless sixth, relievers Kyle Crockett, Scott Atchison, Marc Rzepczynski, Bryan Shaw and Josh Tomlin combined to polish off the final three innings.
Jackson Alexander is an associate reporter for MLB.com. This story was not subject to the approval of Major League Baseball or its clubs.