Reds deny no-no but drop opener to Bucs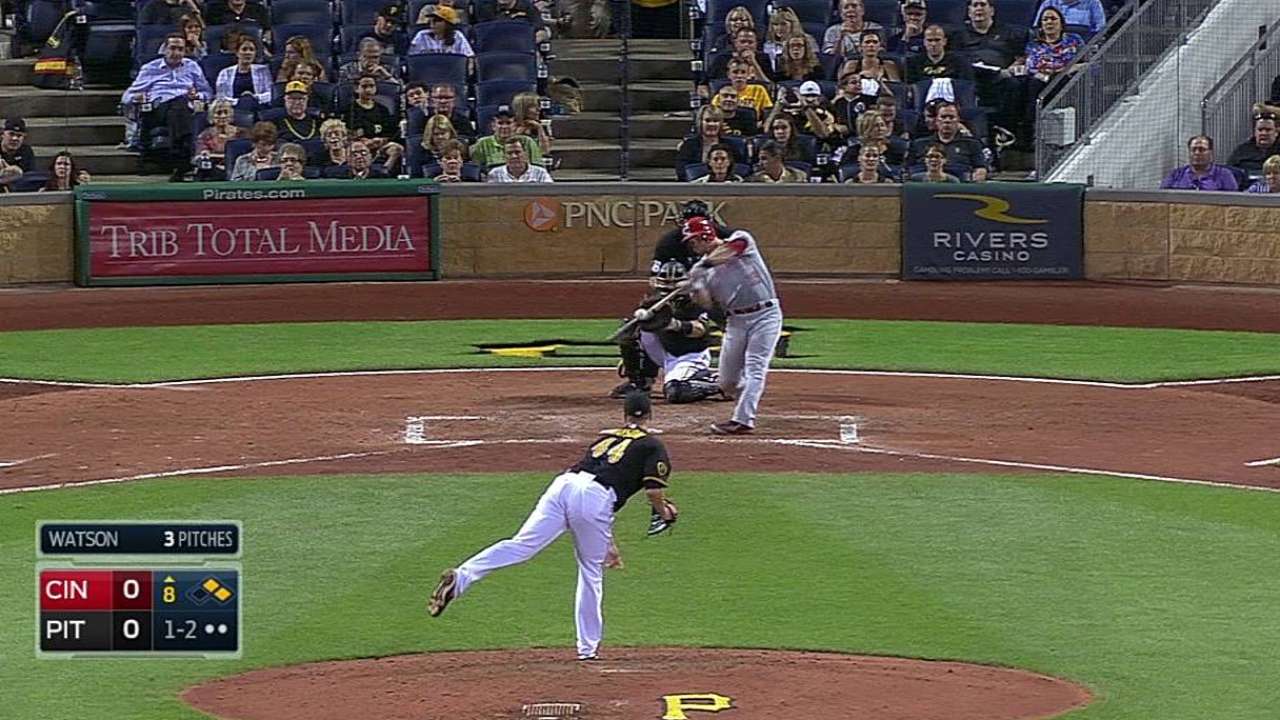 PITTSBURGH -- The Reds have now faced the prospect of being no-hit two Fridays in a row. And although they found ways to break up the bids in the late innings, they haven't found a way to avoid the sting of losing the close games.
Cincinnati got a superb performance from Mike Leake, broke up Edinson Volquez's no-hitter in the seventh and took a lead in the top of the eighth, but all of that was rendered moot in the bottom of the eighth, when the Pirates scored two runs off Jonathan Broxton, handing the Reds a 2-1 loss at PNC Park.
It was the Reds' Major League-leading 32nd one-run defeat of the season.
"You've got to keep going out there and battling," said catcher Devin Mesoraco, who got the Reds' first hit and drove in the lone run with his second. "A loss is a loss, I think. It always stinks when you have the lead and you have the opportunity to win. We just weren't able to score enough runs to not be in that situation, and we couldn't hold it down. There's not a lot to say. That's just what happened."
There was one out in the Pittsburgh eighth for Broxton when pinch-hitter Andrew Lambo sharply bounced a ball off first baseman Todd Frazier's glove; it was ruled a single. The next batter, Josh Harrison, delivered his third hit of the night with a triple off the right-field wall that scored the tying run. Jose Tabata followed with a single past drawn-in third baseman Kristopher Negron to plate Harrison with the go-ahead run.
"I got two ground balls that got hits and I got one that was hit off the wall. It's not like they were knocking the cover off the ball," said Broxton, who is now 4-2 with a 1.86 ERA in 51 appearances.
The Reds' bullpen is 0-12 in decisions since the All-Star break, but Broxton has been one of the most dependable relievers. In his last seven games, totaling 6 1/3 innings, he has allowed five earned runs 11 hits and four walks.
"It looked like a couple of pitches that got the inning started … weren't terribly well-located pitches," manager Bryan Price said of Broxton's outing. "One thing he's done as well as anybody on our staff is, he's been good at locating his fastball this year. It's tough. He's been unbelievable this year. This is a blip on the radar, really."
Last Friday at Great American Ball Park, Braves lefty Mike Minor had a no-hitter for 7 2/3 innings before the Reds lost in 12 innings. This time Volquez kept them hitless for six innings despite a poor track record vs. his former club. Volquez entered 1-2 with a 5.86 ERA in five career starts vs. the Reds, and 0-2 with a 9.64 ERA in two 2014 starts.
On the other side, Leake gave up six hits but worked nicely for seven scoreless innings, with no walks and one strikeout.
"It's a tough one," Price said of the outcome. "You had two pitchers that were locked in -- Volquez threw a great game, and Leake matched him."
Leading off the seventh, Mesoraco rolled a single past diving shortstop Jordy Mercer for the Reds' first hit. Jay Bruce followed with a single off the glove of first baseman Ike Davis. Negron grounded to third base, where Harrison made a diving stop and touched the bag with his hand before throwing out Negron at first base for the double play -- causing the rally to fizzle.
"[Harrison] really kind of made a game-saving play on the ball Negron hit down the line," Price said.
Billy Hamilton hit a one-out single off Volquez in the top of the eighth and swiped second base for his 53rd steal of the season. With one out, Volquez hit Brandon Phillips with a pitch. Lefty Tony Watson replaced Volquez and gave up Mesoraco's RBI single to left field, which scored Hamilton. Left fielder Starling Marte misplayed the ball for an error that allowed Phillips to move to third. As the cutoff throw got away from Mercer, Phillips tried to score, but Harrison recovered the ball and threw out Phillips sliding headfirst at the plate.
"It's his read," Price said of Phillips. "[Third-base coach Steve Smith] had stopped him because you can't anticipate that the ball is going to be bobbled out there. … It was a reaction play and a bang-bang play at the plate. I didn't think it was a terrible play by any means."
Mark Sheldon is a reporter for MLB.com. Read his blog, Mark My Word, and follow him on Twitter @m_sheldon. This story was not subject to the approval of Major League Baseball or its clubs.