Heyward, J. Upton lead attack in back-and-forth tilt
Outfielders combine for four hits, four RBIs as Braves pull away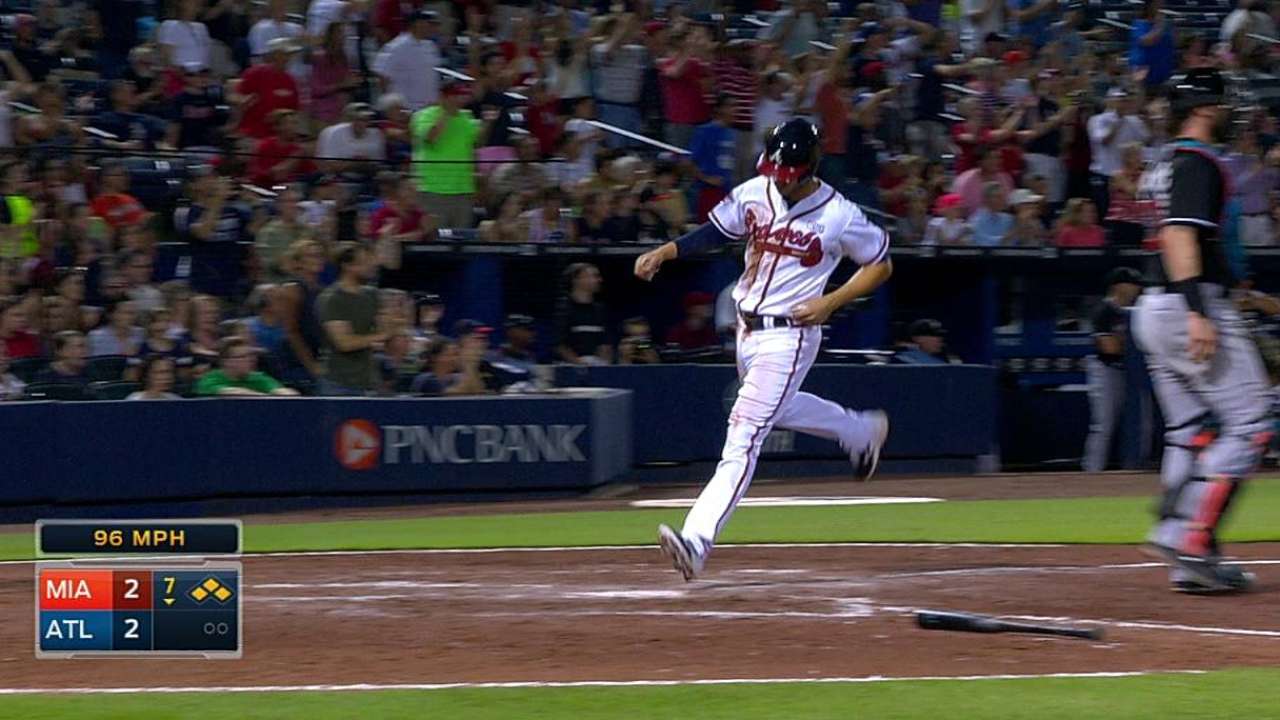 ATLANTA -- Jason Heyward's reluctance to return to the leadoff role was influenced by his belief that he would not have as many opportunities to drive in runs. While that may prove true over the course of an entire season, Heyward took advantage of the opportunity he was given to guide the Braves toward a 5-2 win over the Marlins on Friday night at Turner Field.
Heyward's RBI single off left-handed reliever Mike Dunn fueled a three-run seventh inning that proved decisive for the Braves, who have won three straight games and seven of their past 11. This latest victory came with more assistance from Justin Upton, who drilled a two-run homer in the sixth and then provided some cushion with a single that accounted for the final two runs in the seventh.
The victory kept the Braves within six games of the National League East-leading Nationals, and they moved with one game of the Cardinals for the second NL Wild Card spot.
"For me, the changing point was Jason's at-bat against one of the toughest left-handers in the National League, and maybe even in the Major Leagues," Braves manager Fredi Gonzalez said in reference to Dunn, who entered Friday having limited left-handers to a .184 batting average.
Andrelton Simmons opened the bottom of the seventh with a bunt single, and he advanced to third when pinch-hitter Ramiro Pena followed with a line-drive single that popped out of first baseman Garrett Jones' glove. This prompted the Marlins to call for Dunn to face Heyward, who entered the game batting .159 against left-handed pitchers.
As Heyward has seen left-handed starting pitchers on a more regular basis the past couple weeks, he has gained a comfort that was visible as he fell behind Dunn with a 1-2 count and then fouled off a pair of pitches, before concluding the decisive seven-pitch at-bat with an opposite-field single that raced through to left.
"I was just going up there and trying to keep it simple," Heyward said. "At that point, we're trying to put the ball in play wherever it is and not do too much. Just get a good pitch to hit and hit it hard somewhere. It wasn't a big swing and it wasn't a big hit. It was just something that got us a run."
Upton, who has enhanced his NL Most Valuable Player Award candidacy while batting .354 (17-for-48) with 18 RBIs in his past 12 games, capped the seventh inning with a single that scored Heyward and Emilio Bonifacio, with the assistance of a Marcell Ozuna error. The Braves left fielder's biggest blast of the night was the homer that accounted for the only two runs allowed by Marlins starter Tom Koehler.
Braves starter Ervin Santana seemed destined for an early exit when he walked the bases full with just one out during a 32-pitch first inning. But the veteran right-hander escaped that threat unscathed, and he did not allow the Marlins to advance a runner as far as second base until Casey McGehee, Garrett Jones and Ozuna notched consecutive one-out hits in the sixth inning.
Ozuna scraped the right-field line with a double that scored McGehee in uncontested fashion. Heyward fielded the double and began a relay with Tommy La Stella that led to Evan Gattis applying the tag that denied Jones' bid to also score on the play.
"We made it look pretty easy, but you've got to get two throws off and then have a tag at the plate without [anybody] dropping the ball or throwing the ball anywhere," Gonzalez said. "That was perfect to keep it just a one-run game there."
During each of the first three innings, Koehler allowed the first hitter he faced to reach safely and advance to second base. But the Braves, who went hitless in five at-bats with runners in scoring position, did not dent the scoreboard until Upton jumped on a high fastball and sent it over the center-field wall in the sixth.
Jordany Valdespin's opposite-field solo shot off David Carpenter in the seventh inning tied the game, but the Braves played small ball in the bottom half of the inning and made Jones pay for not securing Pena's liner.
"We're never out of it, but we definitely just let it get away today," Jones said. "I can't really say it was a mistake. I thought I caught it; must've had some hook spin on it and spun right out of my glove. That's the type of play I should have had it, should have caught it and probably have one or two outs there, and it would have changed the ballgame."
Mark Bowman is a reporter for MLB.com. This story was not subject to the approval of Major League Baseball or its clubs.