MLB.com Columnist
Terence Moore
Yost's fan attendance comments understandable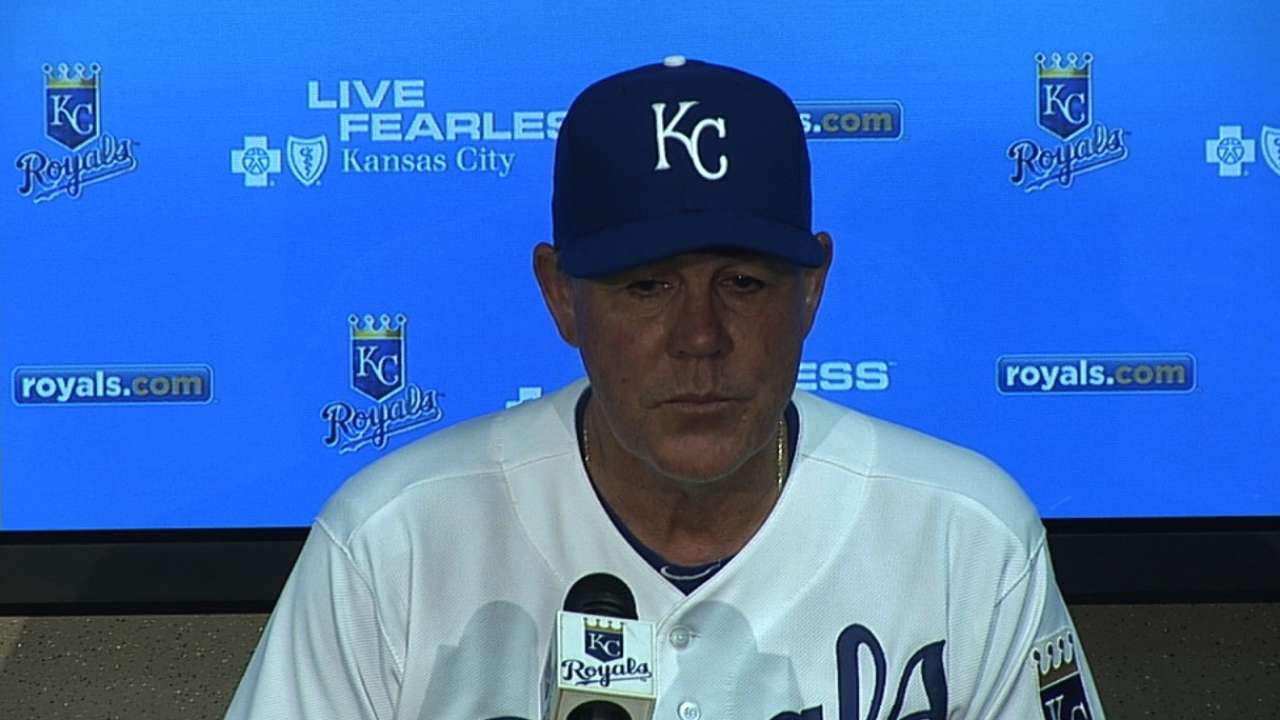 Just like that, Royals manager Ned Yost saw his comments after a home victory Wednesday in Kansas City go everywhere. Television, radio, social media. The headlines on newspapers and Internet sites ranged from "Ned Yost hammers Kansas City fans for poor attendance" to "Ned Yost urges K.C. fans to show up" to "Ned Yost rips lazy fan base."
Uh-oh.
There are two things you should never do in professional sports as an owner, general manager, manager, coach or player: You should never pick a fight with the media, and you should never say anything less than absolutely flattering about fans, especially your own.
Yost wasn't blasting Royals fans, by the way. When he realized many of his listeners holding notepads and cameras at Kauffman Stadium were thinking otherwise, he recovered nicely. Yost explained what he really was trying to say about Kansas City's fans, and he did so with conviction.
So much for reality. The perception was different surrounding Yost's remarks heard around the world. First, his surprising Royals solidified their lead in the American League Central with Alex Gordon's walk-off home run Tuesday at Kauffman Stadium. Then, after another Kansas City victory Wednesday, Yost fell for sports' version of a banana in the tailpipe.
Only 12,847 folks were in the stands for Tuesday night's dramatic finish, and the attendance wasn't much better Wednesday (17,668) when the Royals handled the Twins again. As a result, Yost was asked something akin to, "Wouldn't you think more people would be watching a Royals team that is giving Kansas City its first pennant race since the franchise won the 1985 World Series?"
Yost answered the question.
Uh-oh.
"We've been working hard to try to make our fans happy, and make our fans proud of us for a lot of years," Yost told the reporters at his news conference, before making his first mistake. He should have stopped right there. Instead, he kept going, adding, "And we'd like [the fans] to enjoy a night like that."
There is nothing wrong with Yost's answer, unless he either forgot or didn't realize the magnitude of the question. Remember: When it comes to a sports figure pontificating to fans, saying anything less than fluff at all times will get you a bull's-eye on the back of your jersey for the rest of your stay in town.
Yost adjusted within milliseconds. Actually, he just expounded on the truth. Yost said he wanted the fans to join the players in what he sensed could become a joyful ride through October.
"The reason I do this job, there's two reasons. One is I've been to the World Series six times," Yost said. "I know that feeling. I know the excitement. I know what goes along with it. And one of my main things is, I want these players to experience that, because it's very, very important. And the opportunities to do it are far and few between."
Still, the headlines continue to swirl around Yost.
Can you imagine if Lee Elia's legendary rant against Cubs fans happened now during this time of 24/7 news channels and endless blogs, instead of 1983, when just four local Chicago reporters were present?
Back then, after the Bleacher Bums spent an afternoon booing the Cubs during a particularly dreadful performance against the Dodgers, a Chicago radio guy was among those in the Cubs manager's office at Wrigley Field. He captured Elia's profanity-filled tirade. Among other things, Elia said, "Eighty-five percent of the world is working. The other 15 percent come out here."
Elia was fired near the end of that season. Today? He likely would have been gone by the time he returned from his postgame shower.
Nearly a decade after Elia, there was David Justice, the premier slugger for those early Braves teams that set the foundation for a record 14 consecutive division titles. Despite the Braves starting that streak in 1991, they hadn't won a World Series championship through Game 5 of their 1995 Fall Classic against the Indians. In addition, the crowds in Cleveland during that World Series were significantly louder than the ones in Atlanta.
Justice couldn't stand it anymore. Before Game 6 at old Atlanta-Fulton County Stadium, and with his Braves holding a 3-2 lead in the World Series, he delivered less than flattering words about his hometown crowd. First, Justice said Braves fans weren't as fervent as they were at the start of the team's streak during the early 1990s, and he was correct. Then he added, "If we don't win [against the Indians], then you won't see me here until Opening Day next year. I'm gone that day [that we lose], if they don't try to burn our houses down."
Even without today's exhaustive media, Justice's words orbited the solar system in a hurry, and Atlanta fans were certainly aware of them at the beginning of Game 6. Then, he provided the only run of the game with his solo homer to give the Braves the only World Series championship in their Atlanta history.
Yost's comments weren't as explosive as those of Elia or Justice. Plus, Yost sprinted into damage control, and his strategy could work.
This always works: Don't even go there.
Terence Moore is a columnist for MLB.com. This story was not subject to the approval of Major League Baseball or its clubs.