MLB.com Columnist
Jim Callis
Pipeline Inbox: Will Syndergaard find MLB success?
Callis discusses the Mets' young rotation and who will end up as the top starter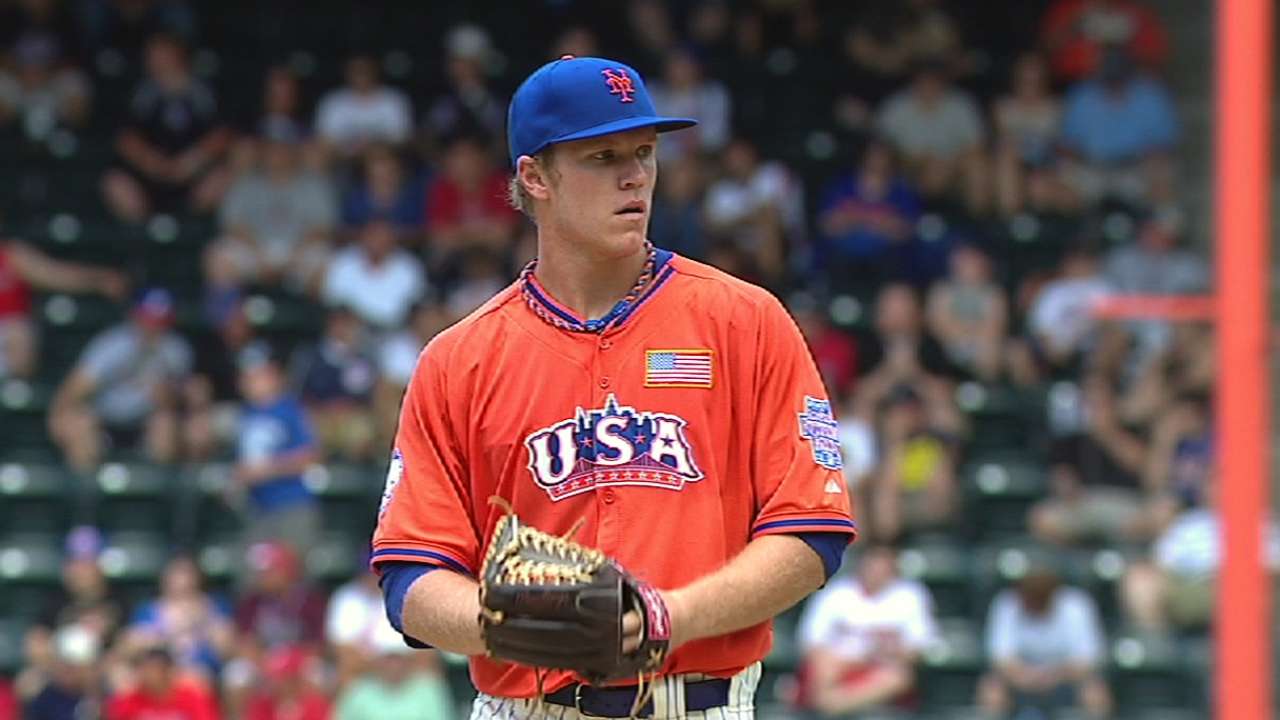 While most of the focus on the Major League standings is on the division and Wild Card races, don't forget that the other end of the spectrum is important, too. As of now, the Rangers (52-81) have a one-game lead over the Rockies (53-80) for the No. 1 overall pick in the 2015 First-Year Player Draft. Texas hasn't had the top choice since 1973, when it resurrected the franchise's box office if not its on-field performance by taking David Clyde, while Colorado never has selected higher than No. 2 (Greg Reynolds in 2006).
The Diamondbacks (55-78) and Astros (57-78) are also in the race for the No. 1 choice. Houston has led off the past three Drafts, and it will also get the No. 2 pick in 2015 as compensation for not signing Brady Aiken, this year's top selection. The defending World Series champion Red Sox (58-75) currently have the fifth-worst record and thus would choose sixth, which would be their earliest pick since taking Mike Garman at No. 3 in 1967.
Between Mets right-handers Noah Syndergaard or Zack Wheeler, who has a brighter future as an MLB pitcher? Syndergaard has struggled this year, and Wheeler is much farther ahead of him in terms of development, but who do you think will be better in the long run?
-- Teddy H., Woodbridge, Conn.
It's not easy to trade for potential front-line starters, but the Mets managed to do so twice by acquiring Wheeler from the Giants for Carlos Beltran and Syndergaard from the Blue Jays in a package for R.A. Dickey. I like Syndergaard a little more than Wheeler, and I don't think he's lagging behind Wheeler in terms of development.
Wheeler was 19 when San Francisco drafted him sixth overall in 2009, while Syndergaard didn't turn 18 until nearly three months after Toronto made him a supplemental first-round choice in 2010. Syndergaard, who just turned 22 Friday, is more than two years younger than Wheeler. Wheeler spent his age-21 season in high Class A, while Syndegaard has spent his in Triple-A and posted better strikeout (9.9 per nine innings) and walk (2.9) rates than Wheeler would at that level.
They both have mid-90s fastballs and hard breaking balls, while Syndergaard has better pitchability and a better changeup. That gives him the advantage over Wheeler, though both are future All-Stars who should help give the Mets a strong rotation for years to come.
With the Arizona Fall League rosters released, which teams would you consider the most stacked with high-ceiling prospects if you divided them into the following groups: pitchers, catchers, infielders and outfielders?
-- J.P. S., Springfield, Ill.
As always, the AFL is stocked with plenty of talent, starting with baseball's top prospect. Twins outfielder Byron Buxton will play for Salt River after getting just 124 at-bats this season while dealing with a wrist injury and a concussion. Buxton's presence alone doesn't give the Rafters the best group of outfielders, however.
Instead, that accolade belongs to Surprise, thanks to Jesse Winker (Reds, No. 43 on the MLBPipeline.com Top 100), Hunter Renfroe (Padres, No. 74), Nick Williams (Rangers, No. 87) and Minor League stolen-base leader Mallex Smith (Padres). The Scorpions edge Scottsdale, which has Josh Bell (Pirates, No. 32), Brandon Nimmo (Mets, No. 63), Aaron Judge (Yankees), Tyler Austin (Yankees) and Roman Quinn (Phillies).
The toughest call came with the infielders, with Mesa standing out the most thanks to shortstops Addison Russell (Cubs, No. 6) and Daniel Robertson (Athletics, No. 88), as well as Matt Olson (Athletics, No. 2 on our first-base Top 10) and Dan Vogelbach (Cubs, No. 4 on our first-base Top 10). Glendale has an impressive trio with shortstops Corey Seager (Dodgers, No. 16) and Tim Anderson (White Sox, No. 85), and Devon Travis (Tigers, No. 7 on our second-base Top 10). The deepest group belongs to Surprise, which has corner infielder D.J. Peterson (Mariners, No. 52), shortstop Trea Turner (Padres, No. 99), Sean Coyle (Red Sox, No. 5 on our second-base Top 10), shortstops Deven Marrero (Red Sox) and Jace Peterson (Padres) and corner infielder Patrick Kivlehan (Mariners).
Cannon-armed Justin O'Conner (Rays) gives Peoria the best catching in the league all by himself. As for pitchers, Salt River has the best arm in the league in Archie Bradley (Diamondbacks, No. 11) and a pair of intriguing Astros in former No. 1 overall pick Mark Appel (No. 44) and Vincent Velasquez. Scottsdale's staff also rates a mention thanks to Pirates prospects Tyler Glasnow (No. 19) and Nick Kingham (No. 61).
How does Phil Bickford leaving Cal State Fullerton affect the 2015 Draft? Is he immediately the best pitcher available? Or does he slot behind Brady Aiken (assuming Aiken is eligible), Michael Matuella, Nathan Kirby or Riley Ferrell?
-- Nick D., Chicago
Bickford isn't the hands-down best pitcher available for the 2015 Draft, but he's definitely in the mix for that distinction and the No. 1 overall pick. Right now, Duke's Matuella is the front-runner in both categories.
Aiken went No. 1 overall in 2014 before negotiations broke down with the Astros over concerns about the ulnar collateral ligament in his left elbow, and it remains to be seen how other teams will evaluate his health if he re-enters next year's Draft. Kirby (Virginia) and Ferrell (Texas Christian) are live-armed collegians, as are Kyle Funkhouser (Louisville), Carson Fulmer (Vanderbilt) and Walker Buehler (Vanderbilt). Ashe Russell (Cathedral High, Indianapolis), Justin Hooper (De La Salle High, Concord, Calif.) and Mike Nikorak (Stroudsburg, Pa., High) are the best of the prep crop.
The 10th overall pick in the 2013 Draft out of a California high school, Bickford wound up turning down the Blue Jays (for reasons that never have been made clear) to attend Fullerton. After a strong freshman season and a terrific summer in the Cape Cod League -- where scouts named him the premier summer circuit's top prospect after he dealt at 93-98 mph and flashed a plus slider while working in relief -- he opted to leave the Titans so he could enter the 2015 Draft. He'll either attend junior college, most likely in Arizona, Nevada or Texas, or play in an independent league.
Do you have any concerns about Royals shortstop Raul Adalberto Mondesi? He has had a tough year, but I know he's extremely young for his level.
-- Johnny W., Roswell, Ga.
Mondesi has had a rough season. He's hitting .216/.262/.363 at high Class A Wilmington -- his batting average and on-base percentage are the second worst in the Carolina League -- and he has 118 strikeouts versus 24 walks in 106 games. But Mondesi is still one of the game's best shortstop prospects.
As Johnny noted, age is on Mondesi's side. He didn't turn 19 until July 27 and he's easily the youngest regular in a league where the average position player is 23 years old. The tools are all still there, as Mondesi is a switch-hitter with more pop than most middle infielders, and he's also a well above-average runner with Gold Glove upside.
Mondesi will need to refine his approach at the plate, though it's relatively advanced for his age. The best thing for him would be to return to high Class A at least for the start of the 2015 season, when he'd probably still be the youngest everyday player in the Carolina League.
Jim Callis is a reporter for MLB.com and writes a blog, Callis' Corner. Follow @jimcallisMLB on Twitter. This story was not subject to the approval of Major League Baseball or its clubs.