Bats quieted behind Niese's solid start vs. Braves
Wright's return doesn't provide spark as Mets drop series finale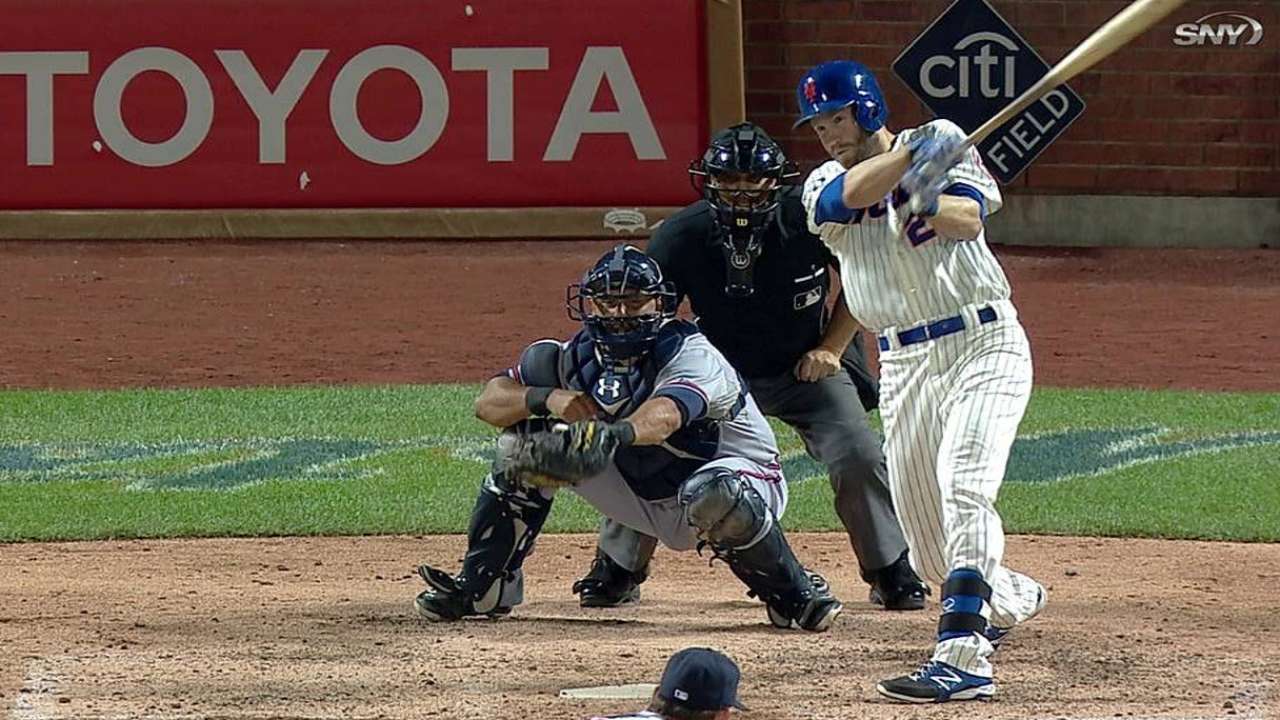 NEW YORK -- On another night, in another month of another baseball season, David Wright's return to the lineup might have portended good things for the Mets. Even without Daniel Murphy, a lineup with Wright might have had a chance.
But this was no other night. This was a Thursday in late August during Wright's worst professional season to date, and his return to the lineup did nothing to spark the Mets offensively. Instead, Mike Minor fired seven-plus innings of one-run ball against them, leading the Braves to a 6-1 win.
"It's strange how just being out a few days, how quick the game is when you get back out there," Wright said. "I've just got to get back in the grind of it."
To be fair, the burden on this night did not fall entirely to Wright, who had been out since Sunday with a stiff neck and has battled a sore left shoulder for far longer than that. It fell equally to Curtis Granderson, whose infield hit in the seventh inning did little more than snap an 0-for-20 skid, and to the five members of the starting lineup who finished without hits.
Such limited productivity was also in large part a credit to Minor, in his first start since taking a no-hit bid into the eighth inning last weekend in Cincinnati. Just as dominant at Citi Field, Minor retired 12 straight Mets to open the game, before Lucas Duda broke up his perfect game with an opposite-field single. Minor then mowed down another six in a row until Travis d'Arnaud led off the eighth with a double and Eric Campbell singled him home.
The Mets actually put the tying run on base later that inning, but Juan Lagares grounded out against David Carpenter to end the threat.
"I do feel like I've turned the corner with pitches and hitting spots and attacking hitters," said Minor, who came into the game with a 4.90 ERA. "I do feel confident. I don't feel that little guy in the back of my head is saying, 'Don't give up the home run' anymore. I feel like I'm attacking guys and going right after them."
It was an extreme example of the offensive issues that have plagued the Mets all week, all month and all season. Significantly below-average campaigns for Wright and Granderson have plummeted the Mets toward the bottom of the league in most offensive categories, including on-base percentage (24th in MLB entering the night) and slugging (29th). There they have sat for most of the summer, watching as more talented offensive clubs -- the Braves, for example, who are in the thick of the playoff race -- outslug them more often than not.
"We've got young guys [and] there's a lot going on here," manager Terry Collins said. "They're trying to learn at the Major League level and that's a lot to ask sometimes. A lot of times when things aren't going good, there's extra heat on them. It's not always about right now. It's about, 'Can you fit here? Can you play at this level?' We're trying to analyze all of that."
On this night, the results were not sound. Mets starter Jon Niese may have been sharp, giving up nothing more than Minor's RBI hit over his first seven innings. But Minor's leadoff double in the eighth inning changed the story arc for Niese, who proceeded to allow an RBI triple to Emilio Bonifacio and a run-scoring single to Freddie Freeman. Niese struck out five and walked one in 7 1/3 innings, giving up nine hits.
That dropped the Mets to within a half-game of the last-place Phillies, a symbolic station that they would prefer to avoid. After finishing in third place last year following four consecutive fourth-place finishes, the Mets had hoped to continue improving in 2014. Granderson and his $60 million contract were a big part of that, as was Wright. But through 134 games, improvement has been hard to discern.
"For me, with the way things have gone up until this point, there's no sense in whining about it or moping around and hanging your head," Wright said. "I can use this next month to do well and hopefully to get as many team wins as possible, but also to get it going for me offensively to help springboard me into next year."
"I want it bad," Niese said of a strong September. "I'm just hoping that all 25 of us have that same feeling. We need that to make the games in September meaningful. This year's kind of -- I don't want to say 'lost,' because you want to play every game the same in September. But it does mean a lot to play games and have them mean something."
Anthony DiComo is a reporter for MLB.com. Follow him on Twitter @AnthonyDicomo. This story was not subject to the approval of Major League Baseball or its clubs.