Minor's mastery continues with latest gem
Lefty also produces at plate as Braves keep pace for Wild Card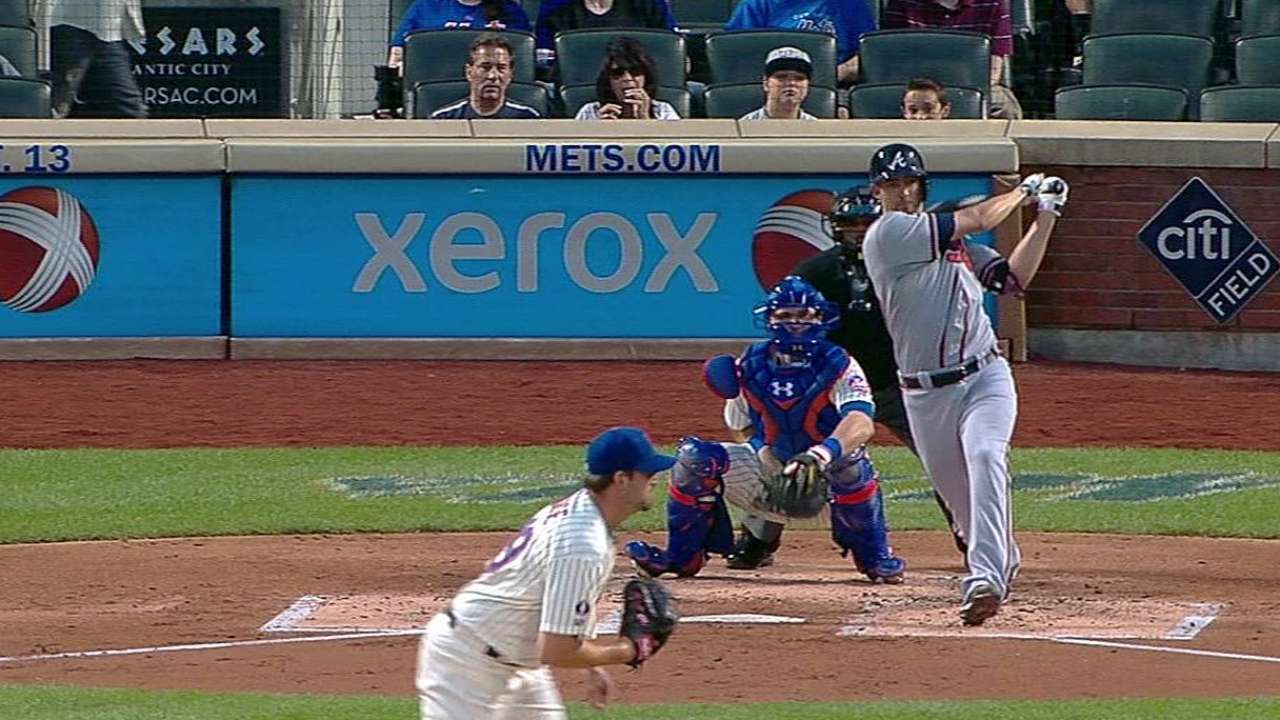 NEW YORK -- Mike Minor entered August in the midst of a skid that gave the Braves no choice but to at least temporarily remove him from their starting rotation. But four weeks later, the rejuvenated left-hander finds himself approaching September with legit reason to believe he will be a tremendous asset down the stretch.
After flirting with a no-hitter last week in Cincinnati, Minor extended his dominance on Thursday night at Citi Field. The left-hander carried a gem into the eighth inning and produced a pair of hits that propelled the Braves to a 6-1 win over the Mets.
"At one point in the game, he was everything," Braves manager Fredi Gonzalez said. "He was not only pitching well, he was our offense for [seven] innings."
This was certainly a night to remember for Minor, who carried a two-hit shutout into the eighth inning and also played a part in the first two runs scored by the Braves. He surrendered just four hits and kept the Mets scoreless until Travis d'Arnaud doubled and scored on Eric Campbell's single in the eighth.
"He just kept pounding the zone," Braves catcher Gerald Laird said. "It was fun to be back there with some of the swings they were taking."
The swings Minor was inducing were not as impressive as those he took while matching the career-high two-hit performance he recorded at this same stadium on May 25, 2013, which was also the day he belted the first of his two career homers. After driving in the game's first run with a two-out single in the third inning, he fueled a two-run eighth inning with a double that put him in position to score on a triple by Emilio Bonifacio, who capped his four-hit night with an RBI single in the three-run ninth.
After Bonifcacio tripled, Freddie Freeman chased Mets starter Jonathan Niese with his eighth-inning RBI single. Niese was undone by what Minor did on the mound and at the plate.
"We all know what he's capable of doing on the mound," Laird said. "He's a good athlete. He has a good idea of what he wants to do in the box. He's one of those guys who takes pride in trying to help himself in a game."
Minor's do-it-all performance enabled the Braves to conclude a 10-game road trip with a winning record. After opening this three-game set in New York with their third straight loss, they recorded a pair of wins that repaired their psyche and their standing in the postseason races.
The Braves are now six games behind the Nationals in the National League East. They sit two games behind the front-running Cardinals in the Wild Card race and 1 1/2 games behind the Giants, who are currently positioned to earn the second Wild Card spot.
"The last [13] games we have played good baseball," said Gonzalez, whose club will welcome the Marlins to Turner Field on Friday.
Five days removed from bidding adieu to his no-hit bid against the Reds with two outs in the eighth inning, Minor entered Thursday night's eighth having allowed just two hits. After he was forced to make an abrupt exit following Campbell's single, he watched David Carpenter prevent the Mets from producing any further damage.
This marked the second straight start that Minor allowed just one run while pitching into the eighth inning. Since having a start skipped during the first week of this month, Minor has produced a 2.33 ERA in the four starts that have followed. In other words, he has not looked like the same guy who posted a 7.33 ERA and surrendered 12 home runs in the 10 starts he made from June 10-Aug.1.
"I do feel like I've turned the corner with pitches and hitting spots and attacking hitters," Minor said. "I do feel confident. I don't feel that little guy in the back of my head is saying, 'Don't give up the home run' anymore. I feel like I'm attacking guys and going right after them."
Now armed with a sinker that he gained a better feel for during his short time out of the rotation this month, Minor did not allow the Mets a hit until Lucas Duda sent an opposite-field liner over Andrelton Simmons' head to begin the bottom of the fifth. The only other hit he allowed before the eighth inning was a seventh-inning leadoff single recorded by Curtis Granderson, who was retired via a double play.
"It's just nice to see him come out and get some good results because now he's just building and building with more confidence," Laird said. "Today, I don't think we threw a changeup at any point in the game. The sinker was diving so good and the curveball was working. We mixed in some sliders and just kind of moved the four-seamer. He was in complete control of that game."
Mark Bowman is a reporter for MLB.com. This story was not subject to the approval of Major League Baseball or its clubs.