Walk-off in 10th pads Angels' AL West lead
Kendrick's sac fly finishes wild opener of showdown vs. A's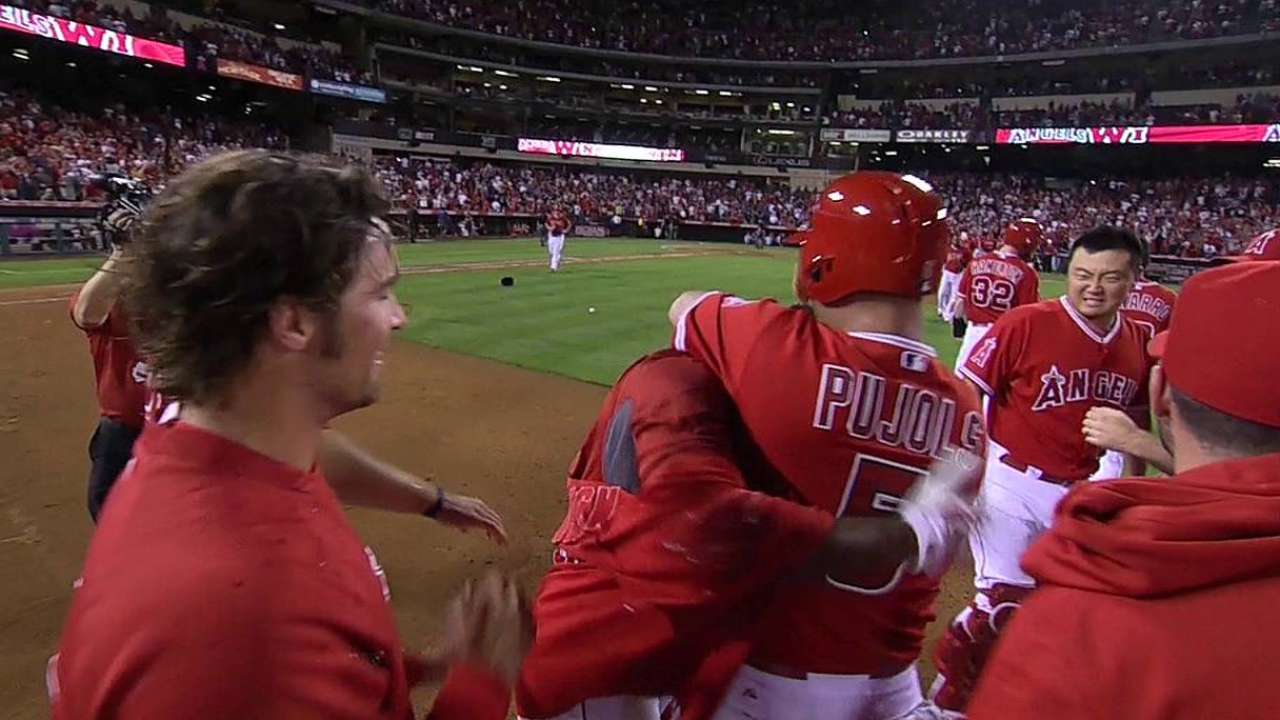 ANAHEIM -- The starting pitchers flipped roles midway through, a ninth-inning obstruction call put the game under protest and Howie Kendrick's sacrifice fly ended a heated battle of the bullpens in extra innings, pushing the home team to victory in a tense, electric and packed Angel Stadium.
Just another night of Angels-A's.
"Every time we play these guys it's a good game," Kendrick said after his Angels pulled out the dramatic, 4-3 victory in 10 innings on Thursday night, pushing their lead in the American League West to two games. "Tonight was probably indicative of every game we've played against them."
Four of seven contests between the Angels and A's in Southern California have now gone extra innings. The division rivals are squaring off for the fourth time in seven days, with the Angels dropping two of three in Oakland last weekend, and three of those contests have been decided by no more than two runs.
"Oakland has a great team, great group of guys," Angels shortstop Erick Aybar said in Spanish. "Just like us. We never feel defeated until the final out."
What began as Sonny Gray scuffling and C.J. Wilson cruising turned into a 3-3 tie and a bullpen battle in the eighth inning, with Gray completing seven frames despite a three-run second and Wilson lasting only 5 2/3 innings despite an early three-run lead.
The Angels failed to score in the bottom of the ninth, despite putting the first two runners on thanks in large part to an obstruction call that Aybar found himself right in the middle of. But Fernando Salas shut the A's down in the top of the 10th -- following the stellar bullpen work of Mike Morin, Kevin Jepsen, Joe Smith and Huston Street -- and the offense finally finished it off in the bottom half.
Albert Pujols walked, Josh Hamilton hit a seeing-eye single to the right side to put runners on the corners and Kendrick battled against hard-throwing right-hander Ryan Cook, going from 0-2 to a full count until he got a fastball down the middle, saw it deep, trusted his hands and drove it the opposite way for the game-winning flyout.
It was Kendrick's sixth career walk-off RBI, and it snapped an 0-for-8 skid in that situation.
"There's been a lot of times I've failed in those situations, so you just try to take from those experiences," Kendrick said. "You learn as you go, being around the game and having the opportunity over and over again. Having the past experience where you've gotten it done, haven't gotten it done, you just try to get that peace of mind and say, 'Hey, I just have to get something I can handle here.'"
But the A's didn't leave Angel Stadium without feeling a little bit cheated.
The Angels didn't score in the bottom of the ninth, but a controversial call forced the A's to use a couple of extra pitchers. Aybar led off with a chopper to the right side. Reliever Dan Otero and first baseman Brandon Moss converged on the play. Otero snagged it from Moss. Aybar kept running. And instead of staying on the baseline and running into Moss, he turned to the left and collided with Otero, falling backward while the A's right-hander kept the ball in his glove.
The ruling was obstruction on Moss, who umpires felt impeded Aybar's path to first and forced him to go out of the baseline.
Aybar said he wasn't sure who had the ball at the time.
"I was running, and both guys just got in my way," the veteran shortstop said. "I was trying to [run straight], but I couldn't go anywhere."
Moss, however, believes Aybar ran into Otero intentionally.
"I know that Aybar veered inside the line," Moss said. "There's video to prove it. He's trying to do what he can do to get on base and get a hit, and he got that call, but the call is incorrect. There is no way either one of us were obstructing the baseline, because he veered inside to get us, and everyone knows, if you're a hitter, and your baseline is blocked, you veer to the outside. It's just the way you do it. It's a disappointing call, but that happens. "
The A's protested the game, but it probably won't matter. Protests can't be upheld on judgment calls, and that's exactly what crew chief Gerry Davis said it was. The Giants won a protest on Aug. 20, because the Cubs grounds crew didn't deploy the tarp properly, and it was the first one upheld since 1986.
The win was the Angels' 10th walk-off this season, making them the first team to 80 victories. It was another tight one between the teams with the two best records in baseball and the clubs with the two best run-differentials in the Majors.
And it's just the first of a four-game series.
"Neither team gives up," Jepsen said. "When you put two teams together like that -- that just grind it out, grind it out, grind it up -- you're going to have some battles. It's fun. We expect nothing less."
Alden Gonzalez is a reporter for MLB.com. Read his blog, Gonzo and "The Show", and follow him on Twitter @Alden_Gonzalez. This story was not subject to the approval of Major League Baseball or its clubs.