Athletics stumble out of gate against Angels
Melvin's protest in wild ninth inning precedes letdown in 10th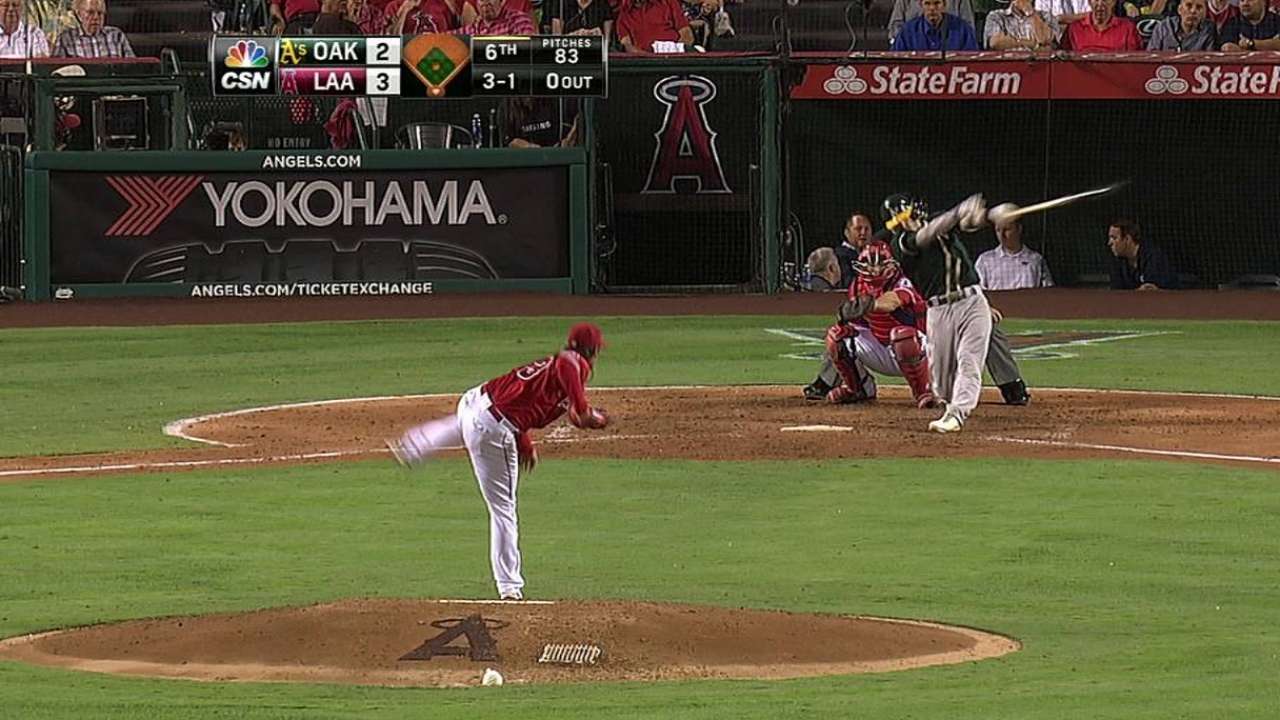 ANAHEIM -- Thursday's showdown between baseball's top two teams did not disappoint, though the A's would surely like to rewrite the ending.
Manager Bob Melvin believes they deserve a chance to do just that, after informing crew chief Gerry Davis in the ninth inning that his team would be playing the rest of the game against the Angels under protest.
For now, the A's are saddled with a two-game deficit in the American League West following a 4-3, 10-inning loss that was clouded by a hefty dose of drama stemming from a controversial obstruction call in the ninth.
It led to a one-out, bases-loaded jam that the A's miraculously escaped. But the Angels came back to win it in the 10th on Howie Kendrick's walk-off sacrifice fly off Ryan Cook.
"I think it's just par for the course when these two teams play each other," said Brandon Moss. "Every game has been a great game all year. It was a fun game to be a part of. It wasn't very fun to lose."
Moss was front and center of the ninth-inning escapades, but for reasons he doesn't understand.
It all began when A's reliever Dan Otero induced a high chopper down the first-base line that he caught while bumping into Moss. Otero then collided with Aybar, who appeared to veer inside the baseline. Moss, though, was standing on the chalk and was tagged with obstruction. Even though Moss never made contact with Aybar, plate umpire Greg Gibson ruled that Aybar had to leave the baseline to avoid Moss and the Angels shortstop was awarded first base.
"They said he made contact before," said Melvin, "and he was talking about Moss being in the way, when Otero had the ball and tagged him out before there was any contact."
"Dan actually ran into me, not Aybar, and then when Dan caught the ball, I know that Aybar veered inside the line. There's video to prove it," said Moss. "He's trying to do what he can do to get on base and get a hit, and he got that call, but the call is incorrect. There is no way either one of us were obstructing the baseline, because he veered inside to get us, and everyone knows, if you're a hitter, and your baseline is blocked, you veer to the outside. It's just the way you do it. It's a disappointing call."
Then there was a miscommunication issue between Otero and Moss on pinch-hitter John McDonald's ensuing bunt, allowing both runners to be safe. Another bunt moved them up and, by inning's end, Melvin had called on Fernando Abad and Cook to close out the frame -- but Otero believed he could have finished the inning if Aybar did not reach base.
That's why many are in agreement with the protest. If upheld, a rarity, the game would be restarted at the bottom of the ninth inning.
"Because with one out and nobody on, it changes the dynamic of the way the game is played from that point on," said Moss. "It changes a lot of things. We don't use Abad maybe. We might not bring in Cookie. We might just stick with Otero. You don't know. And all that is based on the leadoff hitter getting on."
Added Ortero: "Anytime the leadoff guy gets on, it's huge, especially in the ninth inning of a tied game, and that guy's speed, and they play small ball. It makes it even that much more difficult. It makes it a lot harder to get out of the inning."
A's hitters were retired in order in the top of the 10th, and Cook issued a leadoff walk to Albert Pujols in the bottom of the inning and served up a base hit to Josh Hamilton to put runners at the corners for Kendrick, who drove one deep enough to right field to bring in the winning run.
The A's have dropped 11 of their last 17 games and are 19-19 in the second half. Though they maintain a 5 1/2-game lead on the top Wild Card spot, they want what the Angels have: possession of first place.
"It's an important series," said Sonny Gray. "We know that, they know that. It's tough to lose the first one, but we have to come back and put this behind us and play well."
Gray offered the grittiest of performances, overcoming an ugly start to complete seven innings, allowing the A's to stage one of their trademark comebacks, getting two runs in the fifth and another in the sixth on Josh Donaldson's 26th home runs.
It just wasn't enough.
Gray was stung by four base hits in a three-run, 30-pitch second inning, and he was forced to throw 21 more in the third, bringing his total to 64. But he faced the minimum over his final four frames, allowing just one hit in that span.
"They're a great ballclub. We know we are too," said Otero. "It's a battle every time out. They're going to battle us to the end, and we know we're going to give it all we got, too, so it's fun, I'm sure for the fans, but hopefully we can pull a few of these out the next few days."
Jane Lee is a reporter for MLB.com. Read her blog, Major Lee-ague, and follow her on Twitter @JaneMLB. This story was not subject to the approval of Major League Baseball or its clubs.